VoIP models and services: Complete guide
With clear, concise explanations of existing VoIP business models and deployment methodologies, this guide will enable you to weigh the pros and cons of each based on your needs.
In our VoIP models and services: Complete guide, you'll learn why VoIP is not one size fits all. With clear, concise...
Continue Reading This Article
Enjoy this article as well as all of our content, including E-Guides, news, tips and more.
explanations of existing VoIP business models and deployment methodologies, you'll be able to weigh the pros and cons of each based on your needs. Is hosted VoIP the best fit for your organization or would a managed solution better serve your needs (and security requirements)? Should you migrate to VoIP incrementally with a hybrid PBX or move directly to IP? What about Skype or Yahoo – are they ready for the enterprise? This guide will help you answer these questions and more.
Table of contents:

VoIP: Getting down to basics
What is the significance of "IP" in VoIP? Besides being an acronym for Internet Protocol, it means that voice services are no longer tied to a specific network. VoIP also provides enterprise organizations with a significantly more network design flexibility.
With traditional (layer 2) voice, each location had to have its own PBX or key system and voice services were tied to that location. Every time a user moved, an administrator had to come in and reconfigure the PBX to move it around. Users were tied to specific desks. At the IP layer (layer 3), the call control or IP PBX, can live anywhere on the network. The IP PBX can be across the office, across town or across the globe, very much like any other client-server application. Also, since it operates at the IP layer, companies can use their data network or even the Internet to transmit voice, avoiding the toll charges that exist on today's PSTN. There are both benefits and challenges to VoIP (see below); however, the more VoIP evolves, the benefits will start to outweigh the challenges.
Benefits:

Lower infrastructure costs, including lower network management and toll costs
Advanced calling features
Mobility of telephony features
Challenges:

Service and voice quality is not 100%
Unproven ROI and TCO metrics
Security, compliance (911 services)
VoIP training, testing and budgeting
Twenty-five percent of enterprises are already taking full advantage of VoIP, and 75% are looking to deploy it within the next two years. Enterprises that are not actively planning to deploy VoIP are at risk of falling behind their competition as this technology continues to evolve. However, to truly glean the competitive benefits of VoIP, network managers must learn how to manage the new network environment.
Historically, voice and data have existed on two separate networks. With an IP network, voice and data coexist on the same network, thus increasing the management complexity. Introducing richer, bandwidth-draining applications only convolutes matters more. It means that telecom managers have to learn how data networks function and network managers will need to become familiar with telcomm operations.
For this reason, training should be a big part of the overall implementation. A migration process will need to be put in place, and most importantly, a training budget needs to be established. One of the most common mistakes organizations make is not budgeting in everything from the beginning to end of deployment. Before many IT organizations deploying VoIP realize, the cost of implementation has spiraled beyond their initial budget.
Another crucial error made in many implementations is the lack of pre-assessment testing. Many have underestimated the importance of testing and have paid for it by having to fix problems in a production environment, which is much more expensive than troubleshooting in pre-production. Actively testing the service, voice quality and equipment can save managers a great deal of headaches and downtime. Testing must be done in the pre-assessment stage, and should also be viewed as an on-going procedure throughout the deployment.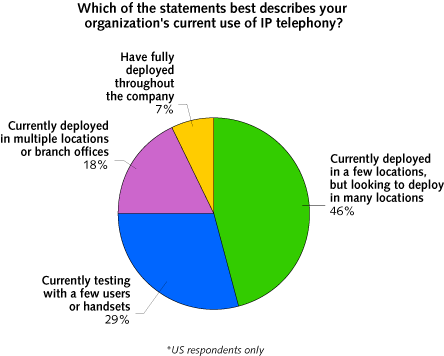 Types of VoIP
VoIP exists today in many shapes and forms. Some require equipment on premise, some have the equipment located in the carrier network and some are a mix of IP and TDM. Which one is best? There is no single right answer. It depends on the needs of the organization. Each option has its own pros and cons as shown below.
Hosted VoIP
Hosted VoIP is where the call control is located in the service provider network. This could be a traditional CPE-based IP PBX hosted in a service provider, but is more likely a softswitch-based service. A softswitch is a carrier grade IP PBX that's capable of delivering voice to multiple customers simultaneously. In either case, the call control is located in the carrier network and delivered over a data circuit so there is no need for an enterprise to have any CPE-based equipment other than a router to connect to the WAN (Wide Area Network). A hosted service obviates the need for any kind of up front cost and is normally charged on a per-user, per-month fee, very much like a traditional Centrex service.
Hosted services normally have fewer features than an enterprise class IP PBX. Most enterprise vendors build their solutions based on a standard called SIP (session initiation protocol), and then add new features by creating proprietary extensions. Because a softswitch hosts voice for multiple companies, the vendors normally follow the SIP standard exclusively meaning that they will lack the proprietary, pre-standard features. The majorities of service providers today provide a hosted VoIP service offering for those businesses who do not want to deal with the challenges of managing an IP PBX system and leave that to their service providers.
Managed VoIP
Managed services have become the recent trend of the communications industry as network complexities overwhelm most network managers. Managed VoIP differs from hosted VoIP in that, instead of the service provider managing the VoIP system on their own premise, they provide enterprises with the CPE. The managed service provider installs the CPE, tests it, and ultimately deploys it on the customer premise. The service provider also provides network monitoring and management remotely as well. This alleviates a great deal of complexity, and frees up resources that can be better utilized for some of the more important initiatives within an organization.
One of the many challenges still surrounding managed services is security. Many businesses are still not comfortable handing all control over to their service provider. Another challenge that has emerged recently is the complexity of managing several different providers. Forty-two percent of enterprises prefer to consolidate their vendors, which would provide a single point of contact or a single "throat to choke" in the event of a failure. Enterprises looking to implement managed VoIP should look to service providers who are partnered with systems integrators that can provide a single point of contact.
Pure IP PBX
A pure IP PBX is a software-based version of a traditional PBX that's often delivered in an appliance. The pure IP PBX replaces the traditional TDM PBX. The data network is then used to deliver voice services. A pure IP PBX offers a high degree of flexibility in where the call control is located. Normally, migrating from TDM to IP is not a one-to-one replacement. Companies often rationalize the number of IP PBXs down significantly. I recently spoke with one company that rationalized 57 traditional PBXs down to three.
The downside of deploying an IP PBX is that the systems need to be "hot cut" over (moving from the legacy PBX to the IP PBX with no significant loss of service). Interoperability between the old system and the new system is often a problem. An example: users are often unable to forward voice mails from a traditional PBX from one vendor to an IP PBX from another manufacturer.
Hybrid IP PBX
This form of VoIP is perhaps the most widely used. Hybrid essentially means just that, a hybrid of old TDM network and IP. This provides enterprises with a clear migration path towards VoIP, and is particularly appealing organizations that have made a significant investment in TDM PBXs as it provides a means to retain some of that investment. In a hybrid environment, an IP card is inserted into the PBX and the IP network is used for toll bypass.
While in concept, hybrid does seem appealing, it can lengthen the migration cycle. Hybrid requires touching every PBX, and when the company wants to move to a pure IP system, it requires visiting every location again. In essence, companies would do twice the amount of work of moving to a pure IP system. Also, most hybrid systems do not provide the same level of application integration as a pure IP system.
VoIP deployment models
Hosted VoIP


Pros: No upfront cost. Service located in the cloud means faster upgrades and repair time.
Cons: Lack of control. Limited feature set.
Managed IP PBX

Pros: Little to no up front cost. Managed providers removes the burden of managing converged network.
Cons: Lack of enterprise control. Could limit vendor choice.
Hybrid IP

Pros: Leverages existing equipment. Enterprise can migrate at a slower pace.
Cons: Doesn't allow for the same level of application.
Pros: Flexibility in deployment strategies and total enterprise control.
Cons: Expensive upfront costs. Requires immediate migration to new system.
Other VoIP business models
Skype (peer-to-peer)
Skype has a significant presence with consumers. Increasingly however, Skype is emerging as an enterprise alternative, though the trend remains end-user driven. Today about 33% of Skype users are using it for business purposes. The danger with Skype stretching beyond enterprise walls is that it is difficult to control and manage. Topping the list of concerns among enterprise organizations is security. Because Skype is Internet based, network managers are hesitant to place Skype on their network.
To be competitive in the market, Skype has been seeking partnerships for a comprehensive security solution that can provide a more appealing product for enterprise markets. While Skype still has a long way to go to play competitively in the enterprise market, it certainly has the means to do so at a rapid pace.
Vonage
Vonage provides phone service via any broadband connection. While Vonage has primarily been marketed to the consumer, it also has its eye on the enterprise. Vonage has not been as successful as Skype, as was evident by their disastrous IPO last year, but it has managed to acquire a good number of subscribers. Vonage and other like providers may be more successful in the small business market, since the cost of PBXs is more expensive and Vonage can provide a PBX free alternative. For Vonage, the SMB market currently represents 10% of their customer base. However, for larger enterprises, Vonage can be viewed as a complementary phone, rather than a replacement to the PBX. In most large businesses, a physical telephony system is still very much needed. Another downfall is the dependence on a broadband connection. It is susceptible to power outages and natural disasters.
Yahoo
Yahoo has introduced VoIP through their instant messenger service. Much like Skype, its "Phone Out" PC to landline rates are as low as two-cents-a-minute in most markets. Their "Phone In" plan allows subscribers to receive calls on their PCs from their landline and mobile phones at a flat rate of $2.99 a month. Still very much consumer based, it has the potential to be slightly disruptive in the SME market as many employees already have Yahoo instant messenger on their desktops. Yahoo also has the financial backing and global brand name to help it be successful in this arena, should it choose to play.
Jajah
Making its name in the consumer market, it has the potential to be as successful as Skype. Its model is different in that it doesn't require a client download and doesn't use the PC to make the call. Instead, the consumer logs onto the site, dials the originating and destination phone numbers and the call goes over the Internet. The last mile connection, however, does go through a PSTN or mobile service. The service is not free; however, it is comparable with Skype's rates.
Selecting the right VoIP model
Enterprises now have a great deal of options to choose from. It is no longer as cost prohibitive as it once was, and many service providers have now made it easy to implement and manage. Managed and hosted services are now a viable alternative to premise-based solutions and will be increasingly more popular with companies who do not want to deal with the complexity of running a converged network. For those businesses who still want an in-house deployment, there are very reliable turnkey solutions out there that can simplify this process.
When assessing which one of these models to go with, first you have to assess the real needs of the business.
Are there enough long distance calls occurring?
Is voice quality critical to the success of your business?
What percentage of your workforce depends on a phone?
What percentage of your calls are on net and international?
Any one of the traditional IP PBX equipment vendors can help guide you in choosing the right solution for your business. Cisco, Avaya, Nortel, 3COM and Mitel all have comprehensive VoIP solutions tailored for the enterprise market. These vendors partner with the systems integrators who help to deploy and manage these networks. However, traditional equipment vendors are not the only players in this sandbox anymore.
Emerging players such as Skype, Vonage, Yahoo and Jajah all provide alternatives to traditional voice services. While these vendors sell mostly to the consumer market, it's just a matter of time before they begin to make traction in the enterprise.
Deploying VoIP: Five things every CIO should know
Navigating the complexity of VoIP can be overwhelming and it may seem like you need a technical degree to understand it. Below are a few recommendations that can help:
Be prepared and fully understand whether you are ready for IP telephony.
Before embarking on the project, have a qualified convergence consultant perform a network-readiness assessment to determine the cost to upgrade. Understand all the components of the solution and be prepared to explain to the business executives what the underlying costs are.

It's about the applications, not the technology.
Once the costs are fully understood, the CIO must be able to discuss the benefits in business terms, not technology terms. Simply put, business leaders really don't care about IP, SIP, telephony or other technical terms.

Leverage existing technology wherever possible.
This is a good practice all the time, but was lost during the late 1990s. By bringing together all of the corporate applications and infrastructure, companies will recognize greater efficiencies and reduce the amount of excess and waste in many IT organizations.

Sort out the internal politics.
The CIO must strategically determine who owns the converged infrastructure. I recommend that companies cease distinguishing between voice and data networking, and only concern themselves with corporate communications.

Remember that one size does not fit all.
Pick the solution that fits the business best rather than trying to force the business to change to take advantage of the technology. In many cases, the latest and greatest technical solution isn't the best thing for the business and a slower migratory approach is prudent.
About the author:
Zeus Kerravala manages Yankee Group's infrastructure research and consulting. His areas of expertise involve working with customers to solve their business issues through the deployment of infrastructure technology solutions, including switching, routing, network management, voice solutions and VPNs.

Before joining Yankee Group, Kerravala was a senior engineer and technical project manager for Greenwich Technology Partners, a leading network infrastructure and engineering consulting firm. Prior to that, he was a vice president of IT for Ferris, Baker Watts, a mid-Atlantic based brokerage firm, acting as both a lead engineer and project manager deploying corporate-wide technical solutions to support the firm's business units. Kerravala's first task at FBW was to roll out a new frame relay infrastructure with connections to branch offices, service providers, vendors and the stock exchange. Kerravala was also an engineer and technical project manager for Alex. Brown & Sons, responsible for the technology related to the equity trading desks.

Kerravala obtained a B.S. degree in physics and mathematics from the University of Victoria (Canada). He is also certified by Citrix and NetScout.

Pure IP
Dig Deeper on Unified Communications Resources