Manage
Learn to apply best practices and optimize your operations.
Cisco VoIP management guide: VoIP management lifecycle
VoIP lifecycle management enables enterprises to safely pursue large production deployments. The management lifecycle includes the following four elements.
VoIP has matured to a point where enterprises need to adopt a formal approach to managing it. By adopting a lifecycle approach, enterprises can safely pursue large production deployments. The management lifecycle includes four elements:
Planning and assessment: This phase determines whether the network infrastructure is adequate to support telephony and if managers will need to upgrade their network. Inadequate planning and assessment can undermine the project and increase the cost of rollout.
Pre-deployment testing: This phase simulates a production environment. Network managers should use active testing tools to generate synthetic voice, video and data traffic. They should also measure quality, network and protocol performance and the effects of other applications and systems. Network managers should also use passive monitoring to gauge their ability to monitor the infrastructure and voice quality.
Ongoing operations: This phase involves monitoring in the production environment. At this phase, network managers should use both active and passive monitoring to assess performance of the network and identify faults. Managers should use active testing for service assurance and passive monitoring for fault and performance troubleshooting.
Optimization: This phase involves gathering data from all the available sources and generating reports. Managers should use this information to assess the performance of the infrastructure. This is a continuation of pre-deployment testing. In this case network managers should be testing the production environment to ensure the network supports increasing traffic and new applications. Managers must optimize capacity of the IP network as well as ports, gateways, and PSTN interconnects. It will help managers to pan for future upgrades and to optimize cost/performance.
Exhibit 2. Lifecycle approach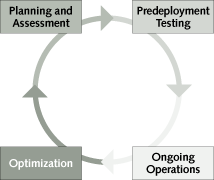 Return to Cisco VoIP management guide.

Dig Deeper on Network Planning and Testing for IP Telephony