Evaluate
Weigh the pros and cons of technologies, products and projects you are considering.
Webex Teams vs. Microsoft Teams: Choosing the right platform
Find out which team collaboration platform is the best fit for your business in the Webex Teams vs. Microsoft Teams showdown. Our expert analyzes the Cisco and Microsoft products.
Cisco and Microsoft have long been competitors in the enterprise collaboration space -- first in instant messaging...
Continue Reading This Article
Enjoy this article as well as all of our content, including E-Guides, news, tips and more.
and later in telephony and meeting platforms.
Cisco introduced the Spark team collaboration app in 2015, touting its ability to integrate Cisco's voice and video offerings and enable customers to use an integrated platform for all their real-time communications needs. Microsoft responded by launching Teams within Office 365 in early 2017.
In the fall of 2017, Microsoft declared Teams would replace Skype for Business as its primary communications app. It didn't take long for Cisco to respond by announcing in April it was rebranding Spark to Webex Teams to deliver further integration with its Webex Meetings service -- creating, perhaps intentionally, much confusion in the marketplace.
So, when IT buyers, analysts and partners talk about Teams, are they talking about the team collaboration products from Cisco or Microsoft?
When analyzing Webex Teams vs. Microsoft Teams, both team collaboration apps offer persistent messaging in channels or virtual rooms. Both offer the ability to escalate a chat-based conversation to a conference call, with or without video, and integrate team spaces with a variety of third-party apps. Webex Teams and Microsoft Teams even extend their experience to touchscreens with the Cisco Webex Board and Microsoft Surface Hub, respectively.
Another similarity in the two platforms is the lack of ability to federate between Webex Teams and Microsoft Teams. Currently, it's not possible for an organization to integrate a Webex Teams instance with a Microsoft Teams instance. Organizations must choose one or the other, or run them both side by side.
Webex Teams vs. Microsoft Teams: The differences
As much as the apps are similar, they also have significant differences in the following areas:
Telephony. Webex Teams offers limited calling functionality, primarily for SMB customers. The platform's focus, however, is to supplement and integrate with Cisco's existing Unified Communications Manager or Hosted Collaboration Solution calling platforms. Cisco isn't replacing its telephony soft client, Jabber, with Webex Teams, either. But the vendor offers extensive integration, enabling Jabber and Teams clients to call one another and maintain a single set of call data records. Microsoft is moving in a different direction by delivering a full set of calling features within Teams and recently achieved feature parity with Skype for Business Online. It is pushing to migrate both on-premises and cloud-based Skype for Business users to Teams over time, though it does offer direct routing to support integration between Teams and existing on-premises calling platforms and PSTN access services. Microsoft also offers Calling Plan for customers wishing to procure PSTN access directly from Microsoft.
Security. Cisco touts its breach lock technology as a key differentiator, which provides end-to-end encryption of all Webex Teams data and allows customers to hold their own encryption keys. Cisco also offers federation between different organizations using Webex Teams, eliminating the risk of guest accounts that may serve as a vector for data leaks. Microsoft Teams only supports encryption at rest and in motion, as well as mobile device management controls via Intune. It does not yet support interorganizational federation.
Productivity. Cisco integrates Webex Teams with its meeting apps and touchscreen board, as well with a wide variety of partners. Microsoft's core value proposition is its integration with Microsoft Office, enabling users to access, edit, comment on and share documents stored in OneDrive directly within Teams spaces.
Cost. Cisco offers a variety of approaches, including stand-alone licensing, bundled licensing for Webex Teams and Meetings, and licensing as part of its Flex Plan offering. Microsoft Teams is essentially free for those already using Office 365 E3 or E5 licenses. Calling features require an E5 license, while PSTN access requires additional licenses.
Looking at Webex Teams vs. Microsoft Teams, perhaps the primary differences are in terms of product direction. Webex Teams is simply another app in the Cisco portfolio, although it offers a high level of integration with existing Cisco on-premises and partner-hosted portfolios, as well with Webex Meetings. It remains to be seen if Cisco will use its BroadSoft acquisition to expand its cloud options.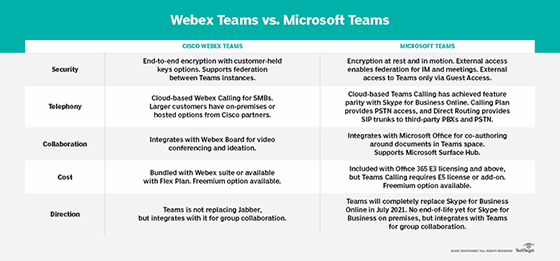 Microsoft, on the other hand, has made its Teams app the center of its unified communications universe, delivering a rich telephony experience, coupled with messaging, meetings and extensive third-party integrations.
Cisco's team collaboration product is extremely attractive to those with an installed base of Cisco voice and video endpoints, whereas Microsoft adoptees tend to value Teams' high level of integration with Office. Conduct due diligence on both apps, as well as other alternatives that may provide value to your organization.
Dig Deeper on Collaborative Applications