WebRTC applications could disrupt UC market
Convergence among WebRTC apps, enterprise messaging and project management vendors challenge established UC players.
What happens when you take a company's core competency and turn it into a commodity? This question is what unified communications vendors need to consider.
Akin to Chekhov's principle, when WebRTC appeared in 2012, it was the gun revealing itself in the first act. Three years later, we are at a point of ubiquity. Just listen to the Enterprise Connect keynote speeches from last month. Big vendors Avaya, Cisco and Microsoft mentioned WebRTC applications in their speeches. Interestingly, Google, considered the forefather of WebRTC, ignored it in their keynote. And now that gun from the first act is ready to fire.
For more than a decade we've lived in a world where the real-time communications component was a hard nut to crack. Companies fought over it, focusing on media quality, resolutions, frame rates and audio spectrums. There was room for one or two entrants every year, making the market somewhat competitive. Competition was a known quotient, where the name of the game was slow evolution.
The need for multiple vendors is diminishing, as you can now source your UC needs from a single vendor -- one using WebRTC.
So, what's in unified communications? In most cases, UC will be limited to presence, instant messaging, voice and video calling, perhaps a sparkle of collaboration through screen sharing, and the ability to connect room systems or the good old PBX. The complexity of it all revolves around interoperability of equipment from multiple vendors and media processing.
WebRTC has changed all that. With WebRTC apps, there's no real need for legacy equipment. And the need for multiple vendors is diminishing, as you can now source your UC needs from a single vendor -- one using WebRTC. If connectivity to legacy equipment is desirable, you can find that as well, but is that really a business imperative these days?
Unified communications vendors are left without a defensible barrier of entry from external competition that can come in different shapes and sizes. Here are three such examples:
The enterprise messaging vendor: Be it Slack, HipChat or any of the others that synchronize work inside the enterprise, they offer search and integration capabilities that are unheard of in unified communications. And they are winning the hearts of the workforce.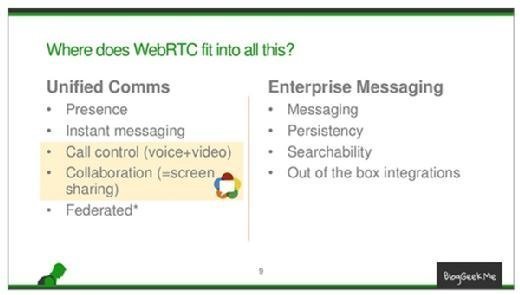 In the diagram above, putting federation capabilities aside, UC has nothing to offer that WebRTC can't provide or that enterprise messaging vendors don't have already:
Presence and instant messaging are part and parcel of both.
Voice and video calling are features that can be added using WebRTC.
Federation is an unmet promise of UC anyway.
Enterprise messaging, on the other hand, offers capabilities that are essential and often surpass most UC services when defining the job that needs to be done:
Persistency: Making all interactions archived within the system itself
Searchability: Making all interactions, links and shared content searchable and easily available; creating a single source of truth within the enterprise
Out-of-box integrations: Where unmet requirements can be covered by third parties, as opposed to federating with others using a known standard protocol
I have written about this topic at length on my blog.
The project management vendor: Within an enterprise, much of the collaboration happens in the scope of project management tools. These tools help define tasks and allocate them throughout the workforce. They enable people to communicate and coordinate with each other, mostly through text. Now that real-time communications is easier, why not embed it directly into these same tools used for project management?
What happens if project management software products like JIRA, Clarizen, Asana or Basecamp start to offer such a capability? How much of the meaningful enterprise communications would continue to happen within its UC tool?
A consumer messaging vendor: This one was new to me. I learned about it from Colin Berkshire when reading his post about WeChat. In it he explains how his company has started using WeChat more and more for messaging that really belongs within the enterprise.
While he does say switching to WeChat was a migration from email and voice calls to short text messages, once you start communicating there, why not continue everything on such a tool?
And the same question applies to WebRTC applications. Once WebRTC is added and voice and video are enabled, will it be used instead of the corporation's UC system of choice?
It is all about mindsets and DNA
The new entrants have assets that are elusive if what you did for the last decade was UC. The business models are different; even the buying centers are different. How can a company compete when the basis of competition is unknown to it?
For today's UC vendors, future success will hinge on their ability to understand the shifting competitive marketplace and to make the changes necessary to survive.
About the author:
Tsahi Levent-Levi is a VoIP and WebRTC consultant and author of the BlogGeek.Me blog, where he gives his opinions on disruptive technology in communications.
Next Steps
WebRTC set to turn enterprise video on its head.
Find out what WebRTC applications will and won't do for enterprises.
Is enterprise messaging truly unseating UC platforms? Not so fast.
Dig Deeper on Communication Integration with Enterprise Applications