Problem solve
Get help with specific problems with your technologies, process and projects.
Voice over IP Crash Course, Chapter 4: Validating the existing network
Recent advances in VoIP (Voice over IP) technology have made it the solution of choice for voice service because of its low cost and increased reliability. Voice over IP Crash Course offers practical technology coverage, while discussing the business, strategic and competitive implications of VoIP deployment in corporations. The book also covers the challenges faced by service providers as they evolve to an IP infrastructure while continuing to operate the PSTN.
---
Voice Over IP Crash Course
Chapter 4: Validating the Existing Network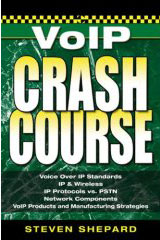 Chapter 4 of Voice Over IP Crash Course by Steven Shepard presents best practices for validating your existing network before implementing VoIP. Most enterprises have a significant investment in their communications infrastructure and do not want to lose the value of that investment. The evolution to a converged Internet Protocol (IP) architecture does not necessarily mean that the existing installed base must be completely replaced.

In this chapter, you will learn how to carefully craft a migration strategy, perform asset and capability inventories, decide what capabilities are required that your current network can not deliver and uncover tangible and intangible costs that can be mined out as a result of implementation. This chapter also covers the pre-assessment phase, the physical network, the logical network, network utilization, usage practices and policies.

Reproduced from the book Voice Over IP Crash Course, ISBN 0072262419, copyright 2005, by permission of McGraw-Hill Professional, Two Penn Plaza, New York, NY 10121. Written permission from McGraw-Hill is required for all other uses. Click here for a detailed description and to learn how to purchase this title.


Download Voice Over IP Crash Course, Chapter 4: Validating the Existing Network here.

EDITOR NOTE- This is a large file and will take some extra time to download.

Dig Deeper on VoIP Migration and Implementation