Sergey Nivens - Fotolia
Get started
Bring yourself up to speed with our introductory content.
Twilio Studio visual builder eases communications design
The CPaaS market continues to evolve, as Twilio Studio offers a visual drag-and-drop interface that could reduce the reliance on developers to build communications tools.
Communications platform as a service, or CPaaS, is getting a visual builder tool that aims to ease the development...
Continue Reading This Article
Enjoy this article as well as all of our content, including E-Guides, news, tips and more.
of communications workflows.
Traditionally, CPaaS has been focused on developers and enabling them to embed communications into business processes. With the help of CPaaS, enterprises can send and receive messages and voice and video communications on various mediums and channels, including text messages, phone calls, social messaging and group video conferencing.
Simplicity is usually the selling point for CPaaS. Enterprises don't need to develop the basic communication capabilities from scratch and maintain and update that code for several years. Instead, you can use a CPaaS API to do that work for you and pay per use. This turns Capex into Opex, and enterprises can benefit from the economies of scale of a CPaaS vendor instead of making a larger investment.
The challenge, however, is we still need developers. This point is illustrated in a billboard I recently saw in San Francisco from CPaaS provider Twilio: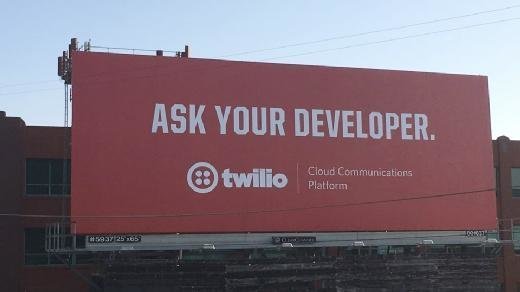 The billboard proclaims: Ask your developer.
And that is a problem.
CPaaS shifting toward omnichannel
Technology is in a state of transition. The end result is every company will be a software company, and it doesn't even matter the size or industry. But in order to get there, we can't expect every employee in the enterprise to be a developer. And we really don't want to find the developers and ask them what to do about everything.
The CPaaS market is still quite new -- only a decade old. In the last year or two, the market has seen a change: Vendors are going upstream and offering omnichannel messaging services.
This change is happening for two reasons: The market is seeing a general shift toward omnichannel, and vendors are moving away from competing on price for products that are undifferentiated. Twilio, in particular, is making this move upmarket. Nexmo has taken a similar approach with its Nexmo Chat App, and others will follow suite.
The migration toward omnichannel fulfills the need for enterprises to communicate across different channels. Omnichannel also creates differentiated products that are harder to abandon. This, in turn, creates vendor lock-in and a harder migration from one vendor to another. Why? The enterprise no longer consumes a low-level atomic function of sending a message over an SMS. Instead, the enterprise consumes a higher-level abstraction that sends a message to a customer on the most preferred channel.
Twilio Studio empowers nondevelopers
The missing piece to this process was recently revealed with the introduction of Twilio Studio, a visual drag-and-drop environment where you can build your own business flow logic. I am refraining from using the word develop here, because the tool opens up the doors for nondevelopers to use CPaaS. Twilio Studio is currently in preview.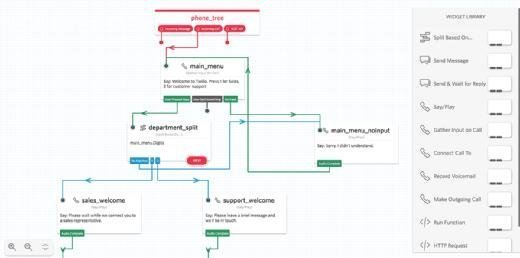 This isn't the first time developers have been given visual tools. Many tools lately have derived from IBM's Node-RED open source project, a "flow-based programming tool" that assists in visualizing flows within complex software systems.
In the communications space, Twilio Studio stands out at the moment as the most generic tool that enables pretty much anyone to take part in the design, development and maintenance phases of delivering business processes. Amazon Connect offers a visual designer for communications and is focused on contact centers.
A visual builder can shorten the time to market for launching new communication flows and tweaking existing ones, making activities -- such as experimentation and A/B testing -- accessible to many more enterprises.
By offering a visual builder tool where customers can think, design, implement and run their communication business flows, Twilio has done something new. Enterprises can now include more than just developers in the lifecycle of these business flows. This, in turn, may reduce the importance of developers and give more control to product and project managers in charge of these initiatives.
The other side effect relates to stickiness. Using a visual builder means a migration path to another CPaaS vendor now has a higher cost. There's no easy migration alternative besides implementing virtually everything from scratch. What would other CPaaS vendors do now?
Assuming Twilio Studio gets adopted and becomes a hit with Twilio's customers, other CPaaS vendors will have to follow suit and offer their own spin on visual CPaaS. This will take well into 2018 to materialize, but be certain that this is an important part in the future of CPaaS from now on.
Dig Deeper on Communication Integration with Enterprise Applications