Top WebRTC use cases for contact centers
While many enterprises ought to explore their own WebRTC use cases, contact centers are leading the way in adoption of the browser-based technology.
This year, the contact center is the clear winner of WebRTC adoption. Within contact centers, four different WebRTC use cases generally emerge:
Web customer to agent: Also known as click-to-talk. A widget is added to a website, enabling interaction between customers from the website to an agent in the contact center.
Customer to Web agent: Where the customer uses a non-WebRTC channel to access the contact center, and the agent uses the browser and WebRTC to answer the call.
Web agent to customer: Where a salesperson contacts a customer, prospect or partner directly from the customer relationship management (CRM) system without picking up the phone.
Agent to Web surfer: A Web surfer on the website is targeted based on his or her relevance.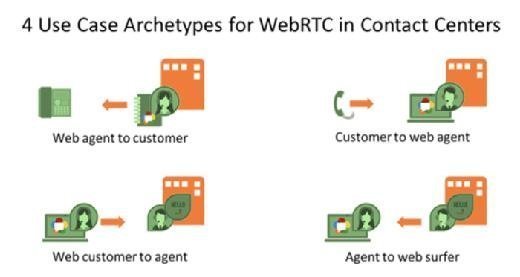 The above WebRTC use cases are ordered by the popularity of the vendors offering them. But arguably the most popular and successful WebRTC archetype today is the second one: customer to Web agent. Why is that?
The customer-to-Web agent dynamic changes nothing for the customers; they interact with the contact center agent the same way, even if WebRTC isn't used. This relationship means the only reliance on which Web browser supports WebRTC is on the agent's side -- a place where enterprises have more control. The interesting thing about this WebRTC use case is the strategic value is hidden for the enterprises that adopt it. The value is only realized by taking the plunge.
As examples, here are two WebRTC use cases in which enterprises adopted the technology for their contact center agents and how that adoption redefined the way they operate.
WebRTC allows company to expand, streamline workflow
Intuitive Solutions offers managed contact center services. If you operate a pizza place in Texas and want someone else to handle your excess phone orders during peak hours, then you can use Intuitive Solutions, which has 250 agents in its contact centers.
Recently, the company had some challenges. They wanted to grow but their existing facility wouldn't accommodate that. They had to move to a new office or find other means of growing.
They had four different suppliers in their contact center. At times, when technical issues arose, the cause was hard to pinpoint and fix, as they juggled among suppliers. In the end, they decided to switch suppliers and use a single vendor who offered them a combined CRM and call center service, which also made use of WebRTC.
By using WebRTC in the contact center, agents can work from home -- they don't need to go to the office. This allows Intuitive Solutions to grow beyond its physical facility, serving more customers.
Having the call center and CRM software delivered by a single vendor meant the visibility into day-to-day work at Intuitive Solutions has grown greatly. Daily reports provide a more accurate and useful picture of business operations, which has enabled Intuitive Solutions to base their decisions on better data.
WebRTC gobbles up the globe
Just Eat is an online food-ordering service. If you are hungry and want to order takeout -- or takeaway as the London-based company calls it -- then Just Eat is your aggregator of restaurants to use. The company currently operates in 15 countries, becoming a global player.
With Just Eat, ordering food is a self-service experience for customers. But if problems arise with the food delivery, then customers can call Just Eat to resolve issues. To that end, Just Eat needs to operate its contact center. By using WebRTC in the contact center, Just Eat gained some business benefits.
Since the contact center is fully virtualized -- with no physical devices that need to be purchased, installed or operated -- opening a new contact center and expanding into another country can be done in a single week.
In turn, this strategy presents greater agility and flexibility because adding or reducing the number of contact center agents is an Opex decision, with no Capex considerations. Therefore, Just Eat's risks of entering a new country reduced dramatically. The costs associated with penetrating a new market are greatly reduced by this capability.
Another interesting aspect is the flexibility of Just Eat's night shift. Since many people order food in the evening, Just Eat had to cater to its agents and taxi them to the contact center for the night shift.
Then a decision was made: Replace taxi fares by buying Chromebook laptops for the workforce, enabling agents to work from home. The use of WebRTC enabled that decision and made it easier for Just Eat to operate their service.
Learn more about Just Eat's contact center from this YouTube video.
Recognize WebRTC use cases
Many people tend to focus on WebRTC's technology and its limitations, like how it enables video calling or how it can't be used on Internet Explorer and Safari. By embedding WebRTC into the browser, many of the benefits promoted by contact center vendors for years can now be realized.
It is important for enterprises to take a better look at how WebRTC can transform their business.
Next Steps
WebRTC use cases extend into healthcare.
Will WebRTC video blow up the network?
Examine some WebRTC technology predictions.