Problem solve
Get help with specific problems with your technologies, process and projects.
The power of virtualized video conferencing from Vidyo
Vidyo rolls out the industry's first virtualized video conferencing infrastructure, delivering high-quality, scalable video conferencing to any endpoint.
Vidyo introduces the first virtualized video conferencing infrastructure, providing a high-quality, flexible and cost-effective alternative to high-end, MCU-based solutions.
Virtualization has been a powerful driver to the transformation of IT. By consolidating IT hardware, virtualization improves the utilization and flexibility of IT models and business continuity plans -- all at significantly lower costs. This is why virtualization has had a significant impact on the evolution of applications, servers and storage.
However, despite the significant benefits, virtualization has had little impact in the areas of network and communications. The primary barrier to using virtualization in these areas is that virtual servers can't process information fast enough to handle the real-time requirements of the communications and network infrastructure.
However, thanks to Moore's Law and improvements in virtualization technology, we are on the precipice of change. Over the next several years, more network and communications infrastructures will use virtualization to improve scalability and lower costs. We saw one proof point of this earlier this month when startup video conferencing solution provider Vidyo released the first virtualized video conferencing infrastructure.
Traditional video conferencing systems run on dedicated hardware and scale through the addition of more hardware. Want to connect more video endpoints? Add more hardware -- not just off-the-shelf commodity hardware, but purpose-built, dedicated hardware. This hardware carries a steep price point, which for many organizations makes deploying video a prohibitively expensive proposition.
The virtualized VidyoRouter utilizes off-the-shelf servers located in a corporate data center or in the cloud to power the virtualized video conferencing service. This means customers have the ultimate flexibility in deployment options. IT managers can run the software in their own data center, out in the public cloud or in a hybrid deployment.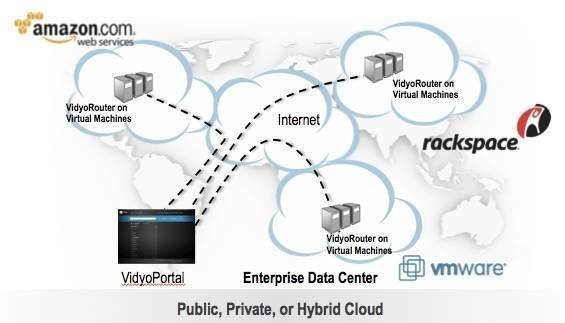 Virtualizing the server software makes it much simpler to deploy and scale the video conferencing infrastructure. Vidyo was able to accomplish this by virtualizing the media plane so the MCU (multipoint conference unit) can run as a virtual service.
Vidyo claims the virtual router can be deployed in as little as 10 minutes. While this might be a best-case time, virtualized video conferencing deployments are faster when there's no requirement to rack-and-stack hardware. This is ideal for organizations that want to build a shared services model where extra capacity may be required on demand.
The virtual model should open up the door for more cloud-based video conferencing services. A service provider can offer the service at a relatively low price and charge for extra capacity when the customer needs it. Lower barriers to entry will create greater opportunity for more customers to use video and drive the market for the entire ecosystem.
The virtualized video conferencing solution is a much more cost-effective solution compared to Polycom's approach of pooling a large number of specialized appliances together -- which creates the scale but at a very high price. Virtualized video conferencing could cut the cost of an enterprise-wide video solution by as much as half. However, if elements of the virtual servers are not sized correctly -- such as memory, CPU, storage, etc. -- the virtual solution will not perform as well as dedicated hardware, so there is some up-front work for the deploying organization.
Virtualization is well adopted everywhere in IT outside of the network. Over the next few years, I expect to see more communications and network infrastructure follow the virtual deployment model, bringing the same benefits and economics that computing has enjoyed in this market.

About the author: Zeus Kerravala is the founder and principal analyst with ZK Research. Kerravala provides a mix of tactical and long-term strategic advice to constituents, including end-user IT and network managers; vendors of IT hardware, software and services; and the IT investment community.
Prior to ZK Research, Zeus Kerravala was a senior vice president and distinguished research fellow with Yankee Group. Before Yankee Group, Kerravala had a number of technical roles, including a senior technical position at Greenwich Technology Partners (GTP). He has held numerous internal IT positions, including vice president of IT and deputy CIO of Ferris, Baker Watts and senior project manager at Alex. Brown and Sons Inc. Kerravala is heavily quoted in the business and technology press, and is a regular speaker at events including Interop and Enterprise Connect.
Dig Deeper on Business Video Conferencing and Telepresence Technology