Fotolia
ROI template helps calculate UCaaS costs, benefits
When plotting an ROI template for UCaaS, companies need to go beyond measuring costs and consider the positive impact to business processes, such as faster application upgrades.
One of the biggest challenges in measuring the benefits of unified communications is quantifying the ROI. Simply...
Continue Reading This Article
Enjoy this article as well as all of our content, including E-Guides, news, tips and more.
"improving collaboration" doesn't mean anything unless it translates into reducing costs or improving revenues. But moving to UCaaS adds a new wrinkle.
IT leaders need to understand the specific and measurable ROI benefits offered by cloud services, not just in reducing operational and capital costs, but enabling buyers to take advantage of faster upgrades and broader accessibility to UC applications.
Any ROI exercise for UC as a service (UCaaS) should start with measuring the total cost of ownership (TCO), which is just one component of ROI calculations. To decipher TCO, companies can start with this ROI template:
Upfront investment: Some UCaaS providers charge initial setup fees or require customers to pay the costs of phones, gateways or other on-premises hardware. Other providers bundle these elements into the monthly per-user cost.
Network upgrades: These updates can include power-over-Ethernet-compliant switches to support a migration from digital to IP phones, additional Internet bandwidth or private wide area network (WAN) connections to support accessing the UCaaS provider's network.
WAN optimization or software-defined WAN (SD-WAN): These devices help ensure voice performance over public Internet or private network connections.
Implementation costs: Network assessments and optimization can be calculated as ((staff time x loaded hourly rate) + third-party costs) / number of licenses.
Training: Employees and other staff who may support the UCaaS solution will need proper preparation.
Operational cost per license: Includes any monthly service fee plus staff time, equipment maintenance, third-party managed services, training and certification, calculated as:

(monthly service fee + (number of full-time equivalents x average annual loaded salary) + equipment maintenance + managed services + training and certification) / number of licenses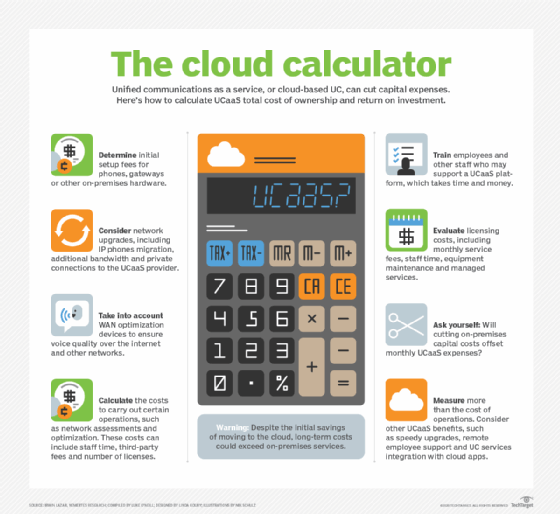 Network upgrades, implementation time, training, and phone and gateway investments often apply to both on-premises and UCaaS solutions. However, shifting the back-end platform to an operational expenditure (Opex) reduces the need for upfront investment, especially in capital costs.
Thus, companies evaluating a UCaaS ROI template need to answer this question: Will the savings in capital expenditures (Capex), and possibly in Opex, offset the monthly operational and licensing costs for a given UCaaS solution?
The appeal of eliminating capital expenses associated with on-premises platforms is a major reason why roughly 30% of companies that Nemertes Research has interviewed, mostly small and medium-sized businesses (SMBs), are using UCaaS today, and why another 56% are planning to do so or are evaluating the potential of moving to the cloud in the near future.
Unfortunately this calculation isn't always that straightforward.
Going beyond the ROI template
Nemertes' annual study of UC TCO looks at the capital and operational costs for UCaaS. For on-premises services, UCaaS offerings are typically cheaper in the first year of ownership. But, by the fifth year, cloud service annual costs typically exceed those of on-premises services -- with the caveat that this ROI template assumes no additional capital expenses over the five-year cycle.
But, as noted earlier, TCO isn't the only element of a ROI template. IT leaders also find that cloud services provide tangible benefits, including faster upgrades, easy support for remote and guest workers, and integration of UC services with other cloud apps like customer relationship management (CRM) and enterprise resource planning (ERP).
To determine a true ROI template for UCaaS, buyers must evaluate not just the cost of procuring and supporting the applications, but also the positive impact that UCaaS can deliver to business processes.
Next Steps
UCaaS ROI formula calculations and methodology
UCaaS has five major advantages over on-premises UC
UC as a service emerging as a viable deployment model