Fotolia
Evaluate
Weigh the pros and cons of technologies, products and projects you are considering.
Office 365 collaboration tools run the gamut
Microsoft collaboration tools offer a wide array of capabilities, including team chat, video sharing and project planning. Here are five key apps to consider.
The majority of migrations to Office 365 are usually focused on Exchange Online and the related communications capabilities, such as hosted email, calendars and contacts. But the Office 365 collaboration tools are mounting, and they are quite diverse, with new tools and features added often.
With all the additional capabilities, you may have missed a new tool or feature -- so let's get you caught up to speed.
Groups: Going beyond the initial possibilities of site mailboxes, the Groups app gives teams a shared space for email, documents and scheduling events. Groups works with Azure AD to provide a single team identity for permissions across Outlook, OneDrive for Business, OneNote, Skype for Business, Power BI and Dynamics CRM.
Some other apps still need to connect in, such as Yammer and Delve. Initially, these apps only worked with online apps, but Outlook 2016 currently supports the new Groups feature. Recent features added include E-discovery, litigation hold and dynamic membership. Yammer is expected to connect into Office 365 Groups in the first half of this year.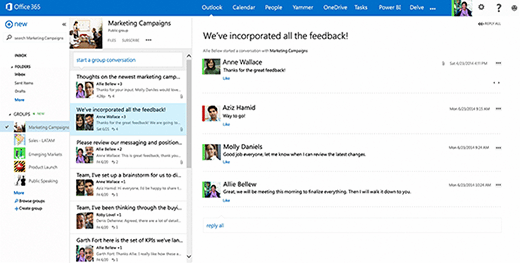 Office 365 Video: Were you aware that built into Office 365 collaboration tools is a new video hosting service that allows you to upload and share videos you feel are pertinent to your organization? You can embed these videos within SharePoint team sites, company portals, internal blogs, wikis and so forth.
Office 365 Video is connected with Yammer groups with new features rolling out to let video channel owners control the group that conversations go into for comments -- or disable Yammer for the channel. Future Office 365 Video features include basic analytics and trending patterns for videos viewed, a channel recycle bin, and other improvements.
Planner: As the name suggests, Planner, one of the new Office 365 collaboration tools, provides a way to organize teamwork. You can create plans, organize and assign tasks, share files and chat with other team members.
Visually, each plan has a Board, and you add items to the Board in the form of a Card that can be assigned to team members. Delve, yet another Office 365 collaboration service, has also introduced the use of Boards for organizing and sharing work.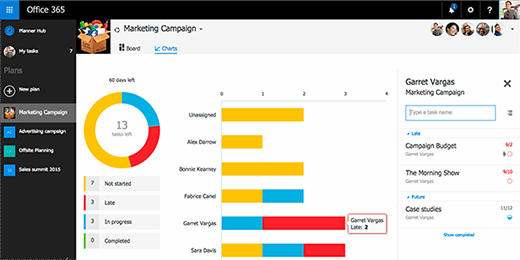 Sway: This "digital storytelling" app can help users create engaging website content. You can pop in text, images and other media, pulling from Bing, OneDrive, YouTube, Facebook and so on. It's like PowerPoint but without the need for a presenter, so the content can be appreciated without a human narrator.
OneDrive for Business: Although not a new collaboration feature, OneDrive continues to receive updates and enhancements. Recently, Microsoft released the OneDrive for Business Next Generation Sync Client for PCs and Macs to improve performance, offer selective sync, support larger files and more.
Increasingly, Microsoft is integrating OneDrive with other apps like Outlook, Sway and so on. New features in Office 2016, such as real-time co-authoring, can use OneDrive.
These are just a handful of the Office 365 collaboration tools to assist with teamwork and productivity. And these features are on top of the standard ones, such as Exchange Online, SharePoint Online and Skype for Business. While there may be a ceiling to the number of different types of usable applications for Office 365 collaboration tools, the number of features possible is pretty vast.