Rawpixel - Fotolia
New habits reshape collaboration in the workplace
Employee mobility, digital whiteboards, revamped video conferencing and persistent team chat spaces are redefining collaboration in the workplace.
Conversations around unified communications are morphing into broader discussions about all forms of enterprise collaboration -- a topic that has evolved and can now mean many things. In fact, a number of key collaboration trends are reshaping the way individuals work together both inside and outside the workplace.
1. Redefining collaboration in the workplace
We've all probably heard the adage that work is shifting from "where you go" to "what you do." Many people in the collaboration market use the term "new way to work," which broadly defines working from home, on the road, on mobile devices and in open workspaces. In this new way of working, you're always connected, using myriad devices and don't necessarily have a fixed desk or office location.
In our experience at Nemertes Research, these kinds of workers typically represent no more than 20% of a typical workforce. But their unique needs require IT groups to tackle several issues, including network and device security, application performance across wired and wireless networks, support for user-owned devices, wireless network ubiquity, and the need to equip huddle spaces and small conference rooms with video conferencing tools.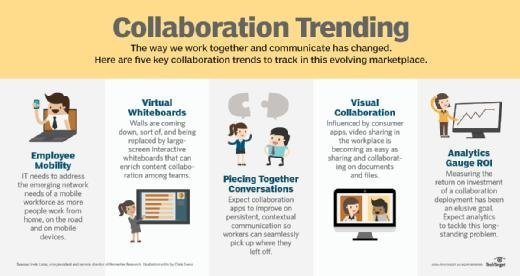 2. Collaboration trends beyond voice and video
Peek inside most conference rooms today and you'll find people huddled around laptops staring at a Web conference or maybe using a room-based video conferencing system and emailing documents to each other. And notes may be scribbled on a whiteboard or hung on the walls.
Vendors such as Bluescape, Cisco, DisplayNote, Microsoft, Nureva, Polycom and SMART are transforming those walls, and screens are becoming collaboration mediums, enabling individuals in different locations to work together on content. One example is virtual whiteboards, which allow multiple people to see and contribute to the board, and let team members save the screen's contents and return to it at a later time.
3. Persistence and context integration
A major flaw in most collaboration applications is they lack persistence and context. With most Web conferencing services, a team cannot preserve the state of the session and return to it later. Instant messages, too, often lack the context needed for a project or task.
Collaboration sessions often happen on their own islands, so to speak, and aren't easily relatable to a specific effort or easily shared with team members. New members can't see what happened before they arrived.
Team collaboration apps -- such as Cisco Spark, Cotap, HipChat, Redbooth, Slack and Unify Circuit -- aim to change the way people collaborate. These apps are looking to move from the static worlds of Web conferencing and email into a dynamic and persistent team space that provides an ongoing location for groups to communicate, share ideas and content, and incorporate additional contributors.
Additionally, in other collaboration trends, we could see more consolidation and acquisition of team apps -- like RingCentral's purchase of Glip earlier this year -- as traditional UC vendors seek to enter this emerging application market.
4. Visual collaboration trends and consumerization
Visual collaboration takes video conferencing up a notch. It enables individuals and teams to use video content to collaborate, much in the same way they use documents and files today.
With video collaboration enabled, workers can create and share video content, such as product demos, reports and project updates, with team members and customers. Several vendors -- including Brightcove, Kaltura, Kollective, Polycom, Qumu and VBrick -- provide platforms that look like YouTube or Instagram, enabling employees to share videos within the workplace as easily as they do in their personal lives using consumer applications.
5. Factoring in the business value
This last key trend remains the Holy Grail for IT. How do IT managers show how the dollars they are spending to improve collaboration in the workplace are translating into tangible business value -- in either additional income or reduced spending?
Expect to see collaboration vendors add analytics that enable IT and corporate management to gain insight into collaboration tool utilization, enabling such scenario analysis as comparing team productivity with collaboration application usage.
Taken together, these trends for collaboration in the workplace highlight the need to expand thinking beyond traditional UC applications like conferencing, screen sharing and video. Now, collaboration also involves integrating apps more closely with business processes to gain useful knowledge of the results of current investments.
About the author
Irwin Lazar is vice president and service director at Nemertes Research.
Next Steps
Discover more trends in unified communications and collaboration.
Collaboration advances streamline workplace interaction and simplify tasks.
Corporate collaboration should embrace visual conversations.