Problem solve
Get help with specific problems with your technologies, process and projects.
Microsoft's unified messaging software, voicemail: Pros and cons
In this SearchVoip.com tip, Microsoft MVP Brien M. Posey discusses the pros and cons of the company's UC software and voicemail.
Exchange Server 2007, with its unified messaging role, is Microsoft's latest attempt at jumping on the VoIP bandwagon. Unified messaging allows Exchange Server to essentially act as your company's central voicemail system. Voice messages can be placed into users' inboxes alongside email messages and faxes.
Exchange Server's unified messaging role has many more capabilities than just voicemail, but since voicemail is the primary feature, I wanted to take the opportunity for a realistic look at Exchange 2007 and to discuss whether or not unified messaging is ready for prime time.
Anywhere access
Before I start talking about system requirements and limitations, I want to take a moment and discuss some of the advantages of using unified messaging. If you are going to go through the hassle and expense of phasing out your existing voicemail system and replacing it with unified messaging, there have to be some benefits that make the project worthwhile.
The biggest advantage of using unified messaging (from a voicemail perspective) is that it makes it a whole lot easier for users to get their messages. With a traditional voicemail system, users basically had two methods of getting their messages. They could either dial into the voicemail system, enter a PIN and check for new messages, or they could wait until they got back to their desk and see whether the little red light on the phone was flashing. Neither of these methods is very efficient, though. Checking for the flashing red light isn't practical for those who spend a lot of time away from the desk, and dialing into the voicemail system to check messages is time-consuming and disruptive.
The Exchange unified messaging role treats voice messages like email messages. The advantage of this is that email is pervasive. The primary mechanism for checking email is Microsoft Outlook, but users may also check email through Web-based clients such as Microsoft Outlook Web Access, and messages are often sent to users' cell phones or PDAs using Direct Push or ActiveSync. The point is that users can receive email messages in any number of ways with very little effort. Unified messaging makes it possible for users to receive voice messages right alongside email messages. Of course, unified messaging still supports the traditional methods of checking voicemail.
Implementation
Without a doubt, the biggest disadvantage of using unified messaging as your company's voicemail system is the implementation. The implementation process can be both complex and expensive.
The biggest obstacle to a unified messaging implementation is often a company's PBX system. Exchange Server doesn't actually care what kind of PBX you have, but Exchange does need to be able to communicate with the PBX. As such, Exchange assumes that you are using an IP-based PBX that supports VoIP.
The problem is that while IP-PBX systems are becoming more common, most companies still use legacy circuit-switched PBX systems. These PBX systems use circuit-switched protocols such as Time Division Multiplexing (TDM) for transporting phone traffic.
You can make Exchange work with a legacy PBX system, but to do so, you will have to implement a session initiated protocol (SIP) gateway. A SIP gateway's job is to facilitate communications between a legacy PBX and Exchange Server.
Another important consideration regarding a unified messaging implementation is that, depending on the size of your organization, you may want to use a dedicated server to act as a unified messaging server, rather than trying to piggyback the unified messaging role on one of your other Exchange servers. Because of voice prompts, unified messaging is processor-intensive, so offloading the unified messaging role to a dedicated server is a good idea. Figure A shows what a typical unified messaging deployment looks like. In the figure, I have shown an IP-PBX and a legacy PBX running in parallel so that you can see how the SIP gateway fits into the picture.
Figure A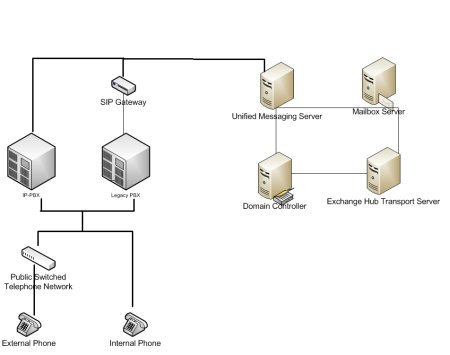 This is what a unified messaging deployment looks like.
Keep in mind that voice messages are not actually stored on the unified messaging server but, rather, in each user's Exchange mailbox. You will therefore want to make sure that users' mailbox servers have plenty of free disk space to accommodate voice messages.
Other considerations
I could probably write a book on unified messaging, but unfortunately I just don't have the space to discuss the topic in as much depth as I would like. Before I end this article, though, there are two extremely important issues that I want to point out to anyone who is considering implementing unified messaging.
The first of these issues involves licensing. Unified messaging works by placing voicemail messages into users' Exchange Server mailboxes. This means that you will have to purchase an Exchange Server Client Access License (CAL) for any user who will be using unified messaging. This probably isn't a big deal if you are already using Exchange Server for other purposes in your organization, but if you currently have a voicemail system that does not require you to license users, you may be in for sticker shock.
The other thing that you need to keep in mind is that unified messaging stores a user's voice, email, and fax messages within a single database. As such, if the server hosting the database fails, users with mailboxes on that server will lose access to all three types of messages until the server is brought back online.
Clustering solutions exist that can minimize the chances of such a failure, but clustered deployments tend to be complex and expensive. It may be worth the extra cost and effort, though, in order to prevent a communications blackout.
Conclusion
In this article, I have explained that unified messaging provides you with a way of consolidating voicemail, email, and fax messages into a single mailbox. I then went on to discuss some of the pros and cons associated with such a consolidation.
About the author:
Brien M. Posey, MCSE, is a Microsoft Most Valuable Professional for his work with Windows 2000 Server and IIS. Brien has served as CIO for a nationwide chain of hospitals and was once in charge of IT security for Fort Knox. As a freelance technical writer, he has written for Microsoft, CNET, ZDNet, TechTarget, MSD2D, Relevant Technologies and other technology companies. You can visit Brien's personal Web site at www.brienposey.com.