Evaluate
Weigh the pros and cons of technologies, products and projects you are considering.
Microsoft Teams vs. Zoom: Compare video conference platforms
Weighing the pros and cons of Microsoft Teams vs. Zoom? Focus on end-user and business needs for ease of use, video and telephony capabilities, and security requirements.
The 2020 pandemic has forced many businesses to embrace work-from-home strategies, thus accelerating the need for collaboration tools for remote employees. As businesses look for ways to keep employees virtually connected, two popular options have bubbled to the top: Microsoft Teams and Zoom. While both support remote employees, each platform differs in its ease of use, roster of capabilities and integration. In this article, we explore those differences and take a look at limitations, security protections, pricing and deployment use cases. This Microsoft Teams vs. Zoom roundup can help you determine which platform might be the right fit for your organization's needs.
Microsoft Teams history and product direction
Microsoft launched Teams in 2017 as the successor for its aging, but popular Skype for Business tool, adding it as a core component of Microsoft 365 Business and Enterprise. In 2018, Microsoft launched a free version of Teams for those who only required a few of the more popular features, such as chat, online meetings and file storage. Microsoft's goal was simple: to make Teams available to as many businesses as possible and to deter IT leaders from choosing alternative collaboration software. In essence, Microsoft created an environment where IT leaders could say, "Since we're already paying for it through Microsoft 365, we may as well use Teams as our business collaboration platform." So far, this tactic has worked well.
1. Teams pricing
Teams is packaged as part of Microsoft's 365 Business and Enterprise bundles. Pricing ranges from $5 per user, per month for the Microsoft 365 Business Basic plan to $57 per user, per month for Microsoft's 365 E5 Enterprise plan. Features and capabilities of the paid versions are identical, while the free version has limitations. For example, file storage capacity of the Microsoft Teams free version is set at 2 GB per user of shared space, but all paid versions enable up to 1 TB per user. Additionally, useful features, such as being able to record online meetings and several administration and management options, are not available on the free version. Thus, most businesses are likely to opt for a paid version if they rely heavily on collaboration features.
In addition to the base features of the paid version, companies can purchase options. These are especially beneficial if you're looking for an all-in-one platform that can also handle phone and PBX, public switched telephone network (PSTN) and audio conferencing duties. These add-on licenses also dictate the type of paid Business or Enterprise plan a customer might opt for. For example, if you currently have any of the three Microsoft 365 Business plans, you can upgrade to either a Microsoft 365 Business Voice license with -- or without -- a calling plan. The difference between the two comes down to whether you want to use a third party to manage PSTN direct inward dialing (DID) numbers and PSTN routing -- or if you'd rather have Microsoft handle all PSTN duties. Adding a calling plan license to a user will cost $8 per month. Then, if PSTN calling is to be handled by Microsoft, this add-on will cost either $12 per month for up to 3,000 domestic calling minutes or $24 per month for 3,000 domestic and international calling minutes to 196 countries.
2. Teams implementation and ease of use
The beauty of Teams when assessing Microsoft Teams vs. Zoom is that Teams is deployed and managed like all the other applications and services within Microsoft 365. Because 365 is SaaS, no on-premises servers or software is required. All administration is performed through the Microsoft 365 online management portal. As a result, 365 administrators will be right at home deploying and managing Teams software.
3. Teams video conferencing capabilities and limitations
Teams has a number of video conferencing features, including screen sharing, whiteboarding and in-meeting chat. Teams can support online meetings with up to 10,000 simultaneous participants. Additionally, Teams has its own line of video conference meeting room devices -- as well as partnerships with third-party voice and video hardware vendors that sell Teams-compatible options. These dedicated products support one-touch operation and are fully integrated into the Microsoft 365 ecosystem. This is especially true for organizations that want to integrate Teams with Active Directory and Outlook calendar.
While Teams boasts video conferencing capabilities that meet or exceed many competitors' feature offerings, the platform is most often used for intracompany -- rather than intercompany -- video conferencing purposes. Users tend to gravitate toward Cisco Webex or Zoom for video conferences between separate companies due in part to their more streamlined approaches to hosting online meetings.
4. Teams telephony capabilities and limitations
Teams' telephony capabilities can be broadly broken into three categories. First, for businesses seeking to replace their current business phone system with Teams, there is the 365 Business Voice plan. This enables Teams to manage a business's internal extensions, internal call routing, voicemail, hunt groups and other unified communications (UC) features.
Second, for access to external calling through the PSTN, Teams customers can opt to use a third-party PSTN provider and simply point the Teams platform to the third-party session border controller (SBC) that will handle all external calling. Alternatively, Teams Business Voice -- depending upon the calling plan licenses applied -- can be used to handle internal voice calling, as well as domestic and international calling.
Third, Teams offers an audio conferencing option that includes audio-only conferencing or a package that combines video and PSTN audio conferencing.
5. Teams integration capabilities and features
One of Teams' biggest benefits is its ability to seamlessly integrate with other Microsoft 365 products, as well as having plenty of third-party integration support for popular enterprise applications, such as ServiceNow, Salesforce and Trello. With third-party integration, companies can streamline and automate many business processes.
6. Teams security and compliance
Teams is equipped with the same data security framework that protects the larger Microsoft 365 cloud infrastructure. Access protections include two-factor authentication, single sign-on (SSO) and data encryption, both in motion and at rest. Teams is also deployed with Microsoft's Advanced Threat Protection to ensure there's nothing malicious lurking within users' files. Microsoft does not collect or sell personal data of its Teams users.
Compliance features include retention policies, eDiscovery, legal hold, content searching, and a variety of auditing and reporting features.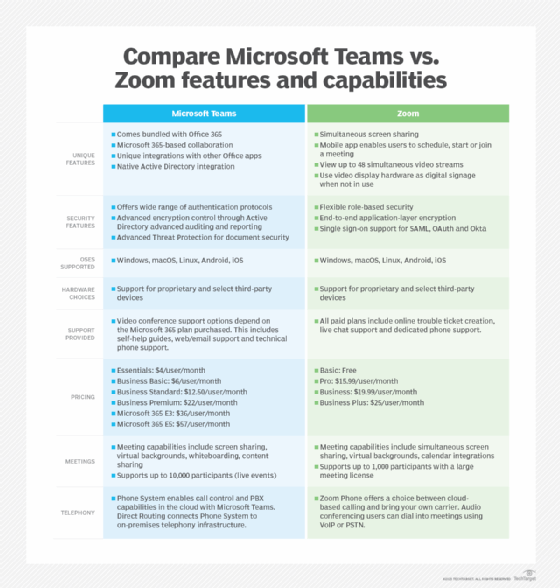 Microsoft Teams vs. Zoom: Zoom's history
Zoom got its start in 2011 after founder Eric Yuan left Cisco to form a new company, Saasbee Inc. In 2012, Yuan changed the name of the firm to Zoom. Then, as now, Zoom's primary goal was to offer businesses and consumers a feature-rich and easy-to-use video conferencing and collaboration tool. For the first few years, Zoom worked to gain a foothold in the video and web meeting market dominated by players such as Adobe, Cisco, LogMeIn Inc. (GoToMeeting) and Microsoft. By 2017, Zoom had gone through several rounds of startup capital funding, established partnerships with critical third-party vendors and attracted more than 40 million users. In early 2019, Zoom went public. While the company continued to prosper, it was the COVID-19 pandemic that made Zoom a household name.
Unlike Microsoft Teams -- which strives to be an all-in-one business collaboration platform that includes video conferencing, audio conferencing, phone services, chat and file sharing -- Zoom was originally focused solely on video and online meeting functionality. While some saw this as a limiting factor, others found that Zoom offered just the features they needed without any additional overhead or complicated interfaces. That said, when assessing Microsoft Teams vs. Zoom, Zoom is now beginning to incorporate both chat and business PBX capabilities into its product lineup as it attempts to become a one-stop shop for most business collaboration needs.
1. Zoom pricing
Like Teams, Zoom also offers a free version of its product -- with limitations that restrict the number of users to 100 and the length of each meeting to 40 minutes. Cloud recording is not available.
Three paid plans are offered: Pro, Business and Enterprise. Prices begin at $14.99 to $19.99 per meeting host, per month. Per-user prices drop significantly for Enterprise plans with more than 100 host licenses. The maximum number of meeting participants depends upon the plan selected. Other considerations within each plan include support options and enterprise features, such as vanity URLs, SSO support and the amount of cloud storage space available.
2. Zoom implementation and ease of use
Like Teams, Zoom is SaaS. Thus, only the client software is required from an implementation and deployment standpoint. All configuration and management tasks are performed through an online portal that taps into the Zoom public cloud.
Zoom's hallmark is its ease of use. The UI is simple and intuitive, and it looks and operates similarly across multiple devices and platforms.
3. Zoom video conferencing capabilities and limitations
Zoom has a variety of video conferencing features, including support for meetings up to 100 participants -- or up to 1,000 with a large meeting license -- simultaneous screen sharing, virtual backgrounds, scheduling and calendar integrations, whiteboarding, in-meeting private and group messaging, and the ability to support up to 49 simultaneous video conference streams. Zoom also sells Zoom Rooms and Zoom Conference Room Connector licenses, which enable users to hook up Session Initiation Protocol- or H.323-capable conference room video conference products from third-party vendors, including Polycom, Cisco and Lifesize.
Zoom has struggled to scale to the massive growth the company has seen since the beginning of 2020, leaving some to complain about reliability and performance. Other limitations include the lack of real-time transcription and a few Outlook and Google Calendar features that other competitors offer.
4. Zoom telephony capabilities and limitations
Zoom lets participants either use voice over IP or PSTN dial-in numbers for voice connectivity. This functionality has been integrated into Zoom for years. What's new is Zoom's foray into cloud-based enterprise UC, known as Zoom Phone, priced at $10 per month, per user. Features include internal and PSTN voice, voicemail, call routing, hunt groups and automated attendants. Zoom does not manufacture its own phone hardware; instead, it works with a number of third-party phone, pager and intercom hardware vendors, among them Algo, Cisco, Polycom and Yealink.
Unlike other SaaS-based UC options available, including Microsoft Teams, Zoom requires a third-party PSTN provider. Zoom doesn't provide any option to manage DID or local and long-distance calling directly through the service; instead, users must forward calls to an external SBC.
5. Zoom integration capabilities and features
Thanks in part to its overwhelming popularity in the past year, Zoom touts a wide range of third-party integrations, among them Microsoft, Google, Salesforce and Okta. Teams has a slight edge due to its integration with Outlook for calendaring and OneDrive for file sharing.
6. Zoom security and compliance
Prospective customers will need to assess Zoom's ability to secure web conferences and to protect data that's shared within the cloud platform -- particularly in the wake of well-publicized security and privacy incidents that plagued the firm earlier this year. That said, security is said to be a top priority at Zoom right now, and the company has been diligently working to fix flaws and restore trust in the platform for both personal and professional use.
Which platform is right for you?
When deciding between Microsoft Teams vs. Zoom, there are two collaboration requirements to consider. The first is whether your business requires a full suite of collaboration services that includes not only audio and video conferencing, but also chat, file sharing, and enterprise PBX and PSTN services. If your users require all of these, then Microsoft Teams is likely the better choice. The second is whether your users only require video conferencing and if conference participants include those from outside companies. In that scenario, Zoom is a much more elegant and easy-to-use online conferencing platform.