Manage
Learn to apply best practices and optimize your operations.
Managing integrated communications, consumerization and security
Trends in consumerization compounded by pressure to provide integrated communications have some businesses struggling to deliver and secure complicated, customizable technologies.
The world of integrated communications is transforming at an astonishing rate. To evolve at the speed that the business requires, IT departments must be prepared to implement and integrate new communications technologies and applications into an existing communications environment (including VoIP, mobility, cloud-based services, social media and video). However, as the business seeks to increase functionality, it must also do so in the face of shrinking budgets and the need for corporate compliance and security.
During May and June of 2011, Aberdeen Group surveyed over 100 organizations for the benchmark report, "Conquering the Fear, Uncertainty, and Doubt of Managing Integrated Communications," to find out why they were integrating their communications environments and how they were challenged to improve what they were doing. Although the key pressure associated with integrated communications was the need to reduce communications costs, companies are increasingly focused on the need to improve ease of use and support remote employees as well (Figure 1).
Figure 1: Key Pressures for Managing Communications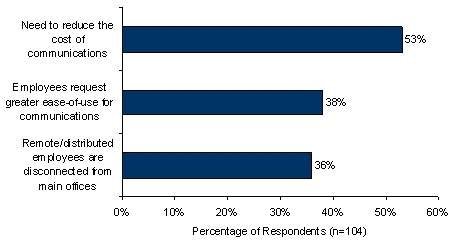 Source: Aberdeen Group, June 2011
These themes reflect contradictory business needs to deliver more complicated technologies, but to also simultaneously make communications easier for employees to use. This trend reflects the increasing consumerization of IT, which has been driven by the individual's ability to create a highly customized world through mobile, social and cloud-based platforms. As these technologies have taken over the consumer world in the past few years, employees have increasingly sought to import the value propositions associated with these technologies into their work environments.
However, work environments require additional precautions that fall outside the concerns of the typical household and require specific security and compliance options. When Aberdeen's communications respondents were asked about their security environments for their network environments, over three-fourths identified that they had a firewall, security appliances, network intrusion detection, Web gateways, antivirus, virtual private network (VPN) support and end-user authentication solutions. In theory, most companies would seem to have a secure environment associated with enterprise communications.
Unfortunately, the rapid expansion of emerging communications applications and social media provide new challenges for the enterprise. Despite the high adoption of many general network and application security enablers, Aberdeen found that only 20% of respondents had an integrated UC security solution and only 43% of respondents even audit their communications security on a regular basis. This lack of awareness is worrisome considering UC security must also include defenses for spam, inappropriate Web content, and social engineering issues that can take advantage of employee-based interaction that bypass standard security measures. Now that telecom is no longer a proprietary network and is vulnerable to the risks associated with networking and messaging technologies, companies must be aware of the security challenges associated with unified and integrated communications.
Accordingly, from a best-in-class perspective, there are two key process categories associated with the effective management of unified and integrated communications: the tactical ability to enforce security and compliance policies and the strategic need to identify new communications technologies based on business need (Figure 2).
Figure 2: Top Processes for Managing Communications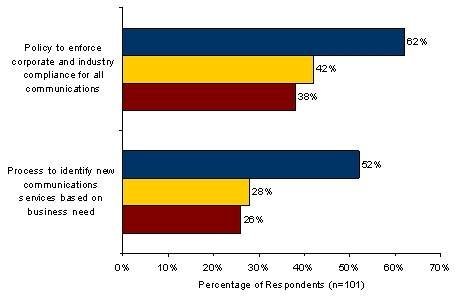 Source: Aberdeen Group, June 2011
In corporate environments, communications cannot be treated purely as a technical endeavor to deliver a service. Instead, the trade-offs of communication and collaboration must be weighted in light of corporate risk factors, geography-based compliance issues and industry regulations. Sometimes, the needs of a few employees must be sacrificed because of the corporate needs for greater visibility, mandates to separate personnel with conflicting financial interests, or the responsibility to protect employee or customer information.
Despite the high adoption of many general network and application security enablers, Aberdeen found that only 20% of respondents had an integrated UC security solution ...

Hyoun Park
Research Analyst
Aberdeen Group
A majority of best-in-class companies have learned to walk this tightrope of checks and balances when they bring new applications into their corporate environment compared to only 42% of industry-average and 38% of laggard organizations. The key caveat is that many of these compliant companies are doing so through a piecemeal set of processes to protect the business, since the vast majority of companies lack integrated UC security and the responsibilities for communications and messaging security are often scattered among multiple groups.
Despite the need to put company concerns first, this isn't to say that the end user can be completely ignored. Best-in-class companies were twice as likely to have a formal process for identifying new technologies for the corporate environment based on end-user and line-of-business needs. For instance, a technology such as video conferencing may have been integrated into a unified communications platform because geographically dispersed project team members needed simultaneous visual contact and shared whiteboard space.
Alternatively, social media may be a vital differentiator for customer service in the industry, which necessitated greater access to social websites and greater integration between social media and customer relations applications. Because of this process, best-in-class companies were more incentivized to achieve management excellence because each communications technology had a business case that was defined.
The challenges of effectively integrating communications into an enterprise environment can seem increasingly daunting to the poor IT, telephony and network personnel tasked with these roles, but companies that take a proactive role in managing both end-user expectations and corporate security can successfully meet the increasingly complicated needs associated with integrated communications.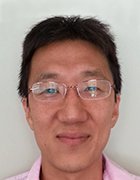 About the author: Hyoun Park is Aberdeen's lead analyst in telecom and unified communications. In his research, he focuses on enterprise challenges in fostering collaboration in four major areas: Business-class video, social business, unified communications and telecom lifecycle management. Over the past three years, Park has surveyed the adoption patterns and business results of over 2,500 organizations seeking to optimize their collaborative environments. By understanding both the management and usage of communications technologies to enact business goals, this research differentiates between technological deployments that provide value from those that simply result in a purely technical proof-of-concept.
Dig Deeper on Communication Integration with Enterprise Applications