Problem solve
Get help with specific problems with your technologies, process and projects.
How to be future-ready for IP telephony
While VoIP is coming under fire from some who question its bandwidth capabilities, among other things, Cisco and Avaya are leading the charge to make sure businesses are confident in their IP telephony environment by improving scalability.
To quote a popular Virginia Slims ad from the 1960s, VoIP has definitely "come a long way, baby" from its roots in the late 1990s to its role today as a business-critical component within the unified communications (UC) market.
Some technology pundits have questioned VoIP, however -- in terms of bandwidth, latency, security and, especially, reliability, among other factors. Cisco and Avaya have led the field of companies embracing VoIP and the concept of enterprise IP telephony.
The question becomes one of how an enterprise organization can deflect the pundits and truly gain confidence in an IP telephony environment, making it "future ready" to scale with changing market dynamics. The answer lies in integrated management and testing solutions that not only validate IP telephony devices on a one-off basis but continuously monitor on a large scale to maximize performance and ongoing operations.
In a distributed environment, integrated management and testing offers smoother end-user operation, integrity and functionality across all phases of an IP phone system from conception to deployment to optimization. The key to a successful IP telephony deployment lies in diagnosing the problems and vulnerabilities of the system, since this can be a complex and in-depth process. The management solution needs to automatically discover all components in the network related to IP telephony – this is similar to the Google model of crawling the Web, but applied to maintaining server and application health.
As a guide to gaining a future-ready IP telephony environment, the foundation is based on four pillars: 1) automated testing capabilities, 2) troubleshooting and diagnostics, 3) in-depth reporting and business intelligence (BI), and 4) continuous monitoring.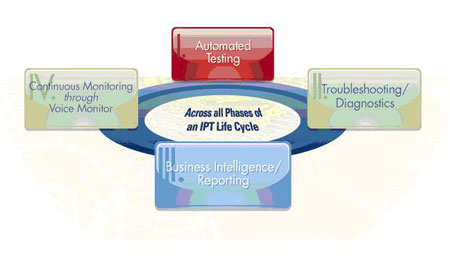 Automated testing equals better end-to-end IP telephony management. For automated testing to work, the solution must emulate the end user. Typically, an end user will pick up a phone, place a call, conduct conference calls, check voicemail and so on. Automated testing takes the typical calling experience one step further by emulating the entire environment under load, while simultaneously validating full feature availability to end users. It is important to remember that automated testing does not replace product quality assurance (QA) but serves instead as a complement by testing all components of the deployment. A comprehensive automated testing solution offers sophisticated resource selection using algorithms which ensure that all the features and capability of the IP telephony system are in full working order. It is rare for the IP hardware to break down, but issues tend to arise at the handset during deployment, configuration and administration of servers, applications, network components and so on.
The second pillar addresses the importance of troubleshooting and diagnostics. In addition to testing, the future-ready IP telephony environment should offer support staff a set of help-desk applications for enhanced productivity that improves user acceptance. Within larger enterprises, Tier-1/2 support staff may excel in their comfort zones related to typical computer or network issues but may be limited in their knowledge of voice deployment problems. Outside of a select few, there is a lack of tools for these staffers to effectively handle IP telephony-related issues without escalating it to seasoned voice professionals. The capability to offer a portal for tier-1/2 engineers with a consolidated view of a trouble phone and then remote control the phone across the globe via one central help-desk center can transform IT efficiency and drive up end-user satisfaction.
In-depth reporting and business intelligence constitute the third pillar. Dashboards are the rage these days and that applies to IP telephony. One snapshot can equal a thousand words by offering insight into detailed inventory reports. In the corporate world, senior management sometimes overlooks the fact that IT departments are business assets that help keep the company technically sound and running at optimal productivity. IT must be viewed as a strategic weapon in the corporate arsenal and not portrayed as a cost center. An efficient IP telephony management system provides deep reporting, analytics related to productivity, change management, asset management, performance and compliance, helping IT organizations provide significant business value for the enterprise.
Pillar number four is perhaps the most important of all – voice monitoring. Even if an organization refuses to commit to the first three pillars, this one is by far the most important to focus on in your IP telephony strategy. Besides continuous monitoring of end-user voice quality, a solution must monitor security and compliance issues and track fraudulent use of the system (inappropriate calls to 900 numbers, international long distance, toll fraud, etc.). In addition, it must monitor service availability, especially if a gateway is down, calls are blocked and IT needs to be alerted. In a highly classified environment, voice monitoring is crucial for catching any unencrypted calls and receiving notifications that a gateway is at, or out of, capacity.
In order that the four pillars should help an organization create a highly reliable and scalable future-ready IP telephony environment, each one must strategically address end user behavior, integrity and functionality. The future-ready IP telephony management system must also be applications focused to address the many complexities of unified communications applications, an evolving data network environment, frequent software updates and so on. Also, it must feature a solution that can scale with the enterprise and integrate into the IT infrastructure: enterprise directories, role-based authentication, open APIs to integrate with dashboards, email systems and SNMP for notification. Most importantly, it is critical to have it integrated with the enterprise network management system – regardless of the platform. In short, it must be designed from the ground up for IP telephony and UC – not simply as an extension of a hardware or packet sniffing-based solution.
Telephony is business-critical to a myriad of enterprises, large and medium sized, with unique characteristics that differentiate it from other applications on the data network. IT organizations that incorporate these four pillars into their management solutions will deliver superior confidence and will be well on their way to creating a future-ready IP telephony environment.
Gurmeet S. Lamba is VP, Engineering for Clarus Systems. He can be reached via email at glamba@clarussystems.com. For more information, visit www.clarussystems.com.

Dig Deeper on IP Telephony Systems