Four facets to a secure enterprise messaging application
As more companies tap into enterprise messaging services, certain security considerations arise. Encryption, for instance, is a core requirement for any service.
Facebook said last month its messaging service now has 1.2 billion monthly active users. Messaging, it seems, is now the biggest trend in communications, and it's found its way into enterprises.
In many cases, enterprise messaging takes place in consumer-facing applications, such as WhatsApp or Facebook Messenger. In other cases, a dedicated enterprise messaging application, such as Slack, is used.
As with any growing tech trend that finds a place in the enterprise, the security considerations are also magnified. When picking an enterprise messaging application for your business, consider these key elements:
End-to-end encryption. Encryption is the basic requirement for any enterprise messaging application. Encryption has different levels and is spread across the messaging service.
To make sure messages are secure, you need to ensure the history stored on the device and by the messaging service is secure. This is done, first and foremost, by encrypting the information. You also need to make sure messages are encrypted in transit -- either on the network or passing through the messaging service provider.
Today, most popular messaging services are moving toward end-to-end encryption, where the servers along the route can't decrypt and read the contents of the messages. For an enterprise messaging application, end-to-end encryption is a desired outcome, especially when relying on cloud services and third-party servers to manage and route messages.
This illustration shows the key security points: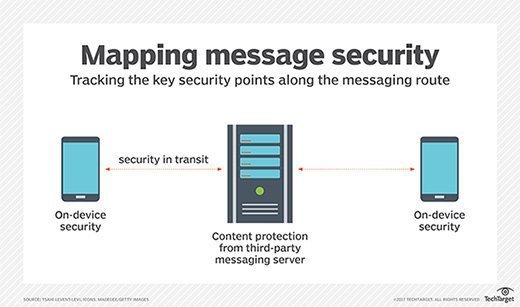 Two-factor authentication. Messaging security is not just about encryption. With two-factor authentication, when you sign into a service and authenticate yourself, it will ask you for two things: something you know and something you own. Usually, the something you know is a password, and something you own is your phone.
In two-factor authentication, users need to enter a one-time password created by an SMS or email that's sent at the time of signing in. An authenticator application, such as Google Authenticator, can also send one-time passwords.
In these cases, users rely on phone security, including PIN code and device encryption, to act as the security mechanism on mobile devices. But users can also sign in from laptops, desktops or new devices, which create other security concerns.
Two-factor authentication is one of the easiest ways to improve security and protect corporate data, especially if employees are pwned and their passwords are hacked on another service and used to access the corporate messaging app.
Single sign-on (SSO). Employees join and leave companies all the time. Maintaining an up-to-date corporate directory is hard, and trying to synchronize it manually with a messaging service is doubly difficult.
SSO helps authenticate users and lets them use one set of login credentials, such as name and password, to access multiple applications. On the back end, SSO logs user activities and monitors user accounts.
By using SSO, you can ensure users are authorized through your corporate directory instead of a copy of the directory managed by the messaging service vendor. This means authorization and authentication will be handled in one place.
Policies, governance and compliance. Certain industries have their own regulations and requirements for digital communications. The most popular example is the Health Insurance Portability and Accountability Act, a U.S. standard for protecting sensitive patient data.
If you are in a regulated industry, make sure your enterprise messaging application supports industry regulations -- and does so in a user-friendly fashion. You want to ensure your employees use the messaging service you selected and not a consumer-oriented messaging app instead.
Dig Deeper on Collaborative Applications