Problem solve
Get help with specific problems with your technologies, process and projects.
Cisco and Extended Results combine tablets and CEBP for UC success
Tablets and CEBP applications combine real-time BI with instant collaboration. Read how WorkPlace for Mobile and Cisco's Cius tablet could change the way we work.
Editor's note: In part one, you read why tablets and CEBP are poised to deliver the elusive killer UC app. Now take a look at tablets and CEBP in action with Cisco's Cius tablet and Extended Results' WorkPlace for Mobile. Learn how the unique features of tablets combined with CEBP can provide unprecedented mobile access equal to or better than traditional desktop applications.
The proof points supporting communications-enabled business processes (CEBP) have been delivered through a handful of desktop-based applications. With the integration of tablets in the enterprise, we will start to see the development of mobile-based CEBP applications, which can deliver an equal or greater value than traditional applications.
WorkPlace for Mobile from BI solution provider Extended Results—built to run on Cisco's Android-based Cius tablet—is a great illustration of the potential value of tablet-based CEBP and how mobile-based CEBP applications and tablet devices can work together.
WorkPlace for Mobile provides users with real-time access to essential business intelligence (BI) information. Many users typically have this information delivered in the form of periodic paper reports or emails, but WorkPlace for Mobile is designed to provide up-to-the-minute information. Though traditional reporting methods provide great historical information, they do not allow for real-time updates.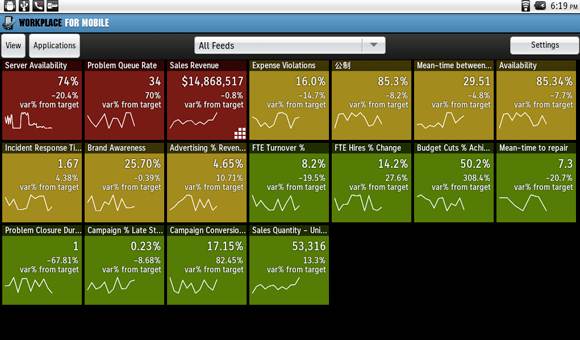 The WorkPlace for Mobile application provides a single, comprehensive view of key performance indicators (KPI). When there is an issue, the user is flagged by a visual indicator—as shown in red in the screenshot above.
Using WorkPlace for Mobile, the user can quickly pinpoint the issue—in this case with the "sales revenue" KPI (top row, third from left)—and drill down by simply clicking on that field. The screen then displays detailed information as shown in the image below.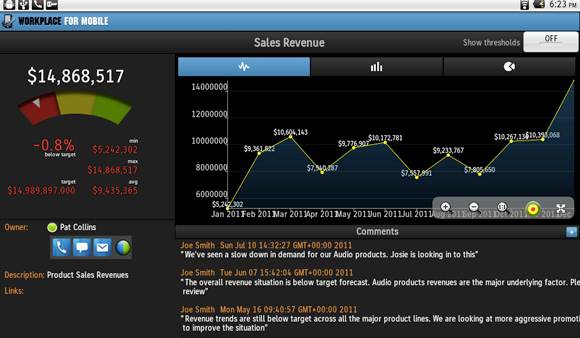 This screen exemplifies how the visual medium and portability of the tablet can streamline the problem-resolution process. Within this screen, the user can do the following:
Zoom in on any area of the chart for additional information on a specific month or metric.
Read logged comments posted during the specified time period to efficiently determine where the shortfall occurred.
Quickly identify the owner of specific KPIs (bottom left), use the presence indicator to check the availability of this individual, or locate another associated contact if the first point-of-contact is not available.
Instantly collaborate with the owner using voice, chat or email with on-screen, click-to-call functionality. While video isn't currently available in this specific application, it is on the roadmap.
Share information—including screens—via a WebEx session to ensure all parties involved in the collaborative session are looking at the same information.
The WorkPlace for Mobile application is a great example of how a tablet-based CEBP application can help organizations make faster, better-informed decisions, and drive operational efficiency, productivity and improve customer responsiveness.
Organizations that want to leverage the full benefits of UC should consider creating business applications that are uniquely mobile.
About the author:
Zeus Kerravala, Yankee Group senior vice president and distinguished research fellow, leads the firm's Research Council and is chartered with the responsibility of providing thought leadership to the research organization. Comprising senior research leaders, the Research Council provides outreach to clients and the broader Yankee Group community, as well as ensures that the company's research agenda addresses the needs of business leaders. Kerravala drives the strategic thinking of the research organization and helps shape the research direction. Much of Kerravala's expertise involves working with customers to solve their business issues through the deployment of infrastructure technology.
Dig Deeper on Communication Integration with Enterprise Applications