Evaluate
Weigh the pros and cons of technologies, products and projects you are considering.
Twilio API suite pushes CPaaS market evolution
Twilio has introduced a new set of APIs that foster multichannel communications. The new suite of products is expected to push the evolution of the CPaaS market.
Twilio Inc. made several product announcements last month at its annual developer conference. The communications...
Continue Reading This Article
Enjoy this article as well as all of our content, including E-Guides, news, tips and more.
API vendor is beefing up existing products and introducing ones. But something else also stood out: Twilio has redefined its product marketing, which in turn spotlights the very essence of communications platform as a service, or CPaaS.
If you want to develop a product or service that needs access to communication that involves humans, you can develop these features on top of a CPaaS vendor. In the CPaaS market, Twilio is the leader in terms of revenue, sales, number of customers and number of developers who use its product.
Up until last month, you could have been one of two vendors in the CPaaS market. A horizontal vendor added more and more communications tools -- starting with voice and SMS, maybe, and adding IP messaging, video and other services.
A vertical vendor served a very specific communication medium and would beef up the offering around it, usually by adding more tools to make the capability more robust. For example, a vertical vendor would offer video calling, then add group calling, and later recording and broadcasting.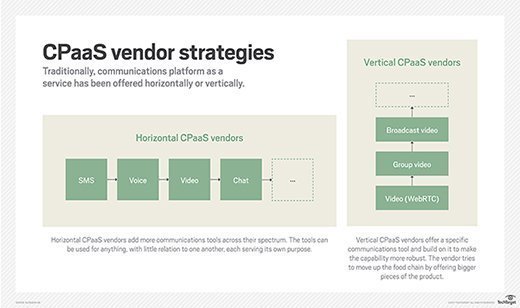 The only alternative for vertical vendors was trying to move up the food chain by offering bigger pieces of the product. Vendors, for instance, would add widgets or ready-made applications for common use cases their customers were seeking, such as a video conference or webinar application. The idea was to appeal to nondevelopers by offering not only an API, but something they could use immediately.
For some vendors, this approach meant pivoting out of the pure CPaaS market. SightCall, for instance, started as a communications API provider, but has since focused on visual-assistance contact centers, leaving its CPaaS roots behind.
Shifting to a layered approach in the CPaaS market
Last year, if you looked at Twilio's representation of its product line, you'd see a classic horizontal approach. Twilio's strategy was a set of building blocks that could be used for anything, with little relation to one another, each serving its own purpose. This approach could add more building blocks in the future for additional communication means.
But at its developer conference last month, Twilio a different paradigm, spending much of the keynote speech explaining this shift. Twilio's products now fit in one of three layers: Super Network, Programmable Communications Cloud and the Engagement Cloud.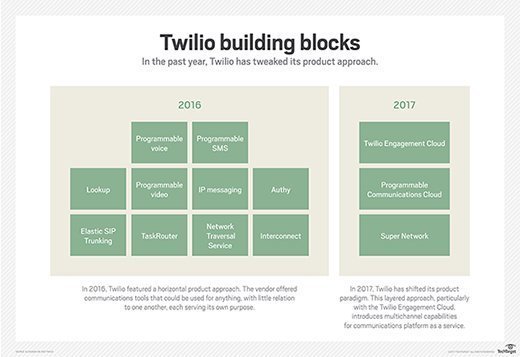 The Super Network layer is about basic connectivity via various networks, which includes connectivity to PSTN, programmable SIM cards, Session Initiation Protocol trunking and other points.
The Programmable Communications Cloud is where most CPaaS vendors focus today, as they offer voice, SMS and similar capabilities. As a developer, you decide on the specific communications channel you want to use and ask for a specific action to take place -- for example, "Send an SMS to a phone number."
The Engagement Cloud is more nuanced. It is a higher level of abstraction where Twilio decided to wrap certain best practices it has seen across its customers and their behaviors. In the Engagement Cloud, Twilio is delivering four separate products: Authy, which handles authentication; Notify, which sends application-to-person messages; TaskRouter, which handles queuing; and Proxy, which connects people across groups.
These products are multichannel in nature. You can ask to send a notification to a user, but how this notification is handled -- whether it's via SMS, push notification or a social messaging service -- is decided by the product itself.
Converging fragmented channels
These days, we communicate via SMS, WhatsApp, Facebook Messenger, Line, Snapchat and many other services. In a world where fragmentation is increasing the number of channels, the ability to work across channels is almost mandatory.
The Twilio Engagement Cloud could help alleviate this fragmentation and redefine CPaaS. Instead of developers thinking functionally on every possible option, CPaaS is becoming multichannel or omnichannel. CPaaS can offer developers the ability to design and develop interactions suitable for the requirements they see in front of them.
This approach is also Twilio's attempt to differentiate itself and maintain its prices at a time when new competitors are emerging in the CPaaS market.
Dig Deeper on Unified Communications Architecture and Service Models