Evaluate
Weigh the pros and cons of technologies, products and projects you are considering.
Apigee acquisition boosts Google's API management services
By acquiring Apigee's API platform, Google can augment its infrastructure-as-a-service offering, add enterprise mobility connections and tap into Apigee's solid customer base.
In a move that surprised almost everyone, Google recently announced it would acquire Apigee Corp., a provider of API management services. The $625 million acquisition, expected to close by the end of 2016, can take several paths -- but to understand them, we need to understand Apigee's offering.
APIs open your internal resources to third parties, which can ease communication integration. As this exposure allows other systems to interact with the innards of your company, you need to manage that activity -- and that's where API management services come into play.
API management handles the nonfunctional needs of an API, such as authenticating and authorizing calls to the APIs by throttling requests and caching responses, as well as securing access.
In recent years, API management services have grown considerably, along with enterprise adoption of APIs. Today, API management includes a holistic view of the API lifecycle. This means you can usually find support for documentation, sandboxing, versioning, analytics and other desirable features for developing, maintaining and consuming APIs.
Google becoming part of development lifecycle
Among API management startups, we've already seen other notable acquisitions: CA Technologies acquired Layer 7, Red Hat acquired 3scale and Intel acquired Mashery, then later sold it to TIBCO Software Inc. Apigee was an interesting acquisition target for some time. The company has a nice roster of customers and a strong analytics story.
Google's acquisition is surprising because Google is one of the most experienced companies in delivering APIs to developers. So, what can Google do with API management services? Here are some routes the acquisition can take:
Internal consumption. Google may have seen something in Apigee that's lacking in its own API management services and wanted to improve on them. For Google, acquiring the technology outright instead of outsourcing it made sense. But there's little evidence for such a need.
Google probably won't be dogfooding its new Apigee technology. Rather, at the very least, Google could keep two separate technology stacks of API management: It could use the internal one for its own APIs, and use the Apigee one for customers who need to deliver APIs of their own.
Enrich Google Compute Engine. Google Compute Engine is an infrastructure-as-a-service (IaaS) offering that competes with Amazon Web Services and Microsoft Azure. Google's IaaS market share is not high, as seen in the graphic below. As a distant fourth player, Google's acquisition of Apigee won't tip the scales. It completes a required feature set, but no more than that. However, Google does have other potential synergies.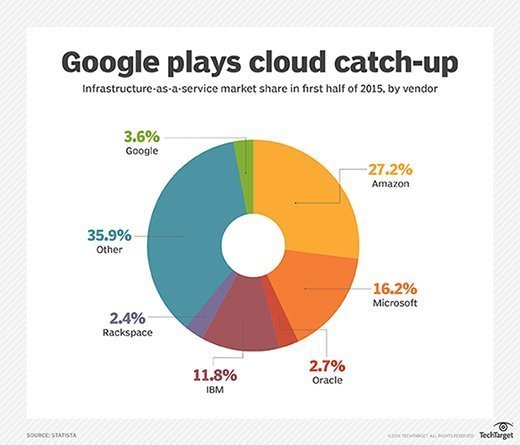 Complement Google Firebase. Two years ago, Google acquired Firebase, a mobile backend-as-a-service company that helps developers build apps. Google has since beefed up Firebase, positioning it as the go-to platform for application developers and spotlighting it at Google I/O.
Now, integrating API management services creates an interesting opportunity. Firebase could handle generic services that developers need, but also connect an enterprise's internal resources to its mobile apps -- which brings us to another reason for the acquisition.
All about that customer base. Google isn't acquiring technology, employees or a platform. Google's acquiring a significant customer base that includes AT&T, Bechtel, Burberry, First Data and Live Nation. I'm sure Google would like to access these accounts for its other developer-focused offerings.
Google offers access. Apigee can gain three key things from Google:
Access to its infrastructure, helping Apigee get to levels of scale and stability that could be attractive to more customers.
Access to people who know analytics inside and out. This can beef up Apigee's analytics and differentiate it from the rest of the API management players.
Access to Google's customers.
Google acquiring Apigee is important. The dominant players in the API management space are now the large corporations. Each has its own offering, either through internal development or by acquisitions.
The consolidation in the API management space indicates APIs are going to be an important part of how companies communicate with each other and, to some extent, with their customers -- especially as they transition toward becoming digital enterprises.
Google offering an API management tool for third parties -- and not just providing API access to its own services -- means it is serious about becoming part of the development lifecycle, not only on mobile via Android and Firebase, but also for everything else. This is achieved through the enhancement of the Google Compute Engine with Apigee's API management services.
Dig Deeper on Communication Integration with Enterprise Applications