Melpomene - Fotolia
Evaluate
Weigh the pros and cons of technologies, products and projects you are considering.
Adoption of UC cloud services rising, but challenges remain
More enterprises are adopting UC cloud services and moving applications like video and email to the cloud. But roadblocks can impede adoption.
It seems lately that the answer to any IT question is, "Use the cloud!" While cloud platforms from Amazon, IBM, Microsoft and Google are replacing corporate data centers, cloud-based unified communications (UC) offerings are increasingly available from a wide variety of providers. These UC cloud services are delivered as software as a service (SaaS), through private hosting of custom single instance offerings or through hybrid models that combine on-premises platforms with cloud-based services.
If providers are selling UC cloud services, enterprises are surely buying, as shown by the latest Nemertes Research UC and collaboration benchmark that gathered data from approximately 50 end-user organizations across a range of sizes and vertical markets. According to the Nemertes survey, almost 74% of organizations will use at least one cloud-based UC application by the end of 2016, primarily for Web conferencing. Forty-five percent will have moved their email or calendar apps to the cloud, while 44% will use cloud-based video conferencing. Another 35% of organizations will adopt cloud-based instant messaging. Lower telephony cloud adoption will hover around 14%, with much higher adoption among small and midsize businesses.
The primary driver for those moving to the cloud is the flexibility and agility that cloud-based services deliver when compared with on-premises alternatives. Cloud providers -- especially those delivering SaaS apps for UC -- can quickly roll out new capabilities, but upgrading on-premises servers may require a longer window of time to conduct testing, upgrade hardware and ensure operational processes are modified to support newly provisioned features.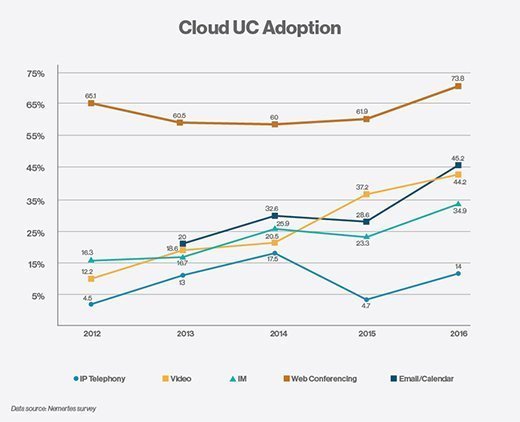 The other primary UC cloud drivers are cost-centric, as IT leaders often like the flexibility that comes with cloud pricing models, the ability to buy services à la carte, and to scale up or down as necessary. In the Nemertes survey, 25% of cloud adopters cited the ability to use UC cloud services to drive down costs as their primary buying factor. For IT leaders, cloud services allow them to reduce staffing and infrastructure costs and minimize the need to invest in disaster recovery facilities. The 2014-15 Nemertes Enterprise Technology Benchmark survey revealed that in the long term, cloud costs can exceed on-premises costs, however.
Challenges facing UC cloud services adoption
Security is the biggest challenge for companies moving to the cloud. Given the many recent high-profile attacks and data breaches, those considering cloud are paying extra attention to the ability of their cloud providers to protect data. Many enterprises require that their providers meet security standards like Health Insurance Portability and Accountability Act and ISO 27001, and provide a means to store and archive data as required by corporate governance rules.
The other major challenge for cloud adoption is performance management, especially when using the Internet as the connection point between office locations and cloud-based services. Management options are expanding, thanks to the emergence of software-defined WAN platforms that not only monitor connections to cloud providers, but that can also move data between different Internet uplinks to meet performance requirements for real-time applications like voice and video. Examples of these platforms include Cisco's IWAN, CloudGenix ION, Mushroom Networks' Truffle, Sonus NaaS IQ, Talari APN and Velocloud Orchestrator.
So, the bottom line is that UC cloud services are indeed rapidly gaining market share across enterprises of all sizes. Successful deployments require not only understanding your measures of success, but also addressing security and network performance needs to ensure cloud adoption doesn't increase risk of data loss or poor application performance.
Dig Deeper on Unified Communications Architecture and Service Models