The omnichannel contact center is now mandatory
The phone is still the preferred mode of communications across all age groups for consumers dealing with contact centers, according to a recent survey.
In May of 1897, American writer Mark Twain was rumored to have died. When he was told about this, Twain said, "The reports of my death are greatly exaggerated." If Twain had been a technology, he would have been voice communications. Every year, it seems, someone declares voice is dead, particularly in the contact center.
With so many communications channels now, voice is seemingly discarded in an omnichannel contact center. We now live in a world of texting, chatting, self-service and tweets, which must spell doom for voice, right? Well, not exactly.
Reports of voice's death appear to be greatly exaggerated, according to the results of a recent survey by cloud contact-center vendor Five9 Inc.
The online survey, conducted by research firm Zogby Analytics, polled 1,138 U.S. adults, ranging in age from 18 to retirees in their 70s. The survey asked these consumer respondents to assess the role of customer service in consumer behavior and purchasing decisions, as well as their communication preferences.
All age ranges prefer voice
In aggregate, 54% of respondents said the phone is their preferred mode of communication. Email, at 19%, and chat, at 15%, were distant second and third preferences.
You might look at this data and think this makes sense in aggregate, but the number must be skewed by older people, since millennials are obviously anti-voice. This is partially true, but not the whole story. The survey found a generational bias toward voice based on age, but the gap is not as big as you'd think.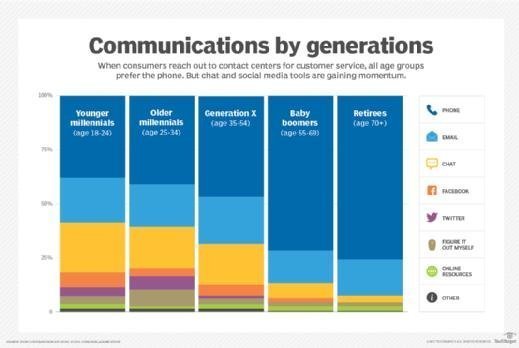 Retirees, ages 70 or older, had the highest percentage of respondents whose top preference was voice, with 76%. As the age group declined, so did the preference for voice communications. But, in every case, voice was still the most preferred communications channel.
Seventy-two percent of baby boomers, ages 55 to 69, selected voice as the top response. Generation X, ages 35 to 54, was at 48%. Older millennials, ages 25 to 34, were at 41%. And younger millennials, ages 18 to 24, used voice 38% of the time. In all age groups, except retirees, email and chat had double-digit representation, with the younger millennial group using those tools the most.
Omnichannel contact center links data
The data certainly underscores the importance of voice, but also the need for an omnichannel contact center. Most contact centers have implemented multichannel systems, but that's not sufficient moving forward.
Multichannel offers a range of discrete communication options, such as voice, chat, email and self-service. An omnichannel contact center is similar, except the data can be shared among the channels.
Businesses need to prioritize evolving their contact centers to omnichannel systems.
For example, a customer may start an interaction using chat and enter a loyalty number and other information. After getting frustrated, the customer decides to switch to voice and places a call. With a multichannel service, all the information would have to be re-entered into an interactive voice response or relayed verbally to an agent. With an omnichannel contact center, the data is passed along to the agent, which saves time and alleviates frustration.
The Five9 survey also asked consumers about their expectation on the time taken to solve a support question. Nineteen percent of respondents expect to have their issues resolved in under five minutes, and 46% under 15 minutes. Multichannel systems can waste precious time, as they require the customer to provide the same information -- often multiple times.
The growth of social media, chat and other communications mediums has sparked speculation that voice in the contact center is on life support. The data from the survey shows that voice is not only still alive, but it's the preferred mode of communication across all age groups.
However, at the same time, voice alone is not enough now. Businesses need to prioritize evolving their contact centers to omnichannel systems.