FotolEdhar - Fotolia
The UC experience can unite or divide end users and IT
This year, unified communications vendors heavily pursued the so-called experience of collaboration sessions. But IT and end-user experiences can differ greatly.
The unified communications word of the year is experience. Many UC vendors this year touted the smooth, seamless end-user experience of their products, yet they only lightly touched on the effect these new tools have on the IT experience.
While a great end-user UC experience is a noble and justified marketing message, how much of the experience is just a buzzword? And is the IT experience just as smooth and seamless? Since UC is often targeted toward end users, the vendor focus on a smooth end-user UC experience makes sense. But IT also has a role.
The IT experience is often vastly different than the end-user experience, said Dwayne Jones, a systems engineer at Fresno Pacific University in California, at Microsoft Ignite in September.
"What the IT department deals with, in terms of the back end, and what the end user deals with [are] two different worlds," he said. "We're always looking at how to take care of the end user without them even knowing we're taking care of them."
Focus on business outcomes
At the same time, the term experience is increasingly becoming an extension of vendor lingo, said Jon Arnold, a UC analyst and principal at J Arnold & Associates in Toronto. In fact, unified communications itself is a vendor-coined term, he added.
The end-user experience needs to be as intuitive as possible, Arnold said. Employees shouldn't have to think: "Is this meeting going to be a good UC experience?" End users simply want the tools they need to get their jobs done.
"For me, experience means you can do it all from one place," Arnold said. "It's not a matter of more is better. IT wants that experience because it's a more efficient use of network resources. Otherwise, people are jumping in and out of applications all day."
The problem with the UC experience buzzword is certain metrics are not always in place to measure a successful end-user experience. "It's not like a bell rings and says, 'You've done UC today three times,'" Arnold said.
Instead of experience, Arnold said the real buzzword should be outcomes. As in, did your meeting produce good business outcomes? At least businesses can measure outcomes.
"Experience is an ethereal word," Arnold said. "It sounds great coming from a vendor, but it's like innovation. Vendors talk about innovation, but how do you measure it?"
Consolidate vendors for a better UC experience
Companies are looking to improve the end-user experience by consolidating their collaboration vendors and features, said Irwin Lazar, a UC analyst with Nemertes Research in Mokena, Ill. Workers have an easier time collaborating if they use an integrated set of apps, rather than separate apps for different functions.
For example, sometimes, workers have to follow a complex series of steps to launch a meeting, like dialing into a bridge and starting a web conferencing app and video app. Instead, workers should be able to simply click a link to launch a meeting.
The pressure falls on IT to make sure the experience is always there.

Jon Arnoldprincipal of J Arnold & Associates
"The ability for IT to provision integrated apps has indeed improved the UC experience," Lazar said. Embedding UC features into business apps should improve the user experience by allowing employees to communicate within the context of the apps they use.
On the IT side, the experience has been focused on simplifying user management to include provisioning and troubleshooting, Lazar said. Vendors have touted their improvements to configure new users easily. Meanwhile, UC management vendors -- such as Unimax, VOSS Solutions and IR -- are growing via their UC operations and performance management platforms.
"As the underlying UC platforms shift to the cloud," Lazar said, "I'd expect IT management tools to increasingly be bundled into the cloud offerings."
Making the technology disappear
Cloud-based collaboration services can indeed alleviate some IT headaches. Companies, for instance, could rely on cloud-based vendors to handle the bulk of their collaboration systems.
One UC vendor in particular, Cisco, has heavily promoted a seamless end-user experience, where the technology seemingly vanishes into the background. Essentially, as some analysts have said, Cisco is looking to become the Apple of the enterprise by striving for ease of use.
The technology should be invisible to the end user, said Jens Meggers, general manager of Cisco's cloud collaboration group, at Enterprise Connect in March. Similarly, he said, IT needs a smooth experience.
"Our customers want great collaboration experiences for the user and IT administrator," Meggers told SearchUnifiedCommunications at the conference. "We're at a turning point in this industry this year. Experience-centric delivery will take over, and it will enter all sorts of workflows, including meetings, videos and messaging."
For a positive end-to-end UC experience, Meggers said, vendors need to support all touch points, including meeting rooms and desktop apps.
Perhaps the poster child for the UC experience this year was Cisco's Spark Board, a digital whiteboard and video conferencing device. With the Spark Board, users can approach the monitor, and it will automatically recognize them if they have a Spark app-enabled device, like a smartphone or tablet.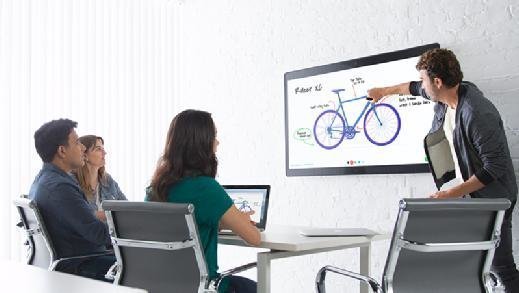 The Spark Board won Best of Enterprise Connect and a Red Dot award for product design. The Spark Board product demo and other vendor demos often look like magic, Arnold said.
"The more magic you make it look like, the more the onus falls on IT to make sure it keeps working," he said. "The pressure falls on IT to make sure the experience is always there."
Dig Deeper on Unified Communications Integration and Interoperability