Rawpixel - Fotolia
Conference room technology experiencing a renaissance
Conference room systems have seen a resurgence, as vendors look to improve content sharing among multiple presenters. Cisco Spark Board and Polycom Pano are just two examples.
Almost every business has physical meeting spaces to help facilitate in-person collaboration. Over the last few years, virtual meetings have seen tremendous advances, but conference room technology in physical spaces has largely stood still.
The disjointed systems in conference rooms are more than an annoyance and can waste significant time. On average, 15 minutes of every meeting is spent fiddling with conference room technology, according to ZK Research, a tech research firm in Westminster, Mass. This wasted time is precious, as project teams could be getting work done, rather than trying to figure out who has the right cable to connect to the in-room computer or how to dial into the video system.
Wasting project team time today is more significant than just a few years ago. In the current digital era, competitive advantage is based on speed. Collaborative teams are under pressure to make decisions quickly. So, wasting 25% of every hourlong meeting puts organizations at a disadvantage.
If improving meeting room efficiency helps businesses compete, why haven't unified communications (UC) buyers focused on this area?
Multiple presenters sharing content
Meeting room tools haven't evolved much in the past couple decades. Conference room technology has seen incremental improvements, such as digital whiteboards and 4K displays, but nothing that would boost productivity significantly.
Most existing systems are built on the concept that meetings would have a single presenter. If another individual wants to share content, the process is disrupted by finding dongles, switching cables, resetting projectors or passing around USB sticks.
While the process should be simple, it rarely is. Also, what if multiple individuals want to share content? With many existing systems, they cannot.
Recently, though, the meeting room market has seen a flurry of activity, with new systems that could change collaboration dynamics. For example, the recently announced Polycom Pano looks to ease team content sharing from multiple sources. With new products -- like the Polycom Pano -- leadership and content sharing are democratized. In these settings, multiple people can share content simultaneously.
Polycom's Pano device enables up to four meeting members to share content. PowerPoint slides, videos, Word documents and spreadsheets, for example, can be projected in 4K without worrying about cables, wireless network connections or where to load content.
Users can share content from their tablets, smartphones and laptops. The connection between devices and Pano is done through a Polycom app, but users can also connect using Apple AirPlay or Windows Miracast.
Pano can be connected to any HD display using HDMI or USB 3.0, but it can also be attached to a touch monitor to enable annotation and interactive whiteboard features. Pano also works with existing video equipment found in many conference rooms today. The device is priced at $1,990.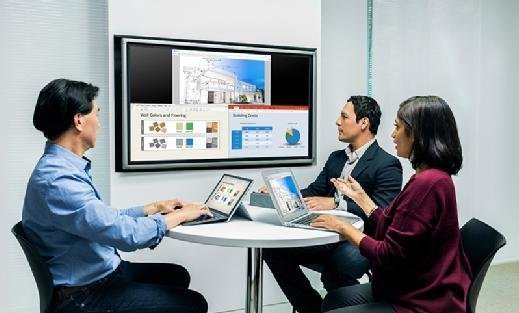 Innovation aims to streamline meetings
Cisco Spark Board, launched earlier this year, is another example of a next-generation room system. Cisco took a different approach than Polycom. The Spark Board is a turnkey product powered by the Cisco Spark cloud service.
Spark Board is an all-in-one device that replaces other conference room technology, including the speakerphone, video conference system, display and digital whiteboard. When a user enters a room, the Spark Board automatically wakes up and greets the person by name, starts the meeting and loads the content. Users can share content from a laptop or mobile device if they are running the Spark app.
In this video, see how Cisco and Polycom are reinventing conference room technology.
The connection to the app means the meeting becomes persistent and can be accessed from anywhere. A meeting can start in one room, continue later on the app on a tablet and finish on a Spark Board in another location.
The Spark Board has an integrated 4K camera and 12-microphone array. The 84-inch model is $9,990. The 55-inch model is $4,900. Both require a service fee of $199 per month.
Supplement or replace existing equipment?
While the price differences between Pano and Spark Board make the products seem quite different, they are both aimed at improving conference room technology in physical meeting spaces. With both products, teams can enter a room and start working right away, instead of fiddling with a bunch of disjointed technology.
Neither product is better than the other; they are just different. Pano is suited for customers who want to continue using their existing conference room technology, while Spark Board would replace much of the existing equipment. Several other products and vendors also flood this market.
As conference room technology improves, UC buyers should shed much of the legacy stigma surrounding the ineffectiveness of room systems. Both Pano and Spark Board offer a markedly better experience than what users might have had just a few years ago.