auremar - Fotolia
Manage
Learn to apply best practices and optimize your operations.
Before deploying Skype for Business, follow these key steps
Microsoft's Skype for Business has seen increased adoption in the enterprise, but there are crucial steps IT should take before deploying Skype for Business voice service.
Microsoft has been a dominant unified communications vendor for almost a decade, but most customers have used it primarily for chat, presence, web sharing and other desktop-related functions. And as popular as Microsoft's Skype for Business has been for desktop UC, it has struggled as an enterprise voice platform.
But Microsoft, it seems, has turned a corner, as Skype for Business voice is now becoming a mainstream platform.
In a declining voice market, Skype for Business has taken share from many incumbent voice equipment and platform vendors, according to Synergy Research Group. Synergy's most recent market data shows the voice market and the revenue for all major vendors have declined -- except for Microsoft (see table below).
Over the next few years, I expect many of the Microsoft customers deploying Skype for Business for chat and presence will shift their focus toward using it for enterprise voice as well.
Checklist for deploying Skype for Business voice services
Deploying Skype for Business enterprise voice and its cloud-based equivalent, Office 365, is unlike voice services from other vendors. Traditional voice systems are more turnkey in nature, where the business buys the call servers, applications, phones and often the network from a single vendor. Instead, Microsoft provides the call control and some of the applications, but everything else is purchased from a Skype for Business partner, which can make the deployment more challenging.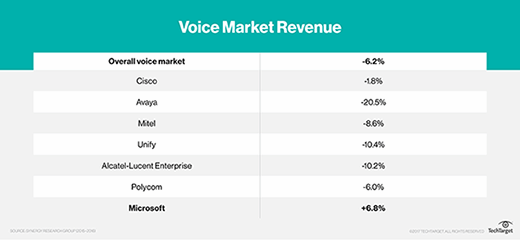 When deploying Skype for Business voice services, the predeployment work is extremely important. Many large companies with massive deployments have no issues, showing that the technology does work.
Organizations that are considering deploying Skype for Business voice services should take the following steps:
Do a network assessment. This is an absolute must for deploying Skype for Business enterprise voice. With an on-premises deployment, companies must pay attention to the local area network and Wi-Fi network. With Office 365, organizations should assess the wide area network and internet connection because traffic will be going to and from the cloud.
Start with a small pilot. Deploying Skype for Business enterprise voice isn't overly complicated, but some adjustments to the network and other infrastructure are necessary. Starting with a small pilot allows the IT department to iron out kinks in the deployment, measure the benefits and build best practices. Once the pilot group has migrated successfully, a larger group can be addressed.
Due diligence required when selecting technology partners. A large number of technology partners work with Skype for Business and Office 365, but not all partners are equal. Some partners require custom software or gateways to interoperate with Microsoft. In addition, the quality of voice and video can vary greatly from vendor to vendor. Organizations should perform due diligence and thoroughly test technology partners to ensure the best experience and easiest deployment.
Keep the handset. Microsoft pushes customers hard to give up their desk phones and have workers make calls directly from a PC or laptop with a headset. As convenient as computer-based calling may seem, however, it isn't appropriate for all sessions. A desk phone is significantly better suited for speakerphone calls and allows workers to make calls when they don't have their computer or when it is rebooting. Also, most handsets generally provide better audio quality than PCs and laptops, particularly low-end ones.
Consider video as part of the deployment. Video is becoming increasingly popular with younger workers, particularly millennials, who now constitute 24% of the workforce and will grow to 47% within 10 years. Video adds an extra element to collaboration, as it lets workers interpret body language and facial queues. Organizations using Skype for Business or Office 365 should consider including video now or at least having it on their roadmap for the near future.