Rawpixel - Fotolia
Microsoft Teams calling, Cisco Spark security get updates
New Microsoft telephony tools put some pressure on Skype for Business users to switch to Teams. Meanwhile, Cisco Spark security gets a key certification.
Unified communications market leaders Microsoft and Cisco upgraded their product portfolios last week, as the vendors...
Continue Reading This Article
Enjoy this article as well as all of our content, including E-Guides, news, tips and more.
continue to address and promote calling and security -- two key elements in their respective product offerings.
Microsoft released last week new Microsoft Teams calling features in the chat-based workspace in Office 365. Microsoft said the new Teams calling features provide "full-featured dialing capabilities," including call history, hold and resume, speed dial, transfer, forwarding, caller ID masking, extension dialing, multicall handling, simultaneous ringing, voicemail and text telephone support.
The new Microsoft Teams calling features put some pressure on Office 365 Skype for Business users to plan to shift their telephony to Teams, said Irwin Lazar, an analyst at Nemertes Research, based in Mokena, Ill.
To add calling in Teams, organizations first need Phone System, formerly called Cloud PBX, which is included with the Office 365 E5 enterprise plan and available as an add-on to other Office 365 plans. Next, organizations can subscribe to a Calling Plan, formerly called PSTN Calling, for any number of users in the organization.
Calling Plan and Phone System in Office 365 can create a phone system for organizations, giving users a primary phone number and letting them make and receive phone calls to and from outside their organizations, Microsoft wrote in a blog.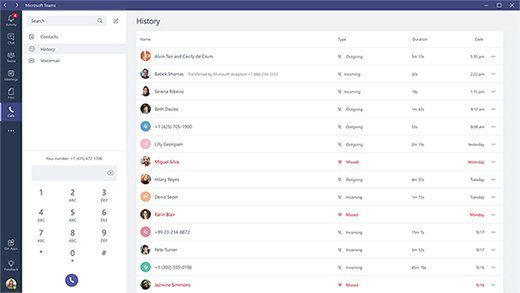 Microsoft Teams' calling updates ongoing
Microsoft announced in September it's making Teams the primary communications client for calling and meetings in Office 365. Microsoft Teams, which is replacing Skype for Business in Office 365, also includes chat and video chat capabilities.
The new Teams calling features indicate Microsoft is fulfilling the Teams roadmap it established in October, Lazar said. The roadmap details the Skype for Business features that will be rolled into Teams over the next year.
Microsoft has announced several ongoing updates to Teams, as the vendor tries to migrate users off Skype for Business Online. Last month, for example, Microsoft released a new PowerShell module that can help IT professionals configure and manage Teams. PowerShell includes a scripting language with an interactive command-line shell to help IT pros configure systems and automate administrative tasks.
Microsoft also released two new usage reports in the Office 365 admin center that enable IT groups to understand how users are using Teams to communicate and collaborate. The user-activity report can track how many people engage in a chat in a channel, how many users communicate via private chat and how many participate in calls or meetings. The app-usage report provides IT groups with information about how users connect to Microsoft Teams, including mobile apps.
Even more Microsoft, Cisco news
In other Microsoft news, the vendor is rolling out the Microsoft Whiteboard Preview app, a digital canvas where users can brainstorm and collaborate. The app, available for download on Windows 10 devices, is designed for teams to ideate in person and remotely in real time across multiple devices.
Companies can use the app to work on product designs or diagram engineering plans, for example. Consumers can use a stylus pen or their fingertips to jot down notes or draw illustrations. The app can also automatically save your work.
For Surface Hub customers, the preview app will eventually replace the native whiteboard app currently running on the Surface Hub. Users can install the preview app alongside the existing app.
In other Cisco news, the vendor has partnered with AT&T to bring Cisco Spark to AT&T business customers. Cisco Spark with AT&T is an app-centric, cloud-based service anchored by the AT&T network that brings together collaboration tools into one application.
The service also brings together Cisco Hosted Collaboration Solutions for AT&T for cloud-based voice calling, AT&T conferencing with Cisco WebEx, and Spark messaging for chat conversations and file sharing. It also integrates with third-party applications. As a service provider, AT&T delivers managed services based on Cisco technology.
"Cisco is putting our leading providers at the center of our cloud strategy," Rowan Trollope, general manager of Cisco's applications, said in a statement. "As we bring Cisco Spark and other SaaS solutions to market, we will team with our global service providers to jointly develop, sell and market."
Cisco Spark security gets certification
Microsoft's main unified communications competitor, Cisco, is emphasizing security in its cloud UC offering, Cisco Spark. In the world of business collaboration apps, security is becoming a differentiator among vendors' products.
Cisco announced last week that Spark has achieved ISO 27001 certification, a security standard that defines policies, risk assessment and other controls. Jonathan Rosenberg, CTO of Cisco's collaboration business, tweeted that Spark is the first team collaboration app to have the ISO 27001 certification. Many businesses require vendors to have this certification, Rosenberg wrote in a blog.
To achieve the security standard, Cisco Spark security must meet and maintain several operational requirements, including incident management, inventory control, access controls, vulnerability scanning and personnel management. Rather than asking about every security detail in the app, organizations can refer to the certification, which covers the entire Spark app and underlying data centers.
Rosenberg said some collaboration startups say their apps run on ISO 27001-certified data centers, meaning the software runs on an Amazon data center, for example, which has the certification. But the certification, in this case, does not apply to the application itself.
"Getting the certification for the actual application itself is what really matters," he wrote, "since the application is what holds and processes customer data." The ISO 27001 certification covers both Cisco Spark and WebEx -- two services that share infrastructure.
Cisco Spark security also features end-to-end security and on-premises key servers. Rosenberg suggested more security features are in the works, as the vendor looks to make Spark "the most secure collaboration tool on the planet."
The designation is important, Lazar said. "We continue to hear concerns, especially among regulated industries, related to the lack of demonstrable security and compliance controls for team apps. Cisco's certification is a big step toward easing those concerns."
Lazar said he expects Cisco Spark security to get General Data Protection Regulation compliance in early 2018.