auremar - Fotolia
News
Stay informed about the latest enterprise technology news and product updates.
Avaya, Talkdesk dial into contact center AI technologies
Bots, analytics and artificial intelligence tools are booming. Contact center AI, in particular, could enhance employee productivity and improve customer service.
Artificial intelligence tools are popping up everywhere these days. Considering their copious amounts of data and nonstop customer interactions, contact centers and sales teams in particular seem especially ripe to integrate AI technologies.
Just this week, one longtime unified communications and contact center vendor, Avaya Inc., and a newer contact center software provider, Talkdesk Inc., introduced AI-focused services. Cisco, too, announced this week an AI-powered voice assistant for Cisco Spark meetings.
Avaya announced A.I.Connect, an initiative with technology partners that looks to speed up the development and application of unified communications and contact center AI technologies for Avaya customers. Through the partnership, Avaya said it wants to create a broad set of AI capabilities for digitally based customer service.
The AI tools will be built on and integrated into Avaya Oceana, an omnichannel customer engagement service, and Avaya Breeze, a developer platform for building communications-enabled apps.
Contact center AI can help companies capture and use real-time customer sentiment to improve customer service. Contact center AI can also help organizations organize vast amounts of data using predictive analytics to deliver information in real time, where it can affect an ongoing customer interaction.
Initially, the A.I.Connect program will focus on five areas:
self-service through conversational interfaces and bot-based interactions;
smart routing to route customers to agents;
agent augmentation to provide guidance to agents across voice, video, chat, email and messaging channels;
interaction insights to spot trends and sentiment analysis; and
enhanced workforce optimization to automate quality assurance and predict volumes and absentee rates within the enterprise.
Seven partners are currently in the A.I.Connect program: Afiniti, Arrow Systems Integration, Cogito, EXP360, Nuance Communications, ScoreData and Sundown AI. More companies are expected to participate in the initiative in the coming months.
Talkdesk launches AI tools for sales teams
In other contact center AI news, Talkdesk has launched a product geared to help inside sales teams make more calls to prospects. The offering, Talkdesk for Sales, features AI tools that contextualize sales calls to provide agents with pertinent customer information.
"Talkdesk for Sales increases the volume of conversations and percentage of conversions by prioritizing who and when to call," Ken Landoline, principal analyst at London-based Ovum, said in a statement. The service identifies conversational coaching opportunities and provides answers to a prospect's questions and objections in real time during a conversation.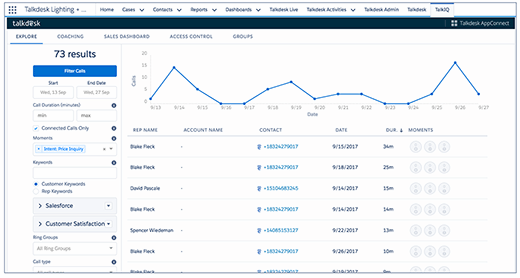 The product suite includes Talkdesk's SalesAssist, which uses AI tools and voice analytics to provide sales reps with answers during the course of a call. SalesAssist transcribes conversations in real time, analyzes what is said, finds content from sales playbooks and presents that information to the rep.
Talkdesk for Sales integrates with Salesforce and displays pertinent customer data on one screen. With the cloud service, sales reps can be distributed and handle calls from anywhere. A call-recording feature can help coach reps, and voice analytics tools use AI to identify successful sales calls to help train teams.
According to Talkdesk, a cloud-based contact center software provider based in San Francisco, growth in inside sales teams is outpacing field sales.
Cloud-based contact center market growth
In other Talkdesk news, the vendor was recently named a visionary in Gartner's Magic Quadrant for contact center as a service (CCaaS). The report, which evaluated the North American market, includes unified-communications-as-a-service vendors 8x8, West Corp. and BroadSoft.
Unified communications and contact center services are increasingly melding. Customers and contact center agents are now going beyond telephony to use new tools to communicate with each other, including messaging and video chat.
Both CCaaS products and on-premises contact center infrastructure offer similar capabilities. Organizations could potentially substitute traditional on-premises contact center infrastructure with CCaaS offerings.
The cloud-based contact center market is expected to grow from $5.43 billion in 2016 to $15.67 billion by 2021, according to research firm MarketsandMarkets.