TheSupe87 - Fotolia
UCaaS market share report details industry's upswing
In UC news, RingCentral extends its UCaaS market share lead, Fuze introduces a web-based collaboration tool, and Vidyo releases a VP9 codec for real-time video communications.
The unified-communications-as-a-service market is accelerating at an annualized rate of 29%, as strong UCaaS adoption...
Continue Reading This Article
Enjoy this article as well as all of our content, including E-Guides, news, tips and more.
continues to drive the market, according to Synergy Research Group, a research firm based in Reno, Nevada. The UCaaS market is now generating revenues exceeding $400 million per quarter and approaching $2 billion annually.
Synergy said RingCentral is the UCaaS market share leader based on quarterly revenues and subscriber seats, followed by 8x8, Mitel, BroadSoft and Vonage. RingCentral's UCaaS market share leadership position increased to 19.5% in the second quarter this year compared to 16.4% in the year-ago quarter, and 18.8% in the prior quarter.
Smaller organizations have traditionally adopted UCaaS, but now larger companies with more than 100 and 1,000 seats are adopting the technology, Synergy analyst Jeremy Duke said in a statement. Additionally, since many premises-based PBXs still remain today, UCaaS has strong growth potential to displace these legacy systems over time. On-premises PBX systems have declined 11.2% year over year, Synergy said.
Accounting for 81% of total revenues in the second quarter of 2017, the UCaaS market continues to be heavily concentrated in the United States followed by the United Kingdom and Germany, Synergy said.
Synergy defines the UCaaS market as a communications service where service providers host and develop their proprietary cloud PBX platform, enabling PSTN connectivity and offering an integrated UC stack that includes conferencing, team collaboration, instant messaging and presence. Service providers using third-party call control -- such as BroadSoft BroadWorks or Cisco Hosted Collaboration Solution -- are defined by Synergy as hosted PBX and excluded from this UCaaS report.
Retail UCaaS products account for more than 80% of the total market, but the smaller wholesale UCaaS segment is growing stronger at 45%, Synergy found. Wholesale UCaaS refers to a vendor providing a service provider with a UCaaS product to sell. The service provider sells directly to its subscribing customers.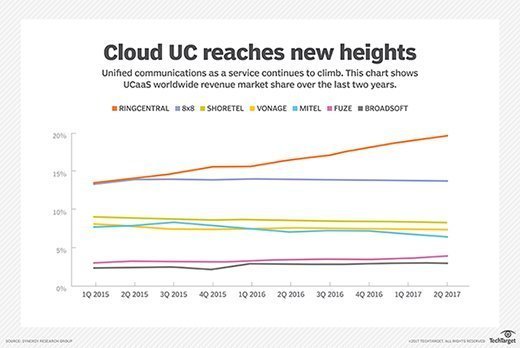 Fuze unveils browser-based collaboration tool
Cloud-based unified communications provider Fuze has unveiled Fuze Web, a browser-based collaboration tool that offers calling, conferencing, video and messaging capabilities. Fuze Web runs on browsers that support Web Real-Time Communications (WebRTC) without the need to install apps, browser extensions or plug-ins.
Fuze Web also integrates with Google and Microsoft productivity suites, enabling users to move between business apps for calling, chat, meetings and content sharing without leaving their browsers. The Google and Microsoft integrations enable Fuze to extend its productivity services. For example, users can make a call using the Google Chrome or Microsoft Edge Dialer, or they can turn a calendar event into a Fuze meeting, allowing up to 1,000 participants to attend.
Fuze Web also automatically sets a user's presence based on Google or Microsoft calendar presence, and can display Office 365 and Google Calendar contact information just as it would on Fuze Desktop.
By 2018, more than 25% of Fortune 500 companies will have deployed IT-supported Google Chromebooks across their organizations, according to IDC estimates. Fuze Web was designed in anticipation of this trend to deliver a UCaaS experience for Chromebooks. Additionally, the global WebRTC market is expected to grow at an annual growth rate of 36.8% over the next decade to reach approximately $41.94 billion by 2025, according to a report by Accuray Research LLP.
Vidyo releases VP9 codec
Video collaboration provider Vidyo, based in Hackensack, N.J., has unveiled its own implementation of the VP9 coding format for real-time video communications. Vidyo said its VP9 codec outperforms the open source VP9 codec by providing double the battery life for mobile devices.
The new codec could enhance real-time video collaboration for various industries. Emergency services organizations, for example, have expressed interest in improving their real-time video collaboration, Vidyo CEO Eran Westman said in a statement. First responders using live-stream video cameras, for instance, could increase their battery time in the field by using Vidyo's VP9 implementation. Insurance claims adjusters could also see an improvement in battery life.
The Vidyo VP9 codec has enterprise-grade error resilience for multi-party video communications. It is also compatible with WebRTC.
Vidyo has a history of building real-time video encoders. In 2013, Vidyo teamed up with Google to create a scalable extension of VP9 as part of the open source WebRTC project. Vidyo's Intellectual property can be found in both H.264 and H.265 video codecs, as well as in the Real-Time Transport Protocol payload formats of H.264, H.265, VP8 and VP9.
Dig Deeper on Unified Communications Architecture and Service Models