Fotolia
Symphony collaboration takes on Teams, Slack team messaging
Symphony Communication Services says it's ready to compete with Cisco, Microsoft and Slack. Experts point to security as a strength of the Symphony collaboration platform.
Symphony Communication Services, which got its start through investments from Wall Street banks, says it's ready...
Continue Reading This Article
Enjoy this article as well as all of our content, including E-Guides, news, tips and more.
to take on Microsoft and Slack in the team messaging market where Symphony is a relatively minor player.
The company introduced last week features that could make it a stronger competitor against its larger rivals. The new capabilities let companies distribute a custom instance of the Symphony collaboration software to establish a private channel with customers and partners. Cisco, Microsoft and Slack recently introduced similar capabilities in their respective cloud-based collaboration products.
Also, Symphony released a module for embedding the service into websites and third-party applications. The capability could be used, for example, to provide real-time customer service.
"The Customer Engagement Platform and Embeddable Chat Module open the door for Symphony in entirely new markets -- extending our platform with new solutions that allow for secure collaboration with high-value clients and counterparties," Symphony CEO David Gurlé said in a statement.
Gurlé has big ambitions for the company he founded in 2014. In a memo obtained by Business Insider, Gurlé told employees that the company was "kicking Slack, [Microsoft] Skype for Business and Teams out of every account where we compete with them."
Symphony collaboration software playing catch up
Gurlé's boast, however, isn't reflected in the latest research. "I haven't seen anything in our data that shows that kind of momentum," said Irwin Lazar, an analyst at Nemertes Research, based in Mokena, Ill.
In an April survey of 700 companies, Nemertes found 27% using team collaboration applications or planning to use them this year. Of that number, 35% used Microsoft Teams, 22% Cisco Spark and 16% Slack. Only 4% used the Symphony collaboration platform.
Symphony claims to have 235,000 licensed users across 200 companies. Microsoft Teams, on the other hand, is part of Office 365, the vendor's cloud-based business productivity suite with 100 million monthly active commercial users. Slack claims to have 2 million paid users.
Nevertheless, Symphony has raised $233 million, bringing its valuation to more than $1 billion. Its backers include Google, venture capital firms and financial institutions, such as Bank of America, Goldman Sachs and JPMorgan.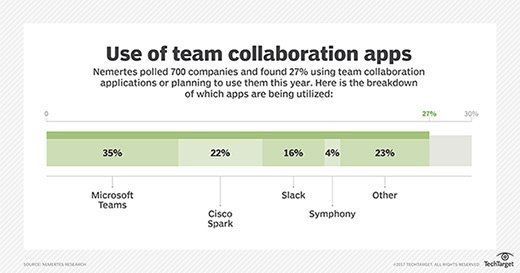 Symphony's strength is in its security, which stems from the company's work with the banking industry. "I think Symphony can do well in organizations that have not yet moved to Office 365, or who do not yet feel that Teams offers acceptable security," Lazar said.
For example, companies using Teams or Slack do not have the option of holding the encryption keys for the respective platforms -- a feature that Symphony and Cisco offer. The feature is important to highly regulated businesses that do not want vendors to have the ability to decrypt message traffic.
Symphony's and Cisco's security advantage, however, is likely temporary. Microsoft and Slack are expected to offer on-premises encryption keys eventually.