News
Stay informed about the latest enterprise technology news and product updates.
Cisco, Microsoft take diverse tacks for virtual reality collaboration
Microsoft demonstrated its virtual reality collaboration technology and mixed-reality workflow app, used by Ford, this week at Microsoft Ignite. Cisco invited customers to experiment with Cisco Spark in VR.
Unified communications juggernauts Cisco and Microsoft are venturing into the convergence of virtual reality and collaboration. But how realistic is virtual reality for enterprise collaboration? Are enterprises ready for such technology? And who exactly would use it?
Currently, virtual reality collaboration may have more questions than answers. Cisco and Microsoft, however, are looking to use virtual reality environments to enhance immersive, visual collaboration.
Technically speaking, Microsoft calls its technology mixed reality, while Cisco calls its technology virtual reality. Mixed reality blends real and virtual environments where physical and digital objects coalesce. virtual reality, meanwhile, is a three-dimensional artificial environment created by computer software.
Technology aside, the vendors say mixed and virtual reality can help local and remote teams collaborate visually and accelerate product design processes and decision-making.
Interactive, collaborative experience
Microsoft's mixed reality looks to create a "digital twin," essentially a virtual model of a physical thing, such as a product, process or service. Information is secured across both devices and services, so that blueprints and other design ideas are protected from leaks. Microsoft demonstrated its mixed reality services this week in Orlando, Fla., at Microsoft Ignite, the vendor's conference for IT professionals and developers.
Ford Motor Co. is using Microsoft's mixed-reality services to help design cars. Designers and engineers can collaborate on ideas in real time, such as a styling a car's hood or determining side-view mirror specifications.
Traditionally, Ford and other automakers use heavy, cumbersome clay models to formulate their cars, a process that can take several days to complete and cost thousands of dollars in production costs. Now, mixed-reality services, like Microsoft's HoloLens, could potentially streamline that process so teams can speed up decision-making across departments. Volvo Cars has also used the Microsoft HoloLens.
Microsoft's mixed-reality services also integrate with Microsoft Teams, the vendor's main collaboration service. For example, product design notes made in the mixed-reality environment will appear in Teams so other team members can receive the notification. Employees can also launch a call within Teams to collaborate with remote users, who can also join the mixed-reality experience.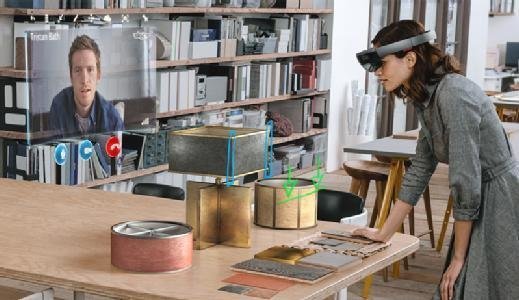 Virtual reality collaboration tempting, but learning curve steep
This type of immersive, visual collaboration echoes the digital collaborative whiteboards that have become popular in the past couple years in UC. Some collaborative whiteboards have been criticized for their high costs, lack of interoperability and applicability to niche vertical markets, such as manufacturing or engineering, where workers need to collaborate specifically around visual elements.
Because of equipment costs, training requirements and the general understanding of virtual reality, augmented reality and mixed reality, organizations are "still a little while away from seeing these tools deployed in the mainstream," said Alan Lepofsky, principal analyst at Constellation Research. However, he added, augmented and virtual reality could be a powerful training tool for specific job use cases.
People still struggle with standard web conferencing, so imagine virtual reality.

Alan Lepofsky, principal analyst at Constellation Research
For example, Lepofsky said he was shown at Microsoft Ignite how Boeing is looking at using HoloLens for training mechanics. As use cases are created and marketed around training, education and customer service, acceptance and adoption could rise.
At the same time, however, for general use cases around communication and collaboration, the benefits-to-barriers ratio is still too low, Lepofsky said.
"People still struggle with standard web conferencing," he said, "so imagine virtual reality." The potential to improve work in areas such as data visualization and interactive engagement is promising, he added.
Cisco touts virtual reality collaboration with Cisco Spark VR
For its part, Cisco is pushing Cisco Spark VR, a collaboration product it debuted earlier this year at Enterprise Connect. Just last week, right before Microsoft Ignite, Cisco invited customers to experiment with Cisco Spark in VR.
Cisco Spark customers can download the beta version of Cisco Spark in VR app from the Oculus Rift store. In order to interact in a virtual, three-dimensional environment, customers need the Cisco Spark in VR app, Oculus Rift with Touch controllers and a Rift-compatible computer.
Cisco Spark in VR attempts to bridge the gap between virtual and physical spaces by natively integrating with the Cisco Spark platform -- which supports meetings, messages and calls--and endpoints. Users can view shared files and whiteboards with someone outside VR in real time. Cisco said it wants to work with customers to explore how enterprises can exploit VR within their Spark environments.
"This is a first, conceptual step towards a future where augmented reality, virtual reality and mixed reality will be integrated into the office and work," Jens Meggers, general manager of Cisco's cloud collaboration technology group, said in a statement.
Other UC vendors are crafting their own strategies. Zoom Video Communications, for example, announced today an integration with augmented reality provider Meta Co., whose immersive AR technology allows 3D models to be shared and manipulated as holograms in real time on the Zoom platform. Use cases include building 3D architectural models or learning about human anatomy. Users can work with 3D holograms for all participants to see in a Zoom video call.
In an IDC survey of 500 IT decision-makers, nearly 30% said they are testing AR software for smartphones and tablets. The augmented reality and virtual reality market will grow from $5.2 billion in 2016 to more than $162 billion in 2020, IDC found.
Dig Deeper on Collaborative Applications