Oleksiy Mark - Fotolia
News
Stay informed about the latest enterprise technology news and product updates.
Cloud unified communications use drops amid large enterprises
Large enterprises still favor on-premises services over cloud-based UC, according to a recent study. Meanwhile, Vyopta launches a UCC monitoring service to optimize the user experience.
The percentage of enterprises that plan to adopt cloud unified communications services has fallen in the last year, as large companies find on-premises UC a superior option to the cloud.
A survey of 800 enterprises found the percentage skipping the cloud increased from 8% last year to 15% in 2017, according to Nemertes Research, based in Mokena, Ill. The poll found in large-scale deployments, cloud-based UC did not reduce costs and lacked important management and security features.
Big organizations with large IT staffs can usually manage and maintain on-premises systems for less money than the price of a cloud subscription, the study found. "Many of these companies believe they can run UC better and more efficiently internally," said Nemertes analyst Robin Gareiss.
While cloud unified communications has yet to meet the needs of large enterprises, it remains attractive to small and medium-sized enterprises, which have much fewer users. Those organizations, which account for the majority of enterprises, are driving market growth. -- Duncan McCay, news writer
Vyopta service monitors UCC performance
UC analytics company Vyopta has launched a UC and collaboration (UCC) monitoring and optimization service that offers a single tool to monitor UC environments and improve the user experience and adoption.
The service is aimed at organizations facing challenges with scaling their UCC investments in large, complex environments. These challenges result in underused UCC assets, employee frustration and lost productivity.
The service includes UCC monitoring for multivendor and multimodal environments across thousands of UC endpoints. It also allows organizations to onboard new users faster, and it includes an executive dashboard with data on performance and usage.
Vyopta, based in Austin, Texas, has partnered with UC providers such as Microsoft, Zoom, Polycom, Vidyo and Pexip. With the new UCC monitoring service, Vyopta has expanded support for Cisco collaboration products, such as Unified Communications Manager, WebEx and Spark.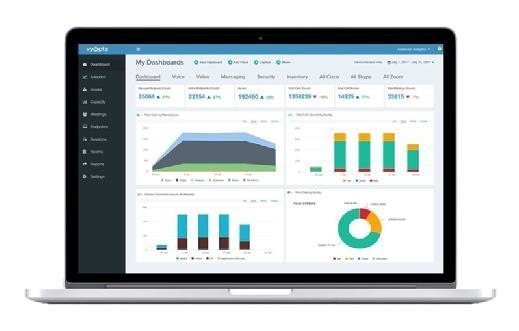 CyberLink launches web collaboration app
CyberLink Corp. has released U, a unified web communications app for online meetings, presentations and messaging. The app is designed to replace legacy web conferencing services and includes three modules.
U Messenger allows users to create team rooms for collaboration and file sharing. Users can share files with a drag-and-drop feature, create forums for business decisions and send bulletins to group members.
U Meeting offers high-definition, browser-based video meetings for up to 100 participants. The service is compatible with Outlook and Google Calendar scheduling.
U Webinar offers Microsoft PowerPoint integration, screen sharing, live annotations and the ability to rearrange PowerPoint content. Users can record presentations and schedule a prerecorded session to play on a dedicated URL at a specific time.
CyberLink U is available now, with subscription plans tailored toward specific business requirements. A freemium version offers meetings and webinars for up to 25 participants for a maximum of 50 minutes and 60 minutes, respectively. CyberLink is based in Taipei, Taiwan, and has offices in the U.S. and Europe.
Dig Deeper on Unified Communications Architecture and Service Models