Fotolia
Microsoft partnerships boost Skype for Business capabilities
Microsoft partnerships highlighted new products and services at its Inspire conference. Several partner companies had a keen focus on improving Skype for Business capabilities.
Microsoft has always relied on partnerships to expand its services, and Skype for Business is no exception. Microsoft's partners build on new Skype for Business capabilities, such as cloud telephony and video broadcasting, to offer more features and support.
Several Microsoft partners made announcements this week that look to enhance Microsoft unified communications (UC) services and Skype for Business in particular. The cache of Microsoft partnerships was on display at Microsoft Inspire, an annual conference for the vendor's partner community.
Performance management provider IR, based in Australia, announced that 64 Microsoft partners have joined IR's global partner program. IR signed 39 of these partnerships over the past year. Organizations deploying Skype for Business are driving IR's growing number of Microsoft partnerships.
Most organizations deploying Microsoft UC have high expectations for quality of service (QoS), IR said. For Microsoft partners, this means having performance-monitoring tools to ensure appropriate quality.
Maintaining QoS through performance management allows partners to better address quality issues before they become widespread through an organization and negatively affect user adoption and management costs.
Yamaha develops Skype for Business speakerphone
Yamaha unveiled a Skype-for-Business-certified speakerphone, the Yamaha YVC-1000MS. The speakerphone is designed to support Skype for Business calls in large meeting rooms, rooms with special table configurations and remote meetings within the Skype for Business client.
The speakerphone features separate microphone and speaker units. Up to five microphones can be connected to accommodate larger rooms. The speakerphone can connect to calls on smartphones via Bluetooth and bridge to Skype for Business calls via USB.
The Yamaha speakerphone also features adaptive echo cancellation and technology that monitors the acoustics of an environment to optimize call audio. The speakerphone will be available in the fall.
Yamaha, based in Japan, announced in June the development of a dedicated UC department. Revolabs, a Yamaha subsidiary based in Sudbury, Mass., will design and develop UC products as part of this department.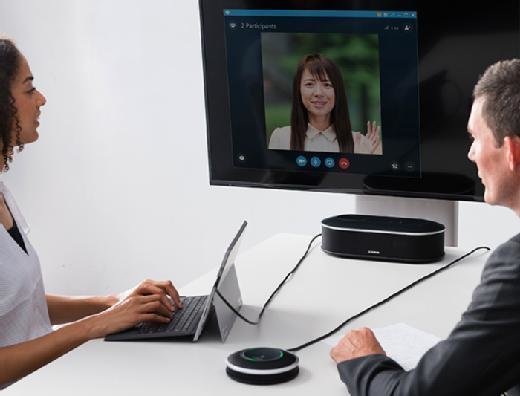 MediaPlatform launches Skype for Business integration
MediaPlatform, an enterprise live streaming video and content management service, announced a Skype for Business integration that enables the broadcasting of video meetings to more than 10,000 concurrent viewers.
The WebCaster video streaming platform enables scalable broadcasts directly from a Skype for Business client. The integration can be installed in the cloud or on premises, and it offers features such as viewer registration, slides, prerecorded content, polling and auto-archiving.
The live-streaming platform supports broadcasting to users regardless of endpoint or delivery network with SmartPath, a rules-based delivery engine. Organizations can use SmartPath to designate a set of media distribution and failover rules to assign a compatible stream to end users without compromising internal networks.
The Skype for Business integration includes a video business intelligence dashboard for real-time monitoring of Skype for Business broadcasts. MediaPlatform, based in Los Angeles, also integrates with SharePoint and Yammer.
AudioCodes offers centrally managed Microsoft cloud telephony
Voice over IP communications provider AudioCodes, based in Israel, announced a service that offers centralized and flexible multisite deployments of Microsoft Cloud Connector Edition (CCE), which connects an enterprise's telephony environment with Microsoft's cloud PBX. The new AudioCodes service, called CCE Hub, eliminates the need to deploy Microsoft CCE at branch offices.
CCE Hub includes session border controllers and media gateways to deliver voice connectivity with the PSTN, Session Initiation Protocol (SIP) trunks and existing PBXs. The service also features centrally managed call routing and centralized administration and alarm management.
Monitoring software and a web-based dashboard also allow organizations to manage CCE deployments centrally. CCE Hub is designed to be deployed in Microsoft Cloud PBX or hybrid environments that use PSTN, SIP trunks or PBXs.
Enterprises and managed service providers can choose how to deploy the service while maintaining existing contracts and meeting local regulatory requirements. AudioCodes also offers CloudBond 365, which facilitates the transition of legacy PBXs to Microsoft Cloud PBX.
Dig Deeper on Unified Communications Integration and Interoperability