Polycom camera focused on audio and visual innovation
A Polycom camera has won this month's Network Innovation Award. The EagleEye Director II enhances video meetings with picture-in-picture technology and data analytics.
Polycom Inc., a longtime unified communications provider, is still innovating. The vendor's EagleEye Director II, a video conferencing camera, has won this month's Network Innovation Award.
The Polycom camera, launched earlier this year, can automatically find, frame and focus on speakers in a video meeting. Geared toward midsize and large meeting rooms, the smart video camera features picture-in-picture room display and data analytics to track ROI metrics.
To gain a deeper understanding of the EagleEye Director II, SearchUnifiedCommunications spoke with Brian Phillips, Polycom's senior product marketing manager.
How does this Polycom camera improve video conferencing?
Brian Phillips: The challenge for video conferencing adoption has been ease of use and perceptions among users that they don't know how to use video conferencing systems. One of the ways we saw that manifest itself was in cameras.
Customers would install video systems in conference rooms and zoom the cameras out to make sure everybody could be seen. And then, the cameras would stay there, because users didn't want to fumble with them during video calls.
With the original EagleEye Director, we thought, 'How could we automate that whole process?' We wanted to get past user concerns and automatically find and frame the person who is talking without the user having to do anything. We were the first to market with this automatic camera-tracking solution for video conferencing.
Then, we got to work on: 'How can we make this better and take it to another level?' One of the features in EagleEye Director II is seeing both the close-up of the person talking and the full-room view.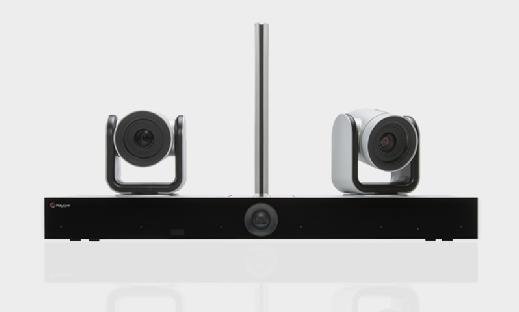 How else is EagleEye Director II an improvement over the original camera?
Phillips: The original EagleEye Director had about a 7-meter or close to 25-foot accuracy range. But customers wanted to also use it in larger rooms and stretch that range further -- that was actually a real challenge. There are multiple facets that go into finding the person who's talking.
In EagleEye Director II, there are 10 microphones built into the system to do audio triangulation. It's also using a kind of facial recognition -- it's looking for a moving mouth. It's one thing to do that in 7 meters; it's another thing to do that up to 10 meters, which is what we have in EagleEye Director II. We worked for a long time on that innovation to get great accuracy up to 10 meters and even beyond.
We layered on additional elements in Director II. It's also finding and framing everybody in the room and giving that picture-in-picture of everybody in the room. We also made that finding and framing of the person talking a lot better and faster.
What about the analytics in the latest Polycom camera?
Phillips: We've included the ability to count and record the number of participants in the room, so IT directors have an accurate measure of the number of people benefitting from video in their conference rooms.
It's using the facial-recognition component to identify how many people are in the room. It's recording that data in the call-detail records for every meeting. It records at the beginning and end of the call. There's also a peak count. People sometimes come and go during meetings, so it measures the maximum number of people at any one time.
The fourth metric is what we call people minutes -- it's an aggregate count of the total participation. So, if it was a 10-minute long meeting with five participants, that would be 50 people minutes.
Refocusing on video rooms
In this video, see Polycom's EagleEye Director II in action. The smart camera automatically finds, framesand focuses onspeakers in video calls.
How else can this data be analyzed?
Phillips: IT managers can also use different metrics to evaluate the utilization of meeting rooms to understand whether rooms are over- or underutilized. For example, maybe you've got a conference room to seat six people, and, on average, you've got a peak of 8.4 people in that room. You then realize maybe you need to move some of this technology into larger conference rooms.
On the flip side, maybe you've got a large conference room that seats 15, and, on average, you have 2.7 people on a video meeting. You might say, 'This is not a very efficient use of our limited real estate.'
It also gives IT managers metrics to gauge ROI and lobby for additional technology investments. One of the goals of a video deployment is to understand the payback. There are many factors to that in terms of travel savings and productivity. But the first step is knowing how many people are using it.
How exactly does the Polycom camera find people speaking?
Phillips: It's a combination of things; part of it is visuals. It's looking for human beings in the room. We went to great care to make sure it doesn't get confused by a photo on a wall. It's looking for an active person with eyes, a nose and a moving mouth. It's using torso recognition to determine where everybody is in the room and zeros in on the person talking.
It also uses audio triangulation -- and that's where our audio benefits put us leaps and bounds above our competitors. We've got 25-plus years as the leader and innovator in audio conferencing. Being able to do the audio triangulation to determine quickly and accurately where the person's located gives us a huge advantage that none of our competitors can match.
It's remarkably accurate, even in a larger group, to quickly determine who's talking. It's one thing if you have three people in the conference room, but the real test is when you get this in a bigger room with a lot of people -- that's where it really knocks your socks off.