hfng - Fotolia
Virtual reality could create more immersive visual collaboration
Virtual reality services could offer enterprises lower-cost, immersive visual collaboration, but technical and security hurdles must be addressed.
Virtual reality and augmented reality are no longer the stuff of science fiction. Businesses could leverage the technology to create a more immersive and visual collaboration experience for employees.
"Virtual reality has a big use case for visual collaboration," said Nemertes Research analyst Irwin Lazar.
Imagine entering a video conference with remote coworkers. Instead of using a webcam on a desktop or mobile device, you slip on virtual reality hardware, like an Oculus Rift or HTC Vive, and enter a virtual meeting room where you can see and interact with co-workers like in an in-person meeting.
Virtual reality (VR) and augmented reality (AR) have matured to the point where the technologies are ready for mainstream applications, said IDC analyst Tom Mainelli.
Samsung, Google and HTC all launched VR hardware products in 2016. More hardware releases are expected this year, including the Microsoft HoloLens. Lazar said VR hardware replicates the visual collaboration experience of high-end telepresence suites, which come with a price tag of over $200,000, but at a lower cost of a few thousand dollars for hardware and services.
Gauging enterprise adoption
The adoption of AR technology, which uses the environment the user is in rather than creating a virtual one, is seeing growing interest in businesses, Mainelli said. In an IDC survey of 500 IT decision-makers, nearly 30% are testing AR software for smartphones and tablets. IDC estimates that the augmented and virtual reality market will reach $162 billion by 2020.
"AR is bringing in pertinent information to the experience we're having," he said.
However, VR will have a greater impact on enterprise visual collaboration, while AR could fill more niche use cases for things such as field inspections, Lazar said.
Video and visual collaboration vendors could lead the charge for enterprise use of virtual reality services.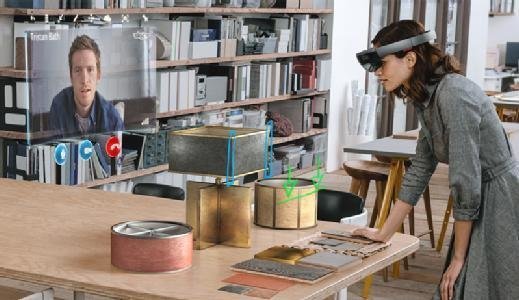 Microsoft and IBM, for example, are already making investments in VR, which also presents a natural extension for services from vendors such as Vidyo, Polycom and Cisco, Lazar said.
VR could become another way to participate in a video conference, and vendors could make VR technology available to organizations to embed in custom services. However, the market is at least three years away from any kind of enterprise adoption of VR services, he said.
Addressing hardware challenges
Before AR and VR can see widespread enterprise adoption, some hardware hurdles need to be addressed.
There is the stigma that AR and VR hardware are just toys, Lazar said. Visual collaboration vendors looking to sell virtual reality services will have to show organizations the value of the hardware.
VR hardware also requires controllers and sensors placed around a room to track a user's movement. To create a more immersive experience, hardware must move away from tracking and controllers, Mainelli said.
Security of hardware is a key concern for organizations. Lazar said he has spoken with companies that trialed Google Glass for AR services and had problems with connecting the devices securely to the enterprise network. The devices could not recognize the network and users had to share passwords to connect to the network.
"There's a fear of putting VR hardware onto the network before companies truly understand them," he said.
Dig Deeper on Business Video Conferencing and Telepresence Technology