Sergey Nivens - Fotolia
Cisco melds Spark collaboration with interactive display screen
Cisco is bringing the virtual world of its team collaboration app into the physical meeting room with the launch of the Spark Board interactive display screen.
Corporate teams work together online and in meeting rooms. On Tuesday, Cisco married virtual and physical collaboration...
Continue Reading This Article
Enjoy this article as well as all of our content, including E-Guides, news, tips and more.
with the launch of a revamped Spark and a tightly integrated electronic whiteboard.
The Spark Board, unveiled at a kickoff event in San Francisco, takes Spark's version of team collaboration into the meeting room, where the cloud-based application becomes an in-room group experience on the interactive display screen.
"It's a bit surprising Cisco has created such a significant endpoint just for Spark," said Dave Michels, an independent analyst focused on unified communications (UC) and collaboration products. "It really shows a commitment to the new [Spark] service."
Cisco is marketing Spark Board as a three-in-one interactive touchscreen. The wall-mounted device can be used as a whiteboard, a video conferencing system or presentation screen for a laptop or mobile device. The device includes a 4K high-definition display, microphones and video camera.
"Spark Board is like a tablet on the wall," Jens Meggers, general manager of Cisco's cloud collaboration technology group, said in a briefing before the launch.
Spark revamp for interactive display screen
Cisco has redesigned Spark to make Spark Board an extension of the software. "The entire UX [user experience] has been completely overhauled," said Richard Townhill, senior director of product management at the company. "It's a very different application."
Spark Board is like a tablet on the wall.

Jens Meggersgeneral manager of Cisco's cloud collaboration technology group
Whatever is drawn or displayed on the board is also shown in Spark. People joining a meeting from a remote location can use the app to draw on Spark Board, or show content from a laptop, smartphone or tablet. All content shared at a meeting, including board sketches, is saved in Spark.
"The missing piece in establishing effective meetings for virtual teams has been the inability for distributed participants to collaborate effectively in ideation and annotation," said Irwin Lazar, an analyst at Nemertes Research, based in Mokena, Ill.
The integration between the interactive display screen and Spark software makes the board easy to use, according to Cisco. Analysts have criticized interactive displays, in general, as being difficult to operate.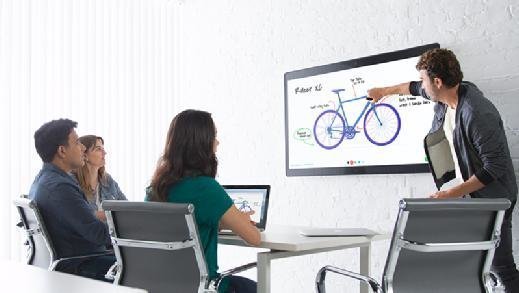 Analysts have also said the devices are expensive. Cisco hopes to address that problem by selling a 55-inch version of Board for $4,990, plus a $200 monthly subscription to Cisco's cloud, which handles the interactions between Spark and the interactive display. A standard internet connection handles communications between the technologies.
Cisco plans to ship Spark Board by the end of January. The vendor expects to offer a 70-inch version of the hardware later in the year for $9,990 plus the $200 monthly subscription.
Market for interactive displays heats up
Enterprises are paying attention to the development of interactive displays for meeting rooms. Almost a quarter of companies surveyed by Nemertes are using the platforms, while another 47% are evaluating them.
The primary users are small teams that have to share and manipulate visual content, Lazar said. Those teams are typically in research and development, engineering, product design and marketing.
Companies in the Nemertes survey are budgeting about $10,000 per year, per room for interactive display screens, so Cisco's prices are competitive in the market, Lazar said.
The Spark overhaul, done in support of Spark Board, includes incorporating the capabilities of Cisco's WebEx video conferencing software, which Cisco plans to continue supporting as a stand-alone product. Also, Cisco has introduced a new dashboard in Spark for managing activities, such as meetings, messaging, video and audio calling, sharing files and using Board.
Cisco has also introduced APIs that partners and resellers can use to add applications on top of the collaboration software.
Cisco Spark Board versus Microsoft Surface Hub
Cisco's largest competitor in collaboration software and interactive displays is Microsoft. Analysts expect Board to go head-to-head with Surface Hub, which Microsoft launched last year.
Companies using the initial version of Surface Hub have complained of a lack of software to make the collaboration platform more useful to teams. Also, Hub lacked the ability to make external calls.
Despite the shortcomings, the hardware carries a hefty price. Microsoft is selling the 55-inch model for $9,000 and an 84-inch version for $22,000.
Given the Surface Hub's price and capabilities, it appears the features Cisco has incorporated in Spark Board "up the bar" in the competition with Microsoft, said Philip Edholm, president of UC advisory firm PKE Consulting LLC, based in Pleasanton, Calif.