twobee - Fotolia
PGi to acquire cloud communications provider ReadyTalk
In UC news, collaboration software provider PGi is set to acquire cloud communications provider ReadyTalk; IHS Markit report names BroadSoft as UCaaS platform market share leader.
The unified communications consolidation carousel continues to go round. Collaboration software provider Premiere Global Services Inc., or PGi, last week announced plans to acquire ReadyTalk, a cloud communications provider that offers audio, web and video conferencing.
ReadyTalk's focus on midmarket customers and carrier partners aligns with PGi's go-to-market priorities for 2017 and beyond, PGi said in a release. ReadyTalk, based in Denver, is a communications provider that offers collaboration software to more than 6,000 small and midsize businesses.
PGi is positioning itself to compete with other vendors and products, including Citrix's GoToMeeting, Cisco's WebEx and West's InterCall service. Buying ReadyTalk helps PGi grow its customer base very quickly, said Irwin Lazar, an analyst at Nemertes Research, based in Mokena, Ill.
For tech buyers, the acquisition means less choice, Lazar said. But the market is still competitive, so he said the consolidation should not affect users significantly.
With its white labeling capabilities, ReadyTalk's product suite is built to serve and support telecommunications providers, which helps PGi's strategy to leverage carriers as an increasingly important part of its distribution plan. The deal, expected to close at the end of the month, is the most recent example of a unified communications provider acquisition.
Mergers and acquisitions have rippled through the UC and collaboration market in the past year. Some notable deals include Siris Capital acquiring Polycom, Genesys acquiring Interactive Intelligence and Microsoft acquiring LinkedIn.
Report names BroadSoft UCaaS platform market share leader
Analyst firm IHS Markit has named BroadSoft, whose cloud-based communications platform is designed for service-provider environments, as the global UC-as-a-service platform leader. As of the second quarter of 2016, BroadSoft has 38% of the total worldwide UCaaS seats running on its platforms, according to IHS.
BroadSoft sells its platform completely through service providers, such as Verizon and Vonage, according to Diane Myers, IHS analyst and author of the UCaaS report.
Many UCaaS providers use platforms from third-party vendors that include BroadSoft, Genband, Cisco and Mitel, among others. The UCaaS market is comprised of pure-play providers, network operators, cable multiple system operators, internet service providers, system integrators and traditional premises-based vendors, Myers said.
To expand its business, BroadSoft recently launched BroadSoft Business, which includes cloud PBX, unified communications, team collaboration and contact-center applications delivered in the cloud via an authorized BroadSoft partner.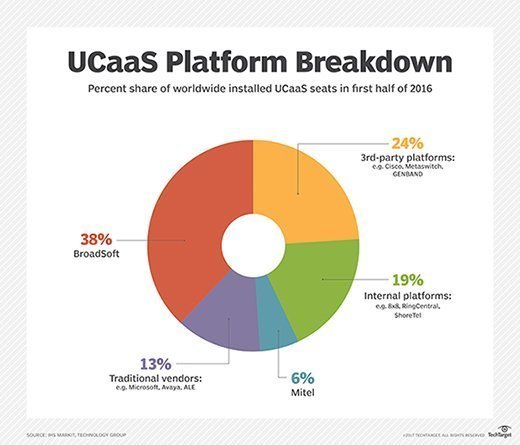 Broadvoice mobile app adds native Apple integration
Cloud communications provider Broadvoice has updated its mobile application for Apple iOS. The update aims to make Broadvoice calls look and feel like native cellular calls. Based in Northridge, Calif., Broadvoice provides hosted voice, unified communications and Session Initiation Protocol trunking services for businesses.
Broadvoice mobile apps for UC and cloud PBX give users access to their office communications suite. The updated Broadvoice mobile app now supports Apple's CallKit on iOS 10, which was launched in September 2016.
With the update, when a caller uses the Broadvoice UC app, the caller's picture will appear on the receiver's locked iPhone. That feature was not available in past iOS versions. In addition, cloud PBX voicemails can now be transcribed, allowing users to read their messages instead of listening to them. Users can also make Broadvoice calls directly from the native iPhone app's contacts, favorites and recents lists.
The Apple CallKit integration is a "big step toward overcoming the limited functionality of third-party UC clients on Apple devices, and gets iOS closer to parity with Android," Lazar said.
Next Steps
Learn the pros and cons of UC mergers and acquisitions.
As UC market consolidates, users take single-vendor approach.
Make sense of the UCaaS market and all its vendors.