WavebreakmediaMicro - Fotolia
News
Stay informed about the latest enterprise technology news and product updates.
Skype for Business expands from desktop to room video conferencing
Microsoft is expanding beyond desktop video with partnerships that integrate room video conferencing hardware with Skype for Business. Logitech's SmartDock is the first available integration.
Microsoft's foray into room video conferencing is taking shape as the vendor integrates Skype for Business with hardware components from video partners.
Microsoft is expanding Skype for Business as hardware products from its Project Rigel initiative become available for purchase. Project Rigel, announced earlier this year, is a partnership with video conferencing hardware vendors Logitech, Polycom and Crestron to integrate Skype for Business with room video conferencing systems.
"It's an opportunity to expand from just a desktop collaboration product to be the center of meetings," said Nemertes Research analyst Irwin Lazar.
Until now, Skype for Business has not penetrated the meeting room, said Joan Vandermate, head of video collaboration marketing at Logitech. Organizations that have Skype for Business on the desktop usually have room video conferencing services from Cisco or Polycom.
It's an opportunity to expand from just a desktop collaboration product to be the center of meetings.

Irwin Lazaranalyst, Nemertes Research
But with integrated room system hardware, Microsoft can offer a unified Skype for Business video experience across the organization. The initiative also adds to Microsoft's rivalry with Cisco in the unified communications space as Microsoft can now compete in conference room video.
If an organization uses Cisco for room video conferencing but is moving to a Microsoft desktop environment, the organization can buy hardware from Microsoft's video conferencing partners for an integrated Skype for Business room deployment, Lazar said.
"It's the last bastion," Vandermate added. "It's the last place Microsoft hasn't been able to knock Cisco out of."
Room video conferencing in small meeting spaces
A Nemertes study found 40% of companies are planning to expand video into small meeting rooms. "It's a big, untapped market in the video conferencing space," Lazar said.
Video conferencing vendors are targeting small meeting spaces, like huddle rooms, as demand ebbs for larger room systems and the desktop video market becomes saturated. Medium to large-size enterprises already have video systems in large conference rooms and are looking to push video into smaller rooms, Lazar said.
These enterprises are the target buyers for Skype for Business room systems, but SMBs could also deploy these video systems.
"With Skype for Business now part of Office 365, Microsoft has been very aggressive in trying to push Skype for Business down in the SMB space," Vandermate said, adding that she expects the main use for Skype for Business room video conferencing systems to be in smaller rooms for formal video meetings.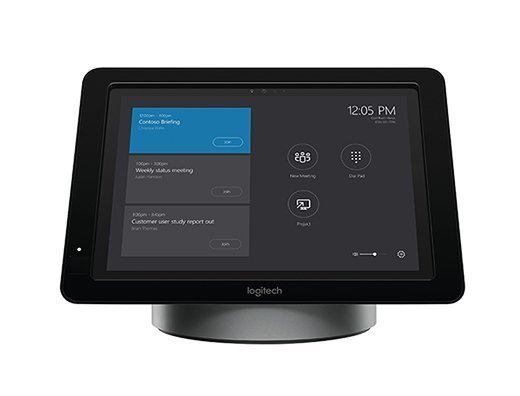 Logitech leads Skype for Business room offerings
Products such as Logitech's SmartDock, the first product from Project Rigel made available last week, help Microsoft infiltrate the meeting room market. The SmartDock houses a Microsoft Surface Pro 4 tablet preloaded with Skype for Business software.
The user interface features a calendar for scheduling meetings. During a meeting, organizers can mute participants, add participants through the Skype for Business directory and send messages. A dial pad allows for audio calling with a PSTN license.
Logitech SmartDock on display
See how the Logitech SmartDock integrates with Skype for Business software.
Content can be attached to the meeting invite or shared locally by connecting a laptop via HDMI, Vandermate said. Ad hoc meetings are supported and users can share content without opening a Skype for Business meeting. The ability to share content in conference rooms without needing to be on a video call is important, Lazar said.
"Organizations are buying Apple TV or similar devices, but they're outside of corporate control," he said. SmartDock's local sharing capability fills that need.
Competition among hardware vendors
The price points for Skype for Business room video conferencing could attract potential customers. The ideal cost to adopt video technology for smaller rooms is under $3,000, Lazar said.
The SmartDock is sold in packages. The base package, which includes the SmartDock and Surface Pro 4 tablet, retails at $1,699. The room system package, which includes the base package and Logitech camera, retails at $2,199 and is aimed at huddle rooms that hold up to six people.
The midsize package, which includes the base package and Logitech Group hardware, retails at $2,599. The large room package -- which includes everything in the midsize package, an expander box and two expansion mics -- retails at $3,149 and is aimed at meeting rooms that hold up to 25 people.
The SmartDock also creates competition with hardware vendors such as Polycom, which had carved out a niche as a Microsoft video partner. But with Logitech now offering Microsoft integration, Skype for Business customers need to pick a vendor to outfit their meeting rooms, Lazar said.
"For Logitech, it helps to have a more tightly integrated room system story to tell for those that are Skype for Business customers," he said.
Dig Deeper on Business Video Conferencing and Telepresence Technology