Silvano Rebai - Fotolia
New Lifesize video system focuses on huddle room market
The burgeoning market for huddle rooms, or small meeting spaces, is seeing a diverse set of products that aim to enrich the video collaboration experience.
Video conferencing provider Lifesize Inc. has launched a high-definition camera and phone system geared for small meeting rooms. The Icon 450, paired with Lifesize's cloud-based video communication platform, uses a smart-framing sensor that automatically adjusts the camera to capture everyone in the picture.
Small conference rooms, also called huddle rooms, usually have tight dimensions and accommodate three to six people. If conducting a video call in a huddle room, teams might find it difficult to fit everyone in the picture. Lifesize's new camera aims to fix that problem.
The camera's wide-angle lens offers a field of view that is 82 degrees horizontally and 59 degrees vertically. The camera can automatically pan, tilt and zoom to focus on meeting participants and track movement.
A wide-angle lens -- without distortion -- is important in huddle rooms, since these spaces are usually less than 100 square feet and wider than they are deep, said Michael Helmbrecht, chief product and operations officer at Lifesize, based in Austin, Texas.
Melding hardware with cloud services
The Icon 450 combines two pieces of hardware -- an HD camera system and touch-enabled speakerphone -- paired with Lifesize's cloud service. The new product is a "big improvement" for huddle rooms because of its enhanced optics, even in dim spaces, Helmbrecht said.
When the video system is first deployed, a setup wizard helps calibrate the room's dimensions and lighting.
To explain the camera's smart-framing sensor, Helmbrecht outlined the following scenario: A user finishes a meeting and leaves the room with the camera focused on a whiteboard. When the next users enter the room, the camera detects them and resets the framing of the video picture to capture all attendees. If other users enter the room during the meeting, the camera can adjust to capture them, too. Users can also control the camera manually.
The standards-based system can integrate with other video services, including Cisco, Polycom and Skype for Business. The built-in cloud service integrates with Microsoft Office 365 and Google Apps for Work calendars. The video system can connect employees and guests from their phones, desktops or browsers.
Helmbrecht touted the Icon 450's ease of use, saying the product requires little IT support and end-user training. The Icon 450 is the latest video collaboration tool in the budding huddle room market.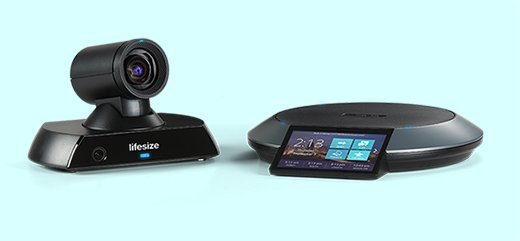 Market ripe for product innovation
Market research firm Frost & Sullivan, based in San Antonio, estimated there are 30 million to 40 million huddle rooms globally, and less than 2% of them are video-enabled. Frost & Sullivan projected huddle rooms will represent 67% of all video conferencing deployments by 2020.
Despite these staggering numbers, not all huddle rooms need video communications, according to Frost & Sullivan analyst Roopam Jain, who said she expects more products to enter the market.
"We are at the beginning stage of video enablement in huddle rooms," she said. "It's a wide-open market that has not been fully addressed yet."
Market opportunity also breeds fierce vendor competition, with major players -- including Cisco, Polycom, Microsoft and Google -- eyeing the huddle room space. "It's not going to be an easy game for Lifesize or other vendors," Jain said. "But it's a high-growth space."
Consider costs, ease of use and flexibility
With huddle room technology, Jain said, enterprises should consider four key elements:
Affordability. To video-enable a huddle room, a company should expect to spend up to $5,000 for devices, in addition to cloud subscription fees.
Ease of use. Huddle room video systems should not need extensive IT support.
Endpoint flexibility. Users should be able to launch meetings via different endpoints, including laptops or mobile devices.
Interoperability. The video system should be able to integrate with different communication apps.
Collaboration habits are changing, Jain said, as workers seek more meeting flexibility, especially for quick conferences with remote team members. As a result, large and structured video conferencing deployments are waning, while more flexible services are gaining.
The Icon 450, part of Lifesize's 400 series of huddle room products, is available now, starting at $4,999. The Lifesize Cloud subscriptions start at $29 per month, per user based on an annual contract.
Next Steps
Evaluate video conferencing vendors and their products.
Track the evolution of conference room technology.
Discover the benefits of cloud-based video conferencing.
Dig Deeper on Business Video Conferencing and Telepresence Technology