maxkabakov - Fotolia
News
Stay informed about the latest enterprise technology news and product updates.
Vonage recognized for high-quality voice, video service
Vonage has won this month's Network Innovation Award. The VoIP provider's SmartWAN delivers high bandwidth at a low price point, coupled with quality of service and scalability.
Vonage's SmartWAN, a cloud-based software-defined WAN service, is this month's Network Innovation Award winner. The product, rolled out earlier this year, aims to enhance quality of service and optimizes real-time network traffic, like voice and video. SmartWAN, anchored by VeloCloud's SD-WAN technology, maximizes bandwidth across multiple locations and works over a private or public network.
To gain a deeper understanding of the innovation behind SmartWAN, Luke O'Neill, editor of SearchUnifiedCommunications, spoke with Sanjay Srinivasan, Vonage Business' chief technology architect.
How did SmartWAN come to be?
Sanjay Srinivasan: Our core business is delivering reliable, high-quality voice and video services -- businesses rely on it. The traditional PSTN, that's been around for eons, spoils us. Every time we pick up the handset, there's dial tone. Every time you make a call, it sounds good. And although cell phones have slightly lowered the bar, the convenience of having a cell phone outweighs the need to have the same experience every time -- but from a business perspective, that's still needed.
Traditionally, to deliver highly available and high-quality voice, private networks deliver services to the customer's premises on either an MPLS backbone or similar technologies, so you can control the end-to-end experience. But the need for bandwidth to a business' premises is growing, because many businesses are moving their services to the cloud, which can be done via private networks, but that changes the financial payoff.
So, the need for bandwidth is growing, and the cost of Internet bandwidth is coming down. Customers are saying, 'Why can't I run my VoIP on this high-bandwidth service?' But those Internet bandwidths don't guarantee call quality and can't have an SLA [service-level agreement] behind them, because it's either a broadband medium that the service provider is oversubscribing across their customer base and it's primarily designed for transactional Web traffic, which is more resilient to issues with bandwidth.
And so, we thought, how can we solve this problem? There are two needs: high-quality bandwidth and a lower price point -- with no guarantees from the network. That was the genesis for SmartWAN.
What exactly do business customers want?
Srinivasan: Many customers want highly available voice service. They want at least two connections to their premises; both may be broadband connections, one may be wireless. Regardless, they don't want to have their phones go down because the one connection they had went down.
So, we said, 'There are two connections. How can we leverage both of them and give them high-quality voice?' And that's the fundamentals behind SmartWAN, which is dynamic packet directing or routing across any number of available broadband connections to choose the best connection that's available at that point in time.
The SmartWAN on the customer's premises works in concert with the Vonage SmartWAN gateways in our core network. And, on a per-packet basis, they make the right decision and deliver high-quality voice, video or any real-time traffic on broadband-type connections.
But what makes SmartWAN different from other services?
Srinivasan: The underlying premise behind this is the world of SD-WAN. You'll find many vendors in that space, but they started solving a different problem, which is making it easier for customers with multiple locations to each have their own ISP connections. But the IT person still has to build a private network on top -- and traditionally, that was done via firewalls on premises and manually configuring them. It's doable, but hard to scale and operate.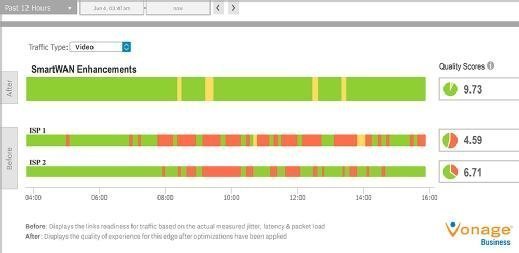 SD-WAN provides an easier way to do it through graphical front ends, drag and drop, and auto discovery. Our SmartWAN does all that, but differentiates itself by adding the capability to do QoS [quality of service].
Other products are designed in that the enterprise is managing it all. They either have the hub and spoke they have to manage, or they have to build out a full mesh, which becomes very hard to scale. Our service is designed from a carrier-model perspective, so at the enterprise level, each site simply is one site into a hub. The hub architecture minimizes, if not eliminates, the mesh problem of scale. And so the focus on QoS and scaling are two key differentiators.
How is SmartWAN installed?
Srinivasan: It's a plug-and-play method. I call it the 'E.T. call home' model. The edge device is plugged in, powered on, programmed to call home and downloads its config.
You may have heard the phrase in telecom: 'One throat to choke.' I absolutely do not like that phrase. Our goal is to be the 'one back to pat.'

Sanjay Srinivasanchief technology architect for Vonage Business
All the content for it to be functional is maintained in the cloud during the service-delivery process. And secure keys are associated with each device. When the device is powered on, it reports in securely, downloads its config and we're good to go. The SmartWAN gets fully integrated into our back-office automation.
What advice do you have for other technology architects?
Srinivasan: It's all about the customer experience. You may have heard the phrase in telecom: 'One throat to choke.' I absolutely do not like that phrase. Our goal is to be the 'one back to pat.' If you set the bar low by wanting to be the 'one throat to choke,' then that's all you'll end up delivering to your customer.
If you set the bar to be the 'one back to pat' and design your policies around that, then that's what you end up delivering. And the SmartWAN is a great example.
Next Steps
See the Vonage SmartWAN in action in this video
Why SD-WAN is the next breed of WAN optimization
Does SD-WAN threaten the NFV business case?