SD-WAN technology promises enterprises control, cost savings
The latest UC innovations are testing the limits of enterprise networks. At Enterprise Connect, industry leaders discuss how SD-WAN technology can give networks the boost they need.
ORLANDO, FLA. -- As the nature of work changes, networks need to keep up with new applications, services and bandwidth demands. But many organizations are finding network architectures that were acceptable in the legacy world lag in today's environment.
At Enterprise Connect 2016, industry leaders discussed what organizations can do to make sure their WANs meet today's business needs.
"You're only as agile as your least agile component," said Zeus Kerravala, principal analyst at ZK Research. "And today, that's the network."
Kerravala said the current state of the WAN is causing companies to miss business opportunities. Legacy WANs present significant challenges -- limiting app rollouts, increasing network complexity and inefficiently using available bandwidth.
With the rise of the cloud and alternatives to MPLS, Kerravala said the time for software-defined WAN is now.
Proponents say SD-WAN technology deployment can offer organizations a hybrid network architecture, high-priority connectivity for critical applications, dynamic meshing and virtual service delivery, among other benefits.
Putting control in the enterprise's hands
You're only as agile as your least agile component, and today, that's the network.

Zeus Kerravalaprincipal analyst, ZK Research
Companies deploy SD-WAN to mitigate connectivity problems and enforce traffic policies, said Kevin Gavin, CMO at Talari Networks. But deploying SD-WAN technology can also empower enterprises by offering increased visibility.
"It does put enterprises in a position of strength in knowing the quality of the network," Gavin said. Enterprises that have issues with their network can now go to their infrastructure provider with detailed information about performance problems.
This helps enterprises better communicate with their providers, and allows them to make more informed decisions about whether or not to renew service contracts, he said.
Similarly, Gavin said few organizations implement SD-WAN technology for the analytics but often find it to be a major benefit.
"[Network managers] can go back and look at what's going on and what was the root cause of the problem," he said.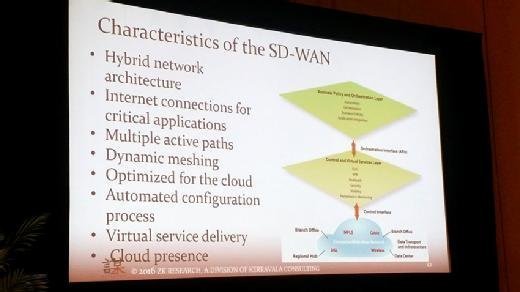 Travis Ewert, senior vice president of global network software development at Level 3 Communications, said SD-WAN gives enterprises unique visibility into the network and puts control in their hands. When that visibility and control are combined, network managers can define analytics-based actions so that the network automatically responds to certain activity as it occurs.
"That kind of control is what customers are looking for," he said.
In a perfect world, said Bill Hentschell , worldwide sales leader for enterprise routing at Cisco, network managers would find out about a performance problem after it's already resolved, with the network automatically recognizing and correcting it. Users would remain unaware of the issue.
Achieving return on investment with SD-WAN technology
SD-WAN also offers cost saving opportunities in a world where network managers are asked to do more with less.
According to Gavin, many organizations need networks large enough to handle all their growing traffic but find the cost of MPLS to be prohibitive. He said that with SD-WAN technology, enterprises can use less expensive broadband as a backup link, often discovering that its performance, reliability and bandwidth is dramatically better than MPLS.
"They eventually decommission MPLS," he said.
SD-WAN also helps organizations maximize their use of available bandwidth, said Mike Wood, vice president of marketing at VeloCloud.
"They're able to squeeze out every last bit of their links," he said. "They see ROI in that they can roll out more services without adding more bandwidth."
But before making the move to adopt SD-WAN technology, enterprises should evaluate their road map and what they want their architecture to look like three to five years down the road, Wood said.
"The architecture you choose is going to be essential," he said.
Gavin, of Talari Networks, said organizations should first evaluate how SD-WAN technology can improve their networks and then compare vendors in that space. They should look at customer references and a vendor's experience in deploying SD-WAN for similar organizations.
"The time for SD-WAN is now," he said. "Every business should be looking at it."
Dig Deeper on Unified Communications Architecture and Service Models