Cisco, Microsoft want video conferencing systems interoperability
Microsoft and Cisco pledged video conferencing systems interoperability at the Enterprise Connect conference, but cross-vendor technology remains elusive.
ORLANDO, Fla. -- Leaders at Microsoft and Cisco have expressed a passion for interoperability between their competing...
Continue Reading This Article
Enjoy this article as well as all of our content, including E-Guides, news, tips and more.
video conferencing systems, but the goal of having their video platforms natively work together remains elusive.
At the Enterprise Connect conference on Monday, a UC summit panel of executives from the industry's largest vendors -- including Avaya, Cisco, Google, Microsoft, Mitel, NEC and Unify -- discussed the changing UC landscape.
The lack of systems interoperability has long been a source of frustration for businesses that have invested in expensive hardware, only to get locked in or find that it doesn't work with other brands of technology. Previously, vendors have argued against interoperability, but this year, Microsoft and Cisco changed their tune -- at least when it comes to video conferencing systems.
"We firmly believe interoperability is the root of this company; that we want everything to work together," said Rowan Trollope, senior vice president and general manager, who leads Cisco's collaboration technology group. While the company's software does not play nice with rivals' products today, "we're committed to doing that in the long run."
Cross-vendor video conferencing systems of the future
Trollope pointed to Cisco's 2015 acquisition of Acano, a British video conferencing company, as proof that interoperability is at the forefront of Cisco's long-term strategy. Acano's technology, which spans on-premises and cloud-based systems, can connect to similar third-party products, such as Microsoft's Skype for Business.
Trollope also used Spark's open developer platform as another example of how Cisco is moving toward interoperability.
Zig Serafin, corporate vice president, who is in charge of Skype, Office 365 and other Microsoft products, agreed that video conferencing systems should be interoperable.
"Our goal on this is to try to reduce the amount of duct tape and chewing gum stitching together that you have to do in order to create easy interoperability," Serafin said. "Interoperability should be something that feels native to the experience for people."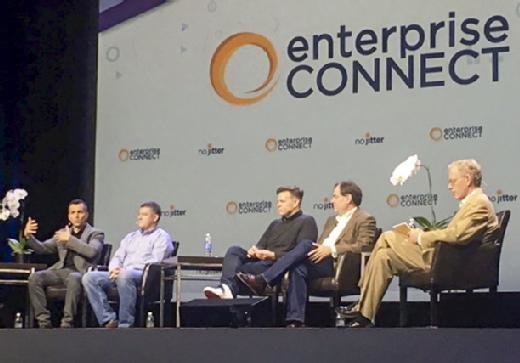 But the two companies offered no timetables or remedies, so calling between different video conferencing systems will remain difficult, at least for the short term. Microsoft, for example, promised a video gateway for multivendor interoperability about a year ago, "but I haven't seen anything further from them," said Irwin Lazar, an analyst at Nemertes Research.
In the meantime, companies should consider cloud-based video meeting rooms, such as Blue Jeans, that talk to Cisco's and Microsoft's products, Lazar said.
Email is an example of how slow vendors move toward interoperability, said Alan Lepofsky, an analyst at Constellation Research. Email has been around for more than four decades, yet messages from different systems still don't have perfect fidelity.
"Chat clients and enterprise social networks rarely are able to share messages across vendors," Lepofsky said. "I find it difficult to believe we'll have cross-vendor video conferencing any time soon."
Dig Deeper on Business Video Conferencing and Telepresence Technology