News
Stay informed about the latest enterprise technology news and product updates.
Numonix integrates cloud recording service in Office 365
Numonix has announced a Microsoft Office 365 integration that records voice, video, chat and desktop screen communications via a hybrid cloud environment.
This call, video, chat and desktop screen may be recorded for quality assurance.
Call recording vendor Numonix has introduced a cloud-based recording service for Microsoft Office 365. The company's Recite service can record Office 365 interactions, including voice, video, chat and desktop screen communications.
The Office 365 integration enables recording, storage, management and recording retrieval via the cloud using a Web-based portal, without installing any software on an enterprise's network.
Call recording is highly important and often mandatory for many businesses, such as financial and emergency services companies, which must comply with legal regulations, said Sandra Gustavsen, an analyst at G Business Systems LLC, based in Shamong, N.J. Call centers and any customer-facing companies would especially find this cloud recording service helpful to verify transactions and evaluate staff performance.
These types of companies can consider using Microsoft's Office 365 cloud-based telephony only if a recording feature is available, and the Recite integration fulfills this key requirement, Gustavsen said.
"This is an important integration," she said, adding that any business can use interaction recording to ensure professional customer relations or demonstrate compliance with regulatory guidelines.
Numonix, based in Boca Raton, Fla., will debut the Office 365 cloud recording service next week at Enterprise Connect, a major UC conference in Orlando, Fla.
Cloud recording capitalizes on Office 365 telephony
Last year, Microsoft introduced a premium Enterprise Suite subscription plan, called E5, which adds voice features to its hosted service, Office 365. Businesses can use Office 365 as their telephony service, eliminating the need to install and maintain a traditional phone system on-site.
With an estimated 60 million active monthly commercial Office 365 users, according to Microsoft's latest estimates, the E5 bundle and its cloud-based PBX have significant potential for adoption, Gustavsen said.
Office 365 does not have a built-in recording service, however, said Chard Johnston, vice president of product management at Numonix. Skype for Business, an Office 365 app, has limited peer-to-peer and conference call recording that users need to set manually.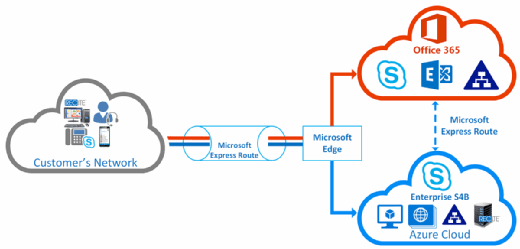 Recite can record many other types of calls, including traditional PSTN calls, and remote and federated calls. federation, in this case, enables Skype for Business users in one organization to communicate with Skype for Business users in a different organization.
The hybrid cloud recording integration uses Microsoft Azure and ExpressRoute to connect into the Office 365 cloud.
If users are migrating to Office 365, and need to record calls and other interactions, they can deploy an Azure cloud and Skype for Business within the cloud, and make the Azure instance of Skype for Business the primary registrar for employees who need be recorded. Numonix then deploys its software into that same Azure cloud to enable recording.
Recording more than just voice calls
In Recite, users can find recorded calls, play them back, listen to certain segments and rate calls. Users can also insert notes on a particular call, as well as email or download a call to their PC.
Users can monitor all modalities live -- voice, video, chat and desktop screen -- and play back multiple modalities at the same time. Recite also features customizable dashboards and quality management tools to track average talk time, daily call volume and other call details.
"It's no longer enough to record voice calls only," Gustavsen said, "since a business will miss capturing and archiving important interactions via video or chat." These different interactions could contain key business insights or required content in the case of legal compliance matters, she added.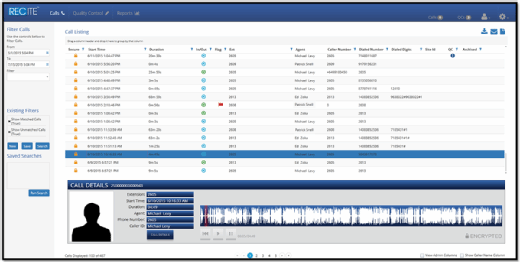 Recite features several security measures, including secure Web access, end-to-end encrypted recordings from capture to storage, customizable security profiles and audit trails. Additionally, users have considerable control over the cloud recording service, since it resides in their own Azure network, Johnston said.
Recite, which can scale from five to 500,000 users, also meets several regulatory compliance standards, including Sarbanes-Oxley, Health Insurance Portability and Accountability Act, PCI, Dodd-Frank and MiFID-2.
Recite and other recording services have already integrated with Skype for Business, and Gustavsen said she expects other call recording companies will eventually integrate with Office 365 and its new cloud PBX.
Dig Deeper on Communication Integration with Enterprise Applications