Kurhan - Fotolia
Logitech video conferencing hardware looks to fill a niche
Logitech has announced its newest line of conferencing hardware that aims to replace the laptop at the conference table and support video collaboration in meeting rooms.
Logitech is releasing new video conferencing hardware for organizations looking to video-enable meeting rooms.
The offering, called Logitech Group, looks to address a gap in video conferencing hardware between expensive, complicated TelePresence suites and low-end webcams, said Scott Wharton, vice president and general manager of Logitech's video collaboration group.
Logitech Group aims to "provide a better alternative for users in organizations who typically crowd around a laptop that's placed at the end of a table to view video in a less-than-optimal experience," said Rich Costello, senior research analyst for unified communications at IDC.
Logitech Group's video conferencing hardware includes an HD video camera and speakerphone that can be used with any computing device with a USB connection. The offering targets conference room video collaboration meetings for up to 14 participants, or 20 participants with the addition of expansion microphones. The product also includes Bluetooth and near field communication pairing for mobile calls.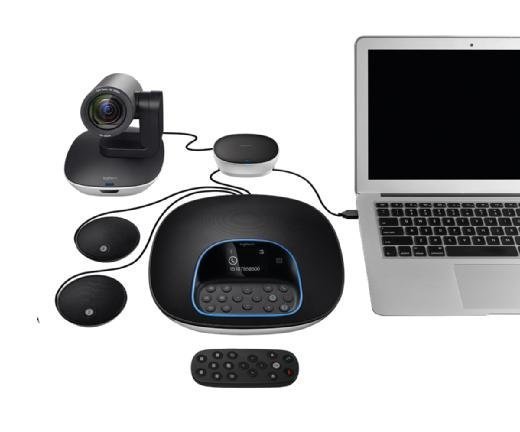 The hardware can be used with an organization's room system configuration and interoperates with video collaboration services, such as Blue Jeans, Zoom and Vidyo. The offering is also compatible with Skype for Business, Jabber and WebEx.
Meeting spaces like huddle rooms are becoming more popular and organizations are looking to equip those rooms, Wharton said. But video systems from vendors, such as Polycom, Cisco and Lifesize, can be too expensive for some organizations.
Logitech Group should be appealing to small and medium-sized businesses that are both existing and first-time video collaborators, Costello said. Additionally, larger organizations could use the product to supplement their video services for smaller teams or branch sites by adding a lower-cost, HD video conferencing option, he added.
Costello cautioned that lower-cost video conferencing hardware usually lacks the full feature sets required by larger organizations.
Wharton said Logitech Group can be used separately for conference rooms that may already have an audio setup, but are not video-enabled.
However, Costello cautioned that lower-cost video conferencing hardware usually lacks the full feature sets required by larger organizations, such as video management capabilities.
"Customers need to be aware of what features and functions are required by both IT and end users when considering which solutions to buy," he said.
The video conferencing hardware will be available globally next month and retail for $999. The expansion microphones will cost an additional $300.
Dig Deeper on Business Video Conferencing and Telepresence Technology