Silvano Rebai - Fotolia
Blue Jeans revamps user interface for video meetings
Video collaboration services provider Blue Jeans has launched a new interface, video integrations and analytics capabilities. The new look, considered overdue, should boost usability.
Blue Jeans Network unveiled updates to its cloud-based video collaboration services, introducing a redesigned interface, new video integrations and beefed-up analytics. The refreshed user interface (UI) -- across the vendor's browser service and desktop and mobile apps -- aims to get users into video meetings quicker.
Although the Blue Jeans 3.0 updates aren't necessarily groundbreaking, some of the new features were overdue, and should help ease usability and adoption, according to one analyst.
"These are evolutionary changes; this is not revolutionary stuff," said Ira Weinstein, senior analyst at Wainhouse Research LLC, based in Duxbury, Mass. He said reducing the time a user needs to get into video meetings is a wise move; the cleaner UI, meantime, should make users more comfortable and decrease the learning curve.
"I think that was overdue," he said about the change to the UI. "The scheduling UI looked a little dated; it was functional, but it didn't look next-gen like most other tools we use."
Blue Jeans, based in Mountain View, Calif., has made the meeting logon quicker by eliminating questions that asked users how they'd like to connect to the meeting.
Instead, the retooled application begins the connection process upon launch -- based on the user's default settings. But this connection speed and ease does not mean Blue Jeans is faster than competitors, Weinstein added; it just means the connecting service is faster than previous Blue Jeans video meetings.
Streamlining video meetings, adding integrations
Blue Jeans 3.0 also includes video integrations with Slack, the popular messaging platform, and Canvas, a learning management system (LMS).
Within Slack, users can start a Blue Jeans video conference with a slash command and conference ID, rather than just instant messaging among co-workers, said Joan Fazio, senior director of product marketing at Blue Jeans. Within Canvas, an LMS used by many colleges that helps students and teachers interact, students can watch a professor's lecture via video conference, Fazio said.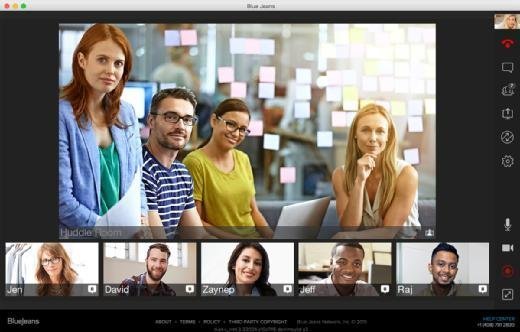 Shandon Bates, IT director at the University of Oregon's business school, is hoping to take advantage of the Canvas integration, but he said student data security could be a challenge. Language within the Family Educational Rights and Privacy Act (FERPA), a federal law that protects the privacy of student education records, means the university requires additional contractual language for hosted services, such as Blue Jeans.
"If we integrate Blue Jeans with Canvas, what student data will be recorded and held by Blue Jeans, and how our legal folks interpret that and whether that's good enough security will be a bit of a challenge," Bates said. "But that's a University of Oregon challenge; that's not a Blue Jeans challenge."
The business school, previously a Vidyo customer, has used Blue Jeans for video meetings in several different ways, including Master of Business Administration student recruiting, seminars with professors across the country, professor office hours, job interviews and collaborating with colleagues in Portland, Ore., which is more than 100 miles from the university.
"Eugene [Oregon] is not exactly easy to get to," Bates said. "So, it's great to bring people in via a video conference, rather than flying them out."
Analytics track video meetings, travel savings
Blue Jeans is also rolling out analytics tools that track return on investment -- an emerging trend in the collaboration market. In the Blue Jeans Command Center, IT administrators can gauge a user's video connection and quality, which room systems are getting the most usage and how employees are actually using certain tools in video meetings.
Additionally, IT administrators can track how many travel miles and dollars they've saved their company by using video collaboration services.
"This is important," Fazio said, "enabling administrators to have a report, walk up to their boss, justify this expense and say, 'Here's what I've saved you as a result of leveraging Blue Jeans versus these travel alternatives.'"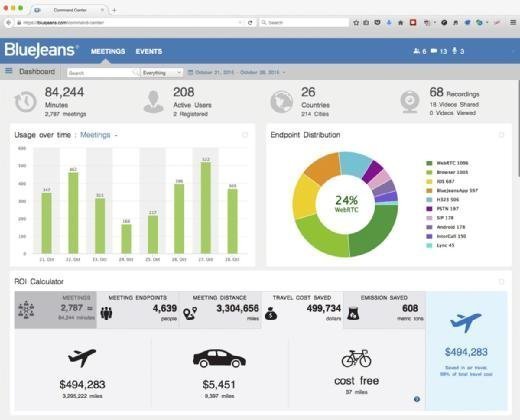 Finally, Blue Jeans announced updates to its apps for iOS and Android, including a new interface, quick-action menu, and battery- and data-saving modes. Mobile users can schedule a meeting, edit a meeting and make a video call an audio call, and vice versa, with a single swipe. The company also announced WebRTC support for Google Chrome, with a new user interface and audio capabilities.
"All these changes may feel small," Weinstein said, "but small changes make a big deal when it comes to usability and adoption."
Blue Jeans 3.0 features are included in the standard Blue Jeans service and are available this month.
Next Steps
Five reasons to move video conferencing to the cloud
How to buy the right video conferencing services
Video collaboration policies should consider user experiences
Dig Deeper on Business Video Conferencing and Telepresence Technology