kreizihorse - Fotolia
News
Stay informed about the latest enterprise technology news and product updates.
Facebook at Work taps into social networking for businesses
Despite brand recognition, familiarity and big customer wins, Facebook's business offering faces hurdles in the enterprise social networking market.
Facebook has landed its largest corporate customer -- the Royal Bank of Scotland -- for its new Facebook at Work, but the product will need fine-tuning before it can gain traction in the market of social networking for businesses.
The Royal Bank of Scotland recently became the first bank in the world to launch the enterprise version of the popular social networking service, which is still in beta testing and being used by 300 enterprises.
The bank began its pilot of Facebook at Work in July. Royal Bank of Scotland said it will roll out Facebook at Work to 30,000 employees by the end of March 2016, and all of its 100,000 employees will be using the tool by the end of next year.
Despite the win, analysts said Facebook's enterprise option still has hurdles to overcome in the social networking for businesses market. Some analysts said security isn't a concern, but privacy may be. Among its challenges, Facebook at Work lacks business applications integration, a proven track record and specific cost structures. In addition, issues such as widespread user adoption and content ownership are still unclear.
Facebook at Work has the look and feel of consumer Facebook, where users can post photos, create groups, update their work profiles and collaborate with colleagues via their desktop or mobile devices. The idea is to take the consumer experience, already familiar to more than a billion people, and plug it into the enterprise social market.
Security issues downplayed, costs unclear
The fact that a bank has signed up to use Facebook at Work should help allay security concerns that businesses may have about using the enterprise social service. As the world's largest social network, with more than 1.4 billion monthly users, and one of the largest websites in the world, the Facebook platform is secure, meaning it's not easily hackable and data is protected, said Alan Lepofsky, principal analyst at Constellation Research Inc., based in Cupertino, Calif.
Facebook at Work -- how it works
Facebook at Work is separate from personal Facebook accounts, so information you share using a work account will only be visible to other people at your company. Users can link their personal and work accounts via the same email and password, but, as Facebook points out, none of your information, posts or activity from your personal account can be seen on your work account.
To set up a Facebook at Work account, your company must already be using the enterprise-based version. However, if your company is not using Facebook at Work, Facebook does give interested users the option to request more information.
Privacy, however, is a concern among consumer Facebook users, he noted. The free consumer Facebook makes its money based on advertising that leverages consumers' information to deliver highly targeted offers. In its early stages, Facebook at Work is expected to employ a freemium model, with costs added for administrative controls and integrations with other business applications. As a result, the same consumer privacy concerns may not apply to the enterprise version, Lepofsky said.
"I think people often confuse security with privacy," he added. "[But] Facebook will need to make the terms and conditions for Facebook at Work very clear. Items like ownership of content and data residency will need to be explained."
Lacking application integration, proven track record
The major hurdle for Facebook at Work is a lack of integration with other business applications, said Vanessa Thompson, research vice president at IDC, based in Framingham, Mass. And unless Facebook at Work has a strong set of individuals focused on user adoption, she said, Royal Bank of Scotland's user adoption might not be at the level that the bank expects.
"Large deals are always an affirmation that there is market support for a product," Thompson said. "This is not yet a big deal, but it will be if over 80% of users at Royal Bank of Scotland are using Facebook at Work."
Another challenge for Facebook at Work is that it doesn't have a proven track record for enterprise needs, as enterprise software differs greatly from consumer software, Lepofsky said. Organizations need administrative controls over people and groups, backup and restore capabilities, compliance and governance models, integration with other business software, and several other features that Facebook at Work will need to supply -- or find partners -- in order to see widespread enterprise adoption, he said.
Facebook's brand recognition and familiarity among users as a consumer social network could give it a competitive advantage in the market of social networking for businesses. "For several years, social software vendors pitched their products as: 'It's like Facebook, but for work,'" Lepofsky said. "Well, now Facebook is providing that themselves."
On the other hand, Facebook at Work could struggle simply based on its name, he added. "There could be a mental hurdle within enterprises around using Facebook for business needs."
Young workers give collaboration platform a thumbs-up
Familiarity with Facebook has made Facebook at Work adoption a smooth transition at Linio, an e-commerce company based in Mexico that's using Facebook at Work for team collaboration. The groups feature has been a particularly useful tool, and the company has created dozens of groups for teams to discuss ideas, said Jose María Pertusa, Linio's chief marketing officer.
Adoption of the collaboration tool has been easy, he said, since Linio's employees, who average 26 years of age, are expected to use social media in their personal lives, so they can fully understand one of the company's main online marketing channels.
"Facebook is a very natural platform for us," Pertusa said. "Using a similar tool at work for internal communication was a natural fit."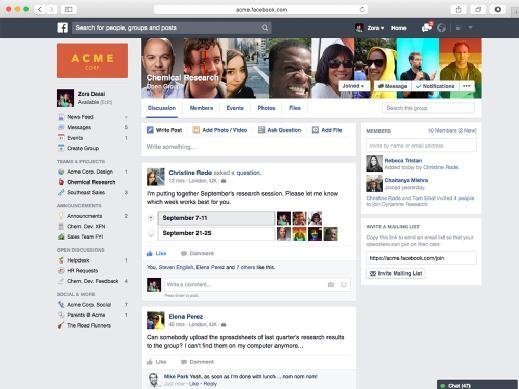 Nearly 1,000 Linio employees are currently using Facebook at Work, resulting in a user adoption rate of about 77%. The company has been rolling out the service gradually, starting with the marketing and commercial teams, and eventually extending it across the company.
"By the end of the year, we expect that all of our 1,800 employees in the eight countries we operate in will be using Facebook at Work," he said.
Social networking for businesses -- the market is wide open
No clear winner has emerged yet in the market of social networking for businesses, which is already crowded with several collaboration tools, including Microsoft's Yammer, Jive, Slack, IBM Connections, Salesforce Chatter and SAP Jam. The global enterprise social software market is expected to grow to $8.14 billion by 2019, according to research firm MarketsandMarkets.
Facebook at Work, which is not officially on the market yet, has said about 300 enterprises are currently testing the enterprise service, according to Lepofsky. "So, while late to the game, Facebook at Work could still be a key player in this space," he said.
Next Steps
Avoid these mistakes for successful enterprise collaboration
Check out an enterprise social media and collaboration guide
How can unified communications data analytics improve social collaboration?
Five questions to ask before you invest in an enterprise social network