Silvano Rebai - Fotolia
News
Stay informed about the latest enterprise technology news and product updates.
Tely extends cloud video conferencing to small rooms
Tely's newest endpoint aims to help enterprises expand their cloud video services beyond the desktop and into small meeting rooms for greater collaboration across the workforce.
In recent years, shifting workplace dynamics and collaboration habits have put an emphasis on smaller meeting rooms. As a result, enterprises are now looking to extend their conferencing capabilities beyond their desktops and boardrooms. At the same time, the adoption of cloud video conferencing has also gathered steam.
In response to these developing trends, video conferencing endpoint provider Tely has launched Tely 200, a camera that targets smaller meeting rooms that aren't video-enabled to connect them to an enterprise's existing cloud video conferencing service.
Most enterprises deploy cloud video services on the desktop only, said Irwin Lazar, analyst and service director at Nemertes Research in Mokena, Ill.
"Now, they have the opportunity to expand into huddle rooms or small conference rooms, where they might not have a dedicated system today," he said.
The Tely 200 is an endpoint that offers 1080p HD video on a single or dual screen. Users can connect to the device over Wi-Fi or an HDMI cable to share content. The device connects to an enterprise's cloud video service to allow users to initiate meetings in a virtual meeting room or point-to-point call. The Tely 200 offers an on-screen calendar, which integrates with Microsoft Office and Google Calendar.
The Tely 200 also integrates with cloud video service providers, such as Acano, Blue Jeans, Pexip, Videxio and Zoom. It also interoperates with video conferencing services from Cisco, Lifesize and Polycom.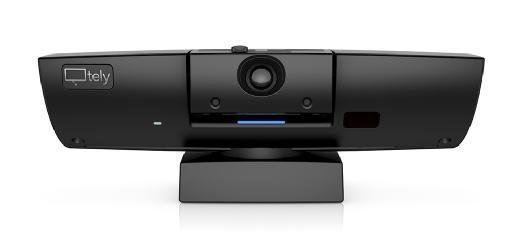 Tely also recently launched a management service, Tely Portal, which aims to make installation, support and management easier for IT and end users.
"It's very complementary to existing video conferencing infrastructure IT has already deployed," Tely CEO Todd Abbott said about Tely Portal. "It extends into areas that don't have video collaboration today."
Cloud video conferencing adoption on the rise
Lazar said enterprises are increasingly interested in cloud video conferencing. According to the Nemertes 2015-2016 Unified Communications and Collaboration Benchmark, 21% of enterprises adopted cloud video last year -- that number grew to 37% this year. Next year, nearly half of enterprises plan to adopt cloud video, the report found.
But legacy video providers have been slow to offer low-cost products to support cloud video conferencing services, Abbott said. Tely is looking to fill the gap with the Tely 200, which will retail at $1,800 and include one year of the Tely Portal service.
And it's not just large enterprise meeting rooms that could benefit from Tely's offerings. Small and mid-size businesses (SMBs) that have an interest in video, but lack the budget to deploy Cisco or Polycom can instead deploy a less expensive cloud service and use Tely as a room system, Lazar said.
"The needs of an SMB are not very different from a large enterprise that needs to equip 10 to 20 huddle rooms," said Ira Weinstein, analyst at Wainhouse Research LLC in Duxbury, Mass. "[The Tely 200 is] a cost-effective single device and it opens a lot of doors."
Huddle rooms become the latest cloud video market segment
Tely is targeting huddle rooms -- smaller meeting rooms that hold six or fewer people. These rooms can range from a traditional conference room design to a more casual meeting space.
According to a Wainhouse white paper, huddle rooms have largely been ignored in favor of larger meeting rooms that are fully equipped, as well as integrated with video and audio technology. Most huddle rooms are not as fully equipped -- at most, they have a display to connect to users' devices.
But as video collaboration expands beyond executive boardrooms, the industry is seeing new opportunities in huddle rooms, Weinstein said. He said 30 to 50 million huddle rooms exist globally, and there is increased demand in the enterprise to connect these rooms to video services.
According to the Wainhouse white paper, huddle rooms would benefit most from low-cost equipment that is easy to install and use.
Abbott said the Tely 200 was designed to support three workflows for huddle spaces: porting to large screens, impromptu video meetings and scheduled video meetings. He said the Tely 200 is designed for easy setup and connection to meetings and devices.
"It is accessible across the enterprise and allows that collaboration where most of the work is done to be done that much more effectively," he said.
Dig Deeper on Business Video Conferencing and Telepresence Technology