Kurhan - Fotolia
News
Stay informed about the latest enterprise technology news and product updates.
Gartner debuts Magic Quadrant for group video
A market evolution has led Gartner to create a Magic Quadrant for group video systems, as enterprises focus not only on endpoints, but infrastructure and interoperability with their room system deployments.
The room-based group video market is evolving as enterprises demand more than just endpoints to support group video...
Continue Reading This Article
Enjoy this article as well as all of our content, including E-Guides, news, tips and more.
collaboration. As a result, technology research firm Gartner created a new Magic Quadrant for group video systems.
"The market has evolved to be less about endpoints and more about ecosystems of endpoints, infrastructures and services," said Gartner analyst Robert Mason.
The Magic Quadrant evolved from a MarketScope report on group video systems. MarketScope reports evaluate markets that have conditions that are not necessarily suited for a Magic Quadrant evaluation, according to Gartner. As the group video market changed, it became necessary to evaluate with a new set of criteria.
According to the report, group video systems provide high-quality video interaction across a range of meeting room sizes. Gartner evaluated group video systems vendors amid four elements: dedicated room systems, modular room systems, personal video endpoints and video infrastructure.
Dedicated room systems include furniture, lighting and integrated audio. Gartner noted that interest in dedicated room systems has waned as enterprises move toward more flexible and affordable systems. Modular room systems are those flexible systems that include the deployment of codecs, displays and peripherals that can accommodate various room configurations.
Personal video endpoints have become relevant to group video systems as the introduction of mobile and personal endpoints have reshaped the landscape for group video collaboration, Gartner noted in its 2014 MarketScope. In today's market, personal endpoints range from desktop soft clients to video appliances that emphasize interoperability with group systems.
Video infrastructure, the dedicated hardware and software instances, facilitates both multi-point conferencing with a vendor's portfolio and interoperability with standards-based endpoints. Infrastructure can be offered as a service or through partners, according to the report.
Room systems remain the top choice for video use among enterprises, according to a report from Nemertes Research. Video is growing in the enterprise, particularly around cloud-based unified communications (UC) with 44% of enterprises moving video to the cloud by the end of this year, the report found. As a result, most enterprises reported increasing or holding their room systems steady.
Gartner names leading market vendors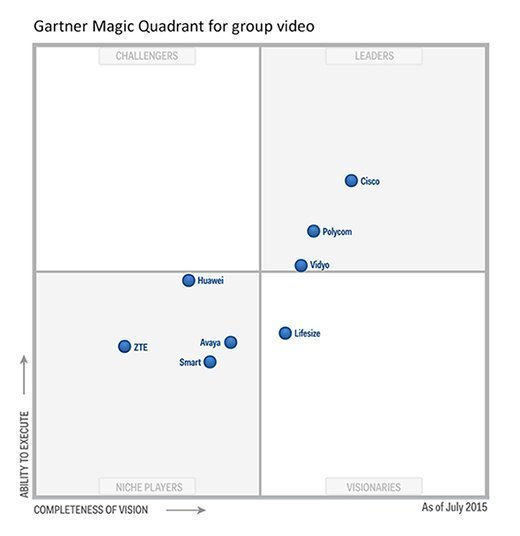 Gartner's recent group video systems Magic Quadrant named three leaders: Cisco, Polycom and Vidyo.
Cisco was named a leader for its comprehensive set of video endpoints, infrastructure and services. Gartner reported that Cisco has demonstrated a strong market position with more than 5,000 enterprise room systems deployed. However, Gartner cautioned that Cisco's video infrastructure portfolio faces growing competition from video as a service vendors, and elements of its portfolio, like Cisco Spark, don't integrate with room systems.
According to the report, Polycom is the second largest group video systems provider with an extensive channel partner ecosystem and customer base. Polycom also supports a range of endpoints, from mobile to telepresence. Gartner cautioned that Polycom is not a unified communications and collaboration (UCC) vendor, and enterprises are opting for UCC vendors as a one-stop shop for video.
Vidyo was named a leader for its disruptive software-based approach to group video. According to the report, enterprises that deploy Vidyo services have higher video utilization and enterprises are more willing to deploy Vidyo to augment existing deployments. Gartner cautioned that Vidyo lacks sufficient global partners, and has yet to demonstrate the ability to displace incumbent providers.
While Microsoft is a major player in the video space, the vendor was not named to this Magic Quadrant because at the time of the analysis, Microsoft did not meet the criteria for a group video systems vendor, such as offering personal video endpoints capable of satisfying enterprise use cases.
"Microsoft has since introduced a first-party device -- Surface Hub -- that could be considered in future iterations" of the Magic Quadrant, Mason said.
Other vendors named to the Magic Quadrant include Huawei, Avaya, ZTE and Smart as niche players and Lifesize as a visionary.
Next Steps
Video conferencing adoption on the rise
Choosing the right video conferencing system to buy
Dig Deeper on Business Video Conferencing and Telepresence Technology