Bobboz - Fotolia
Microsoft refreshes Yammer mobile
Microsoft has made it easier for corporate employees to use Yammer mobile for team collaboration.
Microsoft Corp. has added mobile features to Yammer, beefing up a critical component of the online collaboration software as customers' employees become more dependent on smartphones and tablets.
Microsoft also announced this week that Yammer has a new look and feel that is designed to make teamwork easier.
Users of unified communications (UC) applications, which include collaboration, messaging and video and audio conferencing, are demanding full UC functionality on mobile devices, according to research firm Gartner, based in Stamford, Conn. UC customers also expect UC integration with mobile consumer applications.
"Gartner recommends that enterprises consider adopting a mobility-first strategy, where UC applications are designed first around the mobile UX (user experience) and then extended for PCs," Gartner said in a recent report on UC vendors.
Steps Microsoft has taken to make Yammer more mobile friendly include a streamlined group updates feed for easier monitoring of activity on a smartphone. The company has also added photo-sharing tools that let users attach multiple images. People can use their fingers to mark up images.
Microsoft has also added the ability to attach files from OneDrive, the company's cloud-based storage service, to the upgraded Yammer mobile application. The feature also supports online storage vendor Dropbox.
Messaging through the mobile app is no longer limited to people using Yammer. The Yammer mobile update lets people search contact lists for colleagues and send an email inviting them to join a collaboration session.
Browser-based Yammer gets facelift
Microsoft has added features for people accessing Yammer through a PC's Web browser. A Discovery feed lets people stay connected to multiple groups, keeping each set of conversations separate. People can join groups directly from the feed.
Microsoft has also added real-time alerts in Yammer's navigation pane. In addition, the online software's user interface has a cleaner look that directs attention to important activity and content, and provides a wider feed for team conversations.
Microsoft plans to roll out the new features throughout the rest of the year. For 2016, the company is working on deeper integration between Yammer and other Office 365 products. Plans include integration with Azure Active Directory and the ability to have "cross-workload scenarios" with OneDrive, Outlook, OneNote and Skype for Business.
Yammer, which Microsoft acquired for $1.2 billion in 2012, competes with social collaboration platform Jive Software. The latter has a close partnership with Cisco Systems Inc., a major UC rival of Microsoft.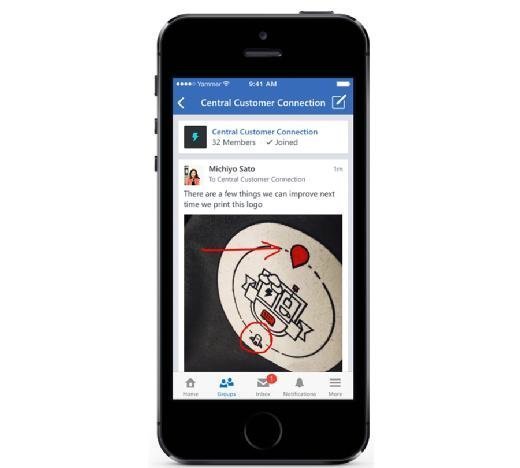 Next Steps
How Yammer and SharePoint overlap
Getting Office 365 apps to work together