Bobboz - Fotolia
News
Stay informed about the latest enterprise technology news and product updates.
UC briefs: Silent Circle joins Android for Work program
In UC news, Silent Circle announces its Blackphone 2 will launch as part of the Android for Work program, while Jive will release its mobile directory app this month.
Encrypted communications firm Silent Circle announced the next generation of its privacy-first smartphone, Blackphone 2, will be part of Google's Android for Work program. Silent Circle joined the Android for Work program to expand its enterprise privacy platform, which includes security and encryption software and services.
Blackphone 2 features Silent Circle's Android-based operating system, Silent OS, which allows users to securely separate work data and personal data. In addition to supporting Android for Work, the phone will also support Google Play and Google Mobile Services. The phone will also offer expanded support for mobile device management. It will be generally available in September.
"With support for Android for Work, companies can strike their own balance of control over data and connectivity with established productivity services that are used throughout the enterprise," said David Puron, senior vice president of engineering and devices at Silent Circle, headquartered in Switzerland.
Jive announces mobile company directory app
Jive Software Inc., a collaboration services provider, recently announced Jive Circle, a mobile application that serves as a company employee directory where co-workers can search, find and communicate with other employees in their organization. Available on iOS and Android devices on Aug. 31, Jive Circle allows employees to connect with each other via click-to-call, email or Jive Chime, a real-time messaging app where co-workers can communicate with each other similar to texting or instant messaging.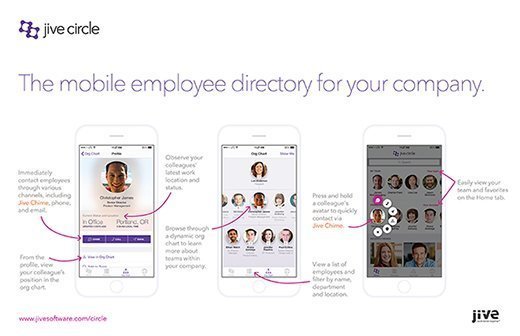 With Jive Circle, IT administrators can add, edit and deactivate users. The mobile directory app is built as cloud-based software, which does not require IT maintenance or installation, the company said. Jive Circle also plans to feature a calendar-sync function that gives insight into who within the organization is joining meetings.
Jive also announced updates to Jive Chime, including the ability for IT or other employees to invite colleagues to use the app. Also, employees can now remove and hide conversations either from the mobile app or desktop. -- Luke O'Neill
RingCentral and Office 365 integrate for cloud calling
Cloud business communication service provider RingCentral Inc. announced integration of its RingCentral Office platform with Microsoft Office 365. The integration blends RingCentral's cloud-based phone system with Office 365's cloud environment.
RingCentral's cloud-based private branch exchange (PBX) offers customers cloud-based calling, text message, conferencing and Web meeting capabilities. Customers will also be able to click-to-call from within the Office 365 interface and use their corporate directory for outbound and internal calls. Scheduled Web and audio conferences can also integrate with the Office 365 calendar.
Pat Schlight, senior director of the U.S. Partner Group at Microsoft, said the integration offers Office 365 customers more choice in helping employees become more productive.