Denys Rudyi - Fotolia
News
Stay informed about the latest enterprise technology news and product updates.
Organizations slow to upgrade legacy communication platforms
Organizations are holding out on updating their legacy communication platforms and endpoints until they can justify the cost of a new rollout.
Tight budgets and the pressure to cut costs are forcing organizations to hold out on replacing their legacy, on-premise communication platforms and endpoints, according to a recent report from Frost & Sullivan.
"Tough global macroeconomic conditions prompted many businesses to continue using their existing desktop devices and adopt a wait-and-see approach," said Alaa Saayed, unified communications and collaboration industry analyst at Frost & Sullivan Ltd., based in Mountain View, Calif.
Saayed said these conditions are expected to linger and make organizations cautious about their UC technology investment strategies.
The cloud is also challenging new on-premise deployments, as organizations look to hosted communication platforms to save money.
But, it's not all bad news. According to the report, organizations are updating to new communication platforms when their legacy system reaches the end of its lifecycle and a new deployment is justified. They are also moving to newer systems to support growing business needs, such as mobility and centralization.
According to the report, the global enterprise communications platforms and endpoints market reached $11.67 billion in 2014 and will see modest growth to $11.99 billion by 2021. The communication platforms and endpoints that are seeing the most growth are Session Initiation Protocol (SIP) phones, media phones and UC dashboards that integrate features, such as voice, data and video.
Unified communications and collaboration (UCC) has become a main driver for organizations to upgrade to new platforms and endpoints like media gateways, SBCs and messaging platforms, according to the report. Organizations want to improve employee efficiency and their workflows, while reducing distractions and wasted time, Saayed said.
Other drivers for updating legacy systems include the move to standards-based communication, the need to converge networks and greater employee expectations for communication everywhere, the report found.
Market shifts changing UC licenses
Licensing has also evolved, as organizations' spending habits have changed. According to a report from Nemertes Research, UC licensing has shifted from a perpetual model to a subscription model. In the report, more than half of organizations reported changing their licenses from perpetual to subscription and 40.5% of organizations said they preferred subscription licenses since they tend to have more flexibility and better insight into costs. The cloud, too, is driving the change from perpetual to subscription licensing, the report found.
Saayed said the combination of vendor incentives -- such as promotions and price reductions, and UC subscription bundles -- can drive investment in newer communication platforms and endpoints.
On the hardware side, Saayed said vendors are offering subscription-based payment options for products like IP desk phones and headsets, where organizations with a large deployment can pay on a monthly basis. For software, vendors are creating UC client bundles that include different licenses at competitive pricing. Some vendors will include licenses for free to motivate organizations to purchase more licenses or more advanced versions of a particular client.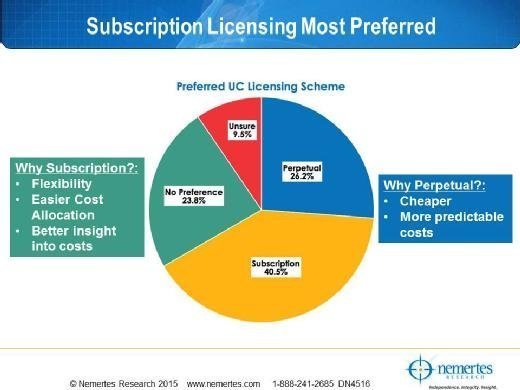 Next Steps
The UC market picking up where the PBX left off
Choosing between bulk and individual software licenses
Dig Deeper on Unified Communications Architecture and Service Models