Lev - Fotolia
Organizations opting for single-vendor UC architecture
Struggles with interoperability, cost and user experience have led organizations to move away from a multivendor UC architecture.
More organizations are pushing to consolidate their UC architecture to a single vendor in an effort to lower costs and simplify the user experience, according to a new report from Nemertes Research.
"IT leaders are struggling with interoperability and the ability to build a multivendor scenario that's viable long term," said Irwin Lazar, vice president and service director at Nemertes, based in Mokena, Ill.
For the report, Nemertes analysts interviewed 50 senior-level IT leaders, representing 45 organizations across a range of industries -- mostly with 2,500 employees or more. By 2016, nearly half of users will have consolidated to a single UC vendor, according to the report.
Lazar said cost is the major driver for UC architecture consolidation, as IT leaders are finding that they are paying for redundant services. He cited a Nemertes client in the finance industry that deployed Cisco for voice and video, and ran IBM on the desktop. The organization wanted to deliver voice and video to the desktop and realized that Cisco also offers instant messaging and Web conferencing, eliminating the need to pay for the same services with IBM.
Organizations also want to simplify the user experience so users won't need to open multiple applications to meet their communication needs. The UC user experience becomes more difficult when mobility comes into play. With the desktop, users can plug Cisco voice into a Microsoft client, but can't do the same thing on mobile, Lazar said.
"Vendors don't do a good job interoperating," Lazar said. "If it were easy to make Skype for Business interoperate with Cisco or Avaya, users wouldn't be consolidating."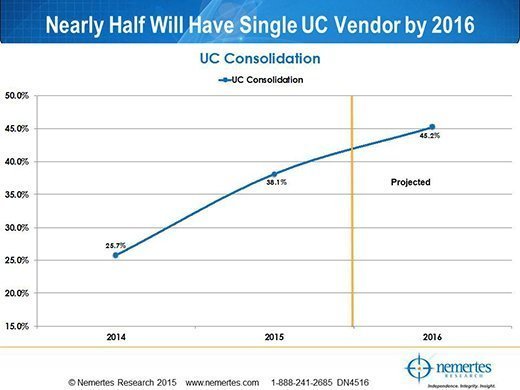 According to the report, the applications that organizations are consolidating are instant messaging, desktop video, Web conferencing and voice.
Organizations that consolidate their UC architecture won't run into many technical challenges, but will face political hurdles. When UC applications are consolidated to run on a single platform, it becomes a question of ownership of traffic on the network and the changing roles of those in IT who manage voice, video and data traffic, Lazar said.
He said two-thirds of Nemertes' client engagements involve settling ownership disputes between network managers and other company decision makers -- like the CFO -- over issues like which vendor to use for telephony.
Microsoft becoming top UC, telephony vendor
Lazar said Microsoft and Cisco are gaining momentum with UC consolidation -- especially Microsoft.
More than half the users in the report are consolidating to Microsoft, with 38% consolidating this year. Lazar said Microsoft has been aggressive in going after customers and including voice for free with their licenses.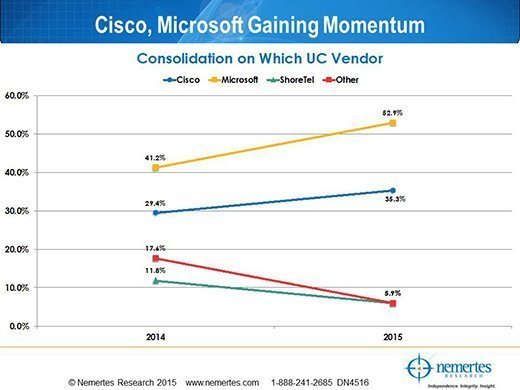 But traditionally, Microsoft architecture has been complex to run, with Office 365 users needing to deploy an on-premise service to integrate Skype for Business for telephony.
Microsoft aims to make its UC architecture simpler and announced previews of cloud PBX, PSTN conferencing and calling for Office 365 that offers better integration with Skype for Business to create a more complete UC platform.
"Now they can offer a rich telephony platform that competes well on a feature-by-feature basis," Lazar said.
A Microsoft spokesperson told TechTarget that once the preview becomes generally available by the end of the year, the company anticipates a "sizable share" of Office 365 customers and new customers to use Microsoft for their communications services.
Dig Deeper on Unified Communications Architecture and Service Models